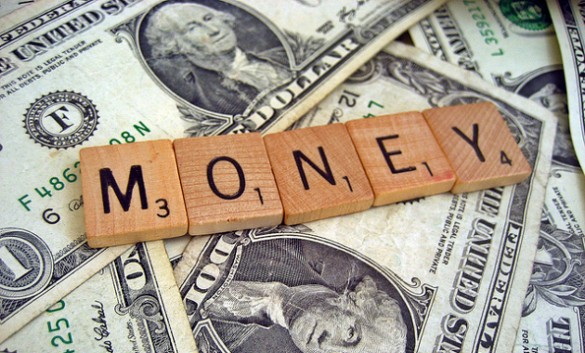 Monetizing is a fantasy for many bloggers. You've spent years creating content and building up a following; the ability to leverage this into some side cash is an awesome prospect to think about. After all, it's essentially turning your passion for writing into a money-making hobby!
However, and I hate to be a killjoy here, but monetizing a blog isn't as easy as it might seem.
You've probably seen success stories about how some bloggers go from working dead-end jobs to making $10,000+ every month from their blog alone. After reading things like this, it's easy to get your mind racing with grand plans of monetization.
In reality, monetizing a blog and generating thousands of dollars every month is likely a full-time job in and of itself – or requires a great deal of luck.
Not to say that it isn't impossible, but getting to this point can take a long, long time and involve a great deal of strategy – both creative and technical.
Say you've hit that monthly traffic goal and have decided it's time to start making money off of your blog. Let's talk about some of the hard truths you will more than likely face – and how to brace yourself.
1. The Line of "Selling Out" is VERY Easy to Cross
There are many different ways to monetize your blog. However, not all of them will be ideal.
One of the most common ways (and seemingly obvious) can be opening up your platform to advertisements. This is one you need to be EXTREMELY mindful of.
Have you ever been pulled into a blog post by a killer headline/description – only to be flooded with so many ads that you can't even enjoy the content?
You can probably name a few blogs off the top of your head that you actively avoid due to the sheer amount of ads…
Take a look at this post: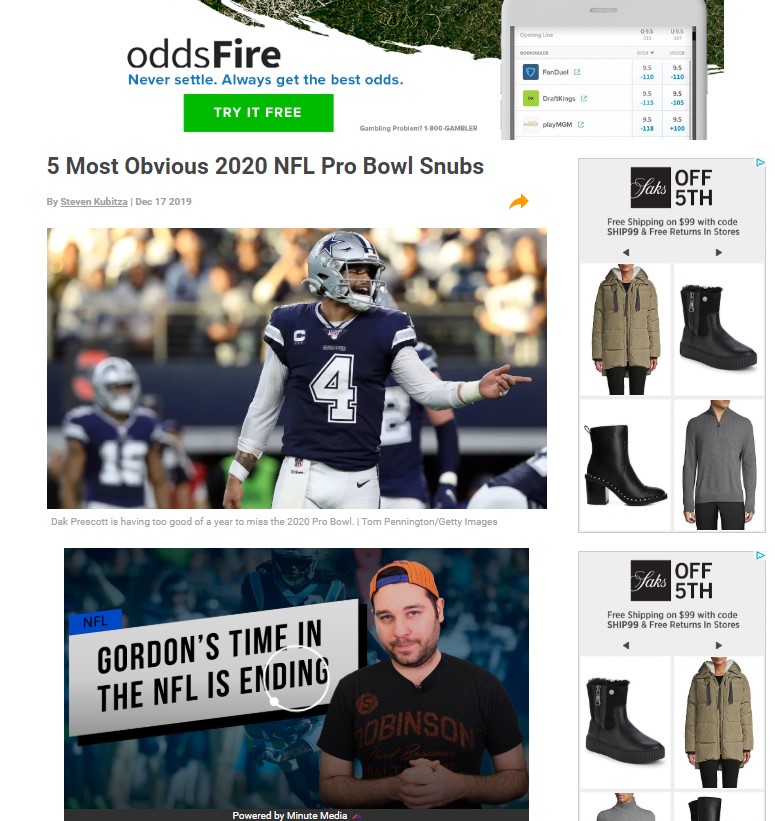 There are four big ads above the fold alone – only about a quarter of the screen is ad-free. Even the most faithful readers can be turned off by this.
You built your following around awesome content. Don't compromise it for a few advertising dollars.
Turning your prestigious (and once ad-free) content into an obnoxious billboard crammed with promotional messages is without a doubt the easiest way to be labeled a "sellout" – and people will turn away in droves.
Always remember – people check out blogs to learn something new, read something interesting, and be entertained; not to get flooded with advertising.
If you choose to incorporate display ads from Google AdSense into your blog, start slow. Very, very slow.
Be sure you are ONLY using the most optimal and relevant ad placements. You'll need to play around with this at first and find a formula that doesn't come off as too intrusive. For you WordPress users out there, consider using the Ad Inserter plugin.
This tool allows you to test your ads and tweak the placement to find what works best.
Now, I don't want to make it sound like opening up your blog to ads is a terrible idea. It really isn't – but it can be if you don't do it right.
2. You May Need to Implement Advanced E-commerce Capabilities
If you run a niche blog, incorporating third-party product listings onto the site is a fantastic way to generate revenue – in a non-intrusive way. This is commonly referred to as affiliate marketing.
For example, a lot of travel blogs incorporate a "shop" section onto their site where they sell travel-related products, like so: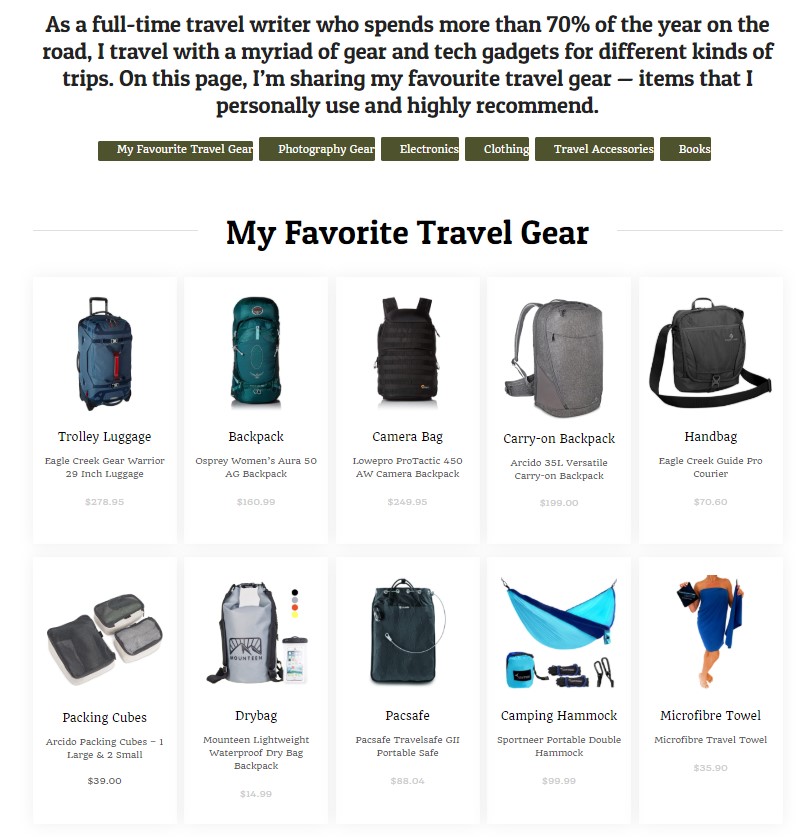 The good news is this revenue model can be adapted to all kinds of blogs.
Have a cooking blog? Sell kitchenware.

Have an outdoors/exploring blog? Sell camping equipment.

Have a fitness blog? Sell workout clothes or protein shakes.
Amazon has a fantastic affiliate program that enables you to display product listings on your blog. Every time someone buys from your shop, you get a commission from the sale!
Now, this is where some technical website prowess is going to come into play.
As a "shop" on your blog is an e-commerce feature, you need to treat it like all other e-commerce stores are treated. In addition to a good, devoted following, you are going to need to establish the following on your shop section:
A streamlined catalog layout

Categories

Easy site navigation
Keep in mind, these are just surface level attributes of a good e-commerce store.
As you expand your offerings, you may very well need to implement full-service e-commerce capabilities. You may even consider doing a slight rebrand to establish yourself as a retailer – instead of just a blogger.
3. Affiliate Sales Will Probably Start with a Trickle
You may have seen something about how a blogger made $20,000 overnight from affiliate sales – and got super motivated to start implementing affiliate links.
Well, (and I hate to burst your bubble again) unless you have hundreds of thousands of visitors every month, this is more than likely a pipe dream. 
Many bloggers choose to start including affiliate links once they have one to five thousand organic visitors each month. If this is your situation, affiliate sales will come slowly. Relying on organic traffic for sales on a blog is tough – remember, most people check out blogs to learn something new, not make a purchase.
There are, however, ways to increase the visibility of your affiliate links – both paid and unpaid.
Say, for example, you run a travel blog and wrote a listicle about some of your favorite travel books – of which you have affiliate links to each.
For starters, you should optimize the keyword usage in the post to target more sales-oriented searches. Generally speaking, blog posts tend to target informational keywords, such as:
Best hiking trails

Places to hike in Southern California

Tips for desert camping
If you want to promote a post with affiliate links, you should be targeting transactional keywords within the content.
Cheap ___

Buy ___

Coupons for ___

Deals on ___
In some of my previous posts, I've recommended the Keywords Everywhere chrome extension for keyword research. Unfortunately, this switched to a paid tool in October 2019.
Instead, I'll recommend Neil Patel's Ubersuggest, a free keyword research tool.
Let's go back to the travel books example and see what keywords we find.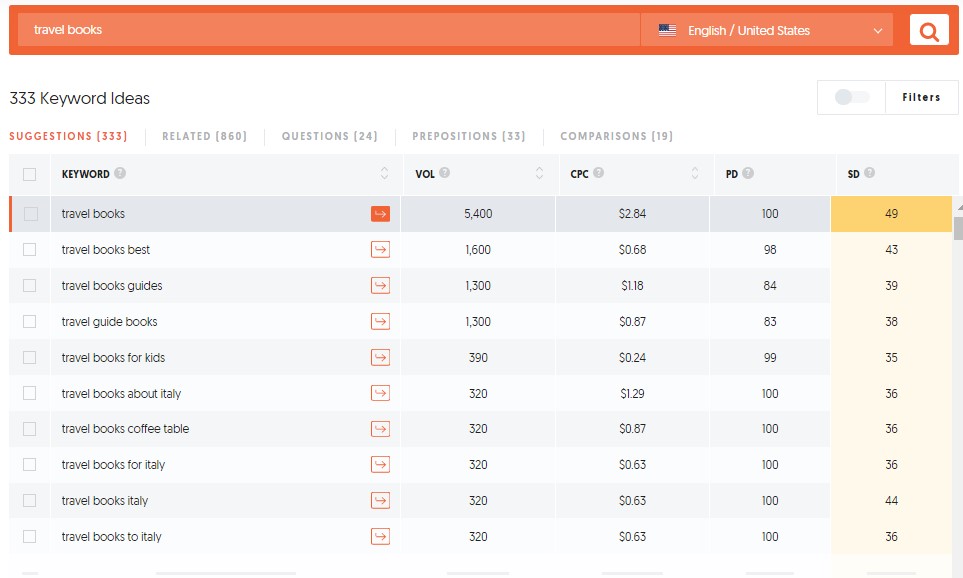 Fortunately, the term "travel books" alone has a good transactional intent. These are the types of keywords you should be using in your post. Now, if we want to get even more transactional, let's use "buy travel books":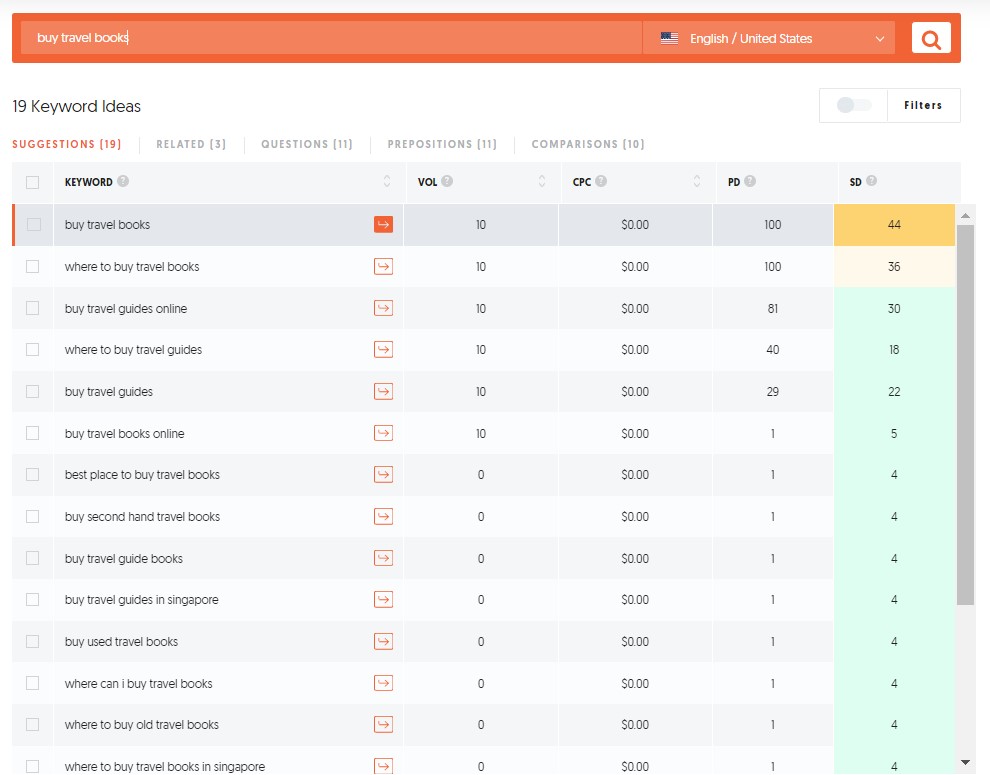 These terms don't have HUGE search volumes – which isn't necessarily a bad thing.
Ranking for these types of keywords won't be terribly difficult, and the intent to buy is strong.
On the paid side, you can promote your affiliate shop or posts using social media ads or Google Ads. If you go back up to the Ubersuggest keyword lists, you can see what your costs would be for Google Ads under the "CPC" (cost-per-click) column.
While paid ads are a great way to boost visibility and hopefully drive in some revenue, it can definitely get expensive.
As a budding blogger looking to get your skin in the affiliate game, one of the best things you can do is leverage your loyal readers. Focus on building your email list – of which you can promote your shop items and affiliate posts to.
Here's a good example of an email from Jetsetter that directs users to a holiday blog post with affiliate links: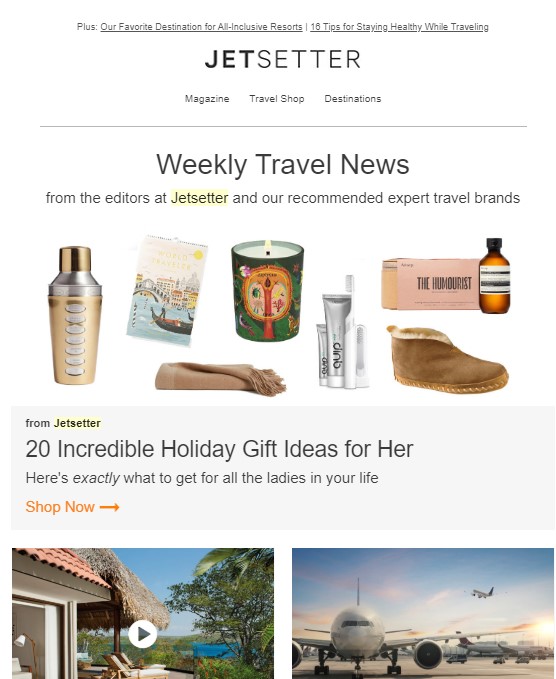 Year after year, email has proven to have the highest ROI of all major marketing tactics – experts say that on average, every $1 spent on email marketing generates $32.
Keep in mind, if people sign up for your email newsletter, it's a good indicator that they like your content and trust your words – therefore, the likelihood of them buying from you is probably greater than a random person. 
The truth is that affiliate sales take a good amount of time and a sound marketing strategy – just like any other online business.
While miracles do happen, you shouldn't expect them to the second you place an affiliate link on your blog.
Wrapping Up
So, I hope this post wasn't a total downer.
The intention was to provide a realistic view at what the process of monetizing your blog might actually look like – and not to get caught up in fairy tales.
Making money off of your blog is very possible. But like most businesses, success won't come immediately.
You need to develop a plan that allows you to incorporate money-making tactics that meet three core criteria:
They don't turn your loyal readers off.

They implement smoothly with your site

They are promoted in a way that attracts interested traffic.
As you can imagine, this is much easier said than done.
To do it the right way, you may consider speaking with a marketing agency for some good tidbits on how to get your plan off the ground – and stay tied to reality.
Happy blogging!
This post was written by Kevin Svec. Kevin is the Chief Content Strategist at E2M Solutions Inc. He is highly experienced in planning, creating, and distributing blog posts, eBooks, whitepapers, and any other sort of educational content. Kevin is also a seasoned copywriter, with a lot of experience writing website copy and ad content. When he isn't rock climbing or enjoying one of Southern California's gorgeous beaches, Kevin is writing for Impulsive Wanderlust, a travel + leisure website he created. Connect with him on LinkedIn.