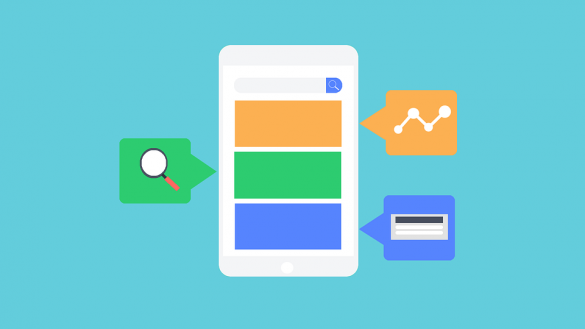 No one is coming in marketing or blogging with a ready-to-go set of skills and experience. Your level of competence will grow over the time, but content that you already published can remind you that you haven't been a pro from the very start. That's why it's important to look back and take the time to check and update your old texts.
At least, you can improve your texts according to knowledge you gained and check if they meet all modern requirements. It's especially important in case of technical optimization that's quite often ignored by many copywriters. In this article, we'll talk about the aspects of technical SEO that will help you make users and search engines like your content. Also, we're going to show you how to find and solve all main technical issues using web crawler.
1. Content Structure
1.1. Why It Is Important
You should use H1-H6 headings, and numbered / bulleted lists in your content because of at least three reasons:
Headings, lists, and any other structure elements make the text more readable. They also make it look better and improve the navigation, especially if users can easily scroll to any part of the post.
A well-structured content attracts the attention of search engine robots. First, it shows search bots that you're taking care of your readers. And secondly, using keywords in headings play a significant role in the ranking because it shows the relevance of your content. But refrain from overspamming, such strategy can lead to bad consequences (e.g. RankBrain algorithm).
If you already have a content in a SERP's (search engine results pages) top, you can use H2 and H3 headings or tables to create a Featured Snippet with your text and link.
1.2. Structuring Recommendations
There are several main rules you should follow performing text structure optimization:
It is recommended to use only one H1 per page. It is an essential element of the page in terms of SEO.
The order of placing H2-H6 headings is not of fundamental importance, but it would be better to use them according to their usual hierarchy.
The article must contain a few H2 headings and, if necessary, headings with a lower hierarchical level.
H1 must not be duplicated within a website.
Recommended H1 length is no more than 65 characters.
1.3. How to Check Structure Elements
To see if all your blog pages contain headings and check if you used them correctly, you can use Netpeak Spider:
Turn on the program.
Go to the sidebar and open 'Parameters' tab.
Check if all necessary parameters ('H1-H6 Headings') are ticked.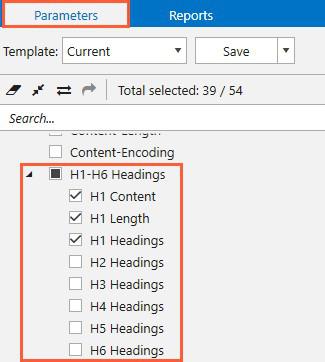 Paste a domain you want to check into an 'Initial URL' field.
Set default settings and start crawling.
After the completion, go to the sidebar and open 'Reports' → 'Issues' tab. If the tool finds some headings issues, you'll see them in the issues list. That can be:


missing or empty H1
multiple H1
duplicate H1
same title and H1
max H1 length

(default limit is 65 characters, but you can change it in 'Settings' → 'Restrictions' menu

)
2. Post Length
Text length is one of the important indicators for the website's technical optimization. The series of studies show a clear correlation between the text length and its position in the SERP.
2.1. How to Quickly Check Content Length
To perform a mass analysis and check if there is enough text on every page of your website, you can use Netpeak Spider. By default, the program is counting characters with spaces, but you can set counting the number of words or characters without spaces.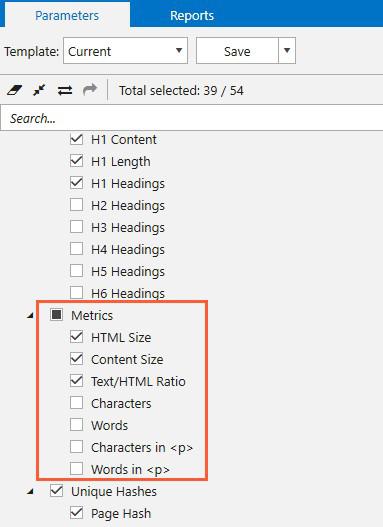 Netpeak Spider will mark all pages with thin content (default limit – 500 characters) as pages with 'Min Content Size' issue. If you have strict requirements about the length of the text, you can set min and max limits in the 'Settings' → 'Restrictions' menu.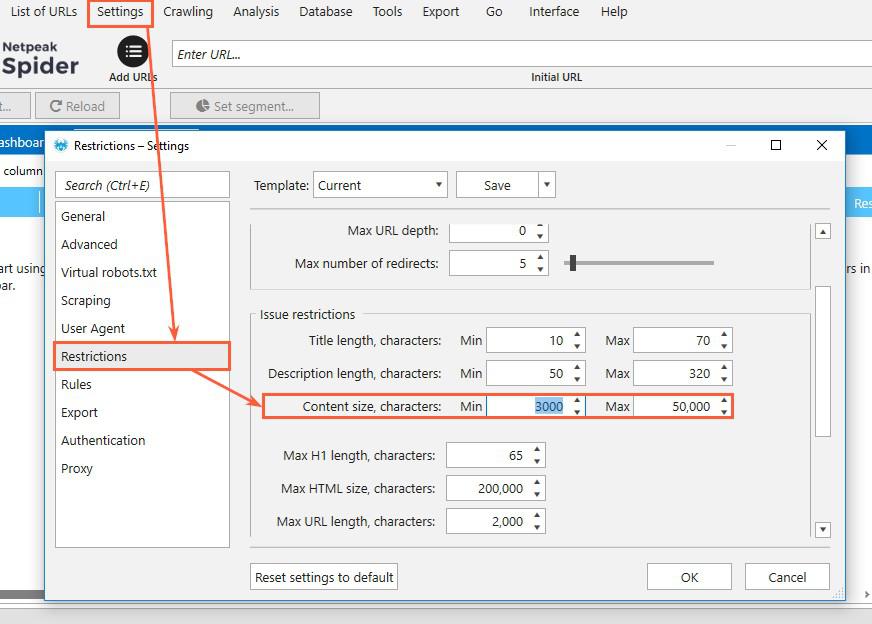 Use your custom restrictions to choose when the tool marks pages as content with issues.
3. Meta Tags
Even if you don't like anything 'techy', you need to get minimal technical knowledge to work successfully with content. Including, in particular, creating and optimizing basic metadata – Meta Title and Meta Description.
3.1. Why Metadata Is Important
There are a lot of reasons why it's so important to create metadata properly:
Meta Title reflects the name of the page, and Meta Description is responsible for a short description that users see in a SERP snippet for this page.
These tags can be responsible for posts thumbnail view in a blog feed. It depends on website design and its functionality specifications.
Meta Title and Meta Description contain necessary information about the page and post, so they affect website ranking directly.
3.2. Basic Requirements for Meta Title and Meta Description
To make a proper Title and Description you need to keep in mind several basic technical requirements for these meta tags:
The Description must be short but informative. It should reflect the main concept of the webpage or article. The recommended length of Meta Description is from 50 to 260 characters.
The Title also should correspond with the page content and contain no less than 10 and no more than 70 characters.
You can create only one Title and Description for the page.
Meta Title and Meta Description should not be duplicated within a website.
3.3. How to Check Metadata
To make sure that all website metadata meets the requirements described above, crawl your website with Netpeak Spider:
Launch a program and enter the website address.
Check boxes with a 'Content-Length' and 'Description Length' ('Head Tags' section) parameters on a sidebar.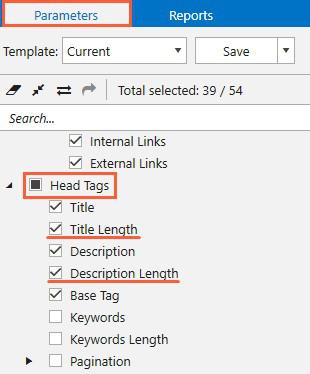 Choose 'Default' settings template in a main 'Settings' window.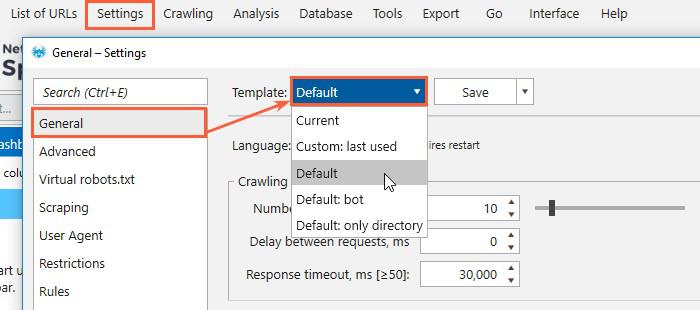 If Netpeak Spider finds some Title or Description issues, you'll see following problems on a sidebar's 'Issue' tab:
missing or empty Title / Description
multiple Titles / Descriptions
max Title / Description Length
short Title / Description
duplicate Titles / Descriptions
same Title and H1
4. Internal Linking
After the user is involved, you probably make everything possible to keep them on your website as long as you can. One of the ways to make user move deeper into your website is to place links to interesting related articles in your content.
4.1. Internal Linking Functions
Proper internal linking between the website's pages performs several main functions:
Increasing average session duration and users' visit depth.
Speeding up the crawling by search engine robots.
Decrease of the bounce rate by increasing visit depth.
Equal link juice distribution within a website.
4.2. How to Check Internal Linking
To detect pages with a lack of incoming or outgoing internal links you need to crawl a website with enabled parameters 'Incoming Links' (all links to current page from the crawled URLs) and 'Outgoing (internal) Links' (links from current URL to other URLs of crawled website).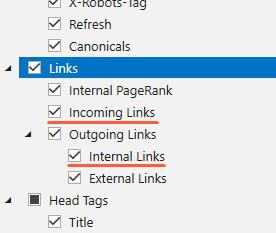 After crawling is finished, you'll find two columns with information about the links mentioned above. So you'll see the amount of incoming and outgoing links within every URL. Now it's your turn to place more links where it's necessary 🙂 You can sort values in ascending or descending order.

5. Unique Content
Copywriters usually think only about the text uniqueness, but let's keep in mind that some technical issues or usual inattentiveness can cause partial or full page duplicates on the website. As well as the non-unique content, duplicates can severely damage your website's optimization and its relationships with search engines.
5.1. How to Find Duplicates
To figure out if some content elements of are duplicating within a website, you need to perform the following steps:
Open Netpeak Spider and enter the website address in 'Initial URL' field.
Select 'Default' parameters template on a sidebar.
Start crawling and wait till the program finishes it.
After the analysis is

finished, take a look at issues list on a sidebar ('Reports' → 'Issues' tab). If your website has some problems with content duplication, you'll see the following issues:
duplicate pages
duplicate text
duplicate Title, Description, or H1

Click on the issue name to see all groups of pages fully or partially duplicating each other.
Fix the problem manually or ask your web developer to deal with it.
6. Images
Images are an essential component of web content, so they also need proper optimization.
6.1. Why Images Are Important
Visual content optimization is essential for several reasons:
Images can be added to the text to make it more valuable and easy to read.
Search engines welcome the use of images, because it shows that you care about your visitors.
Images take part in ranking and can lead users from image search.
6.2. Basic Image Optimization Aspects
The image optimization means:
Presence of pictures on each page and every article.
Proper size of each image. The recommended limit is 100 kBs.
ALT attribute with a short description for all images.
How images are displayed on your website.
6.3. How to Check Image Optimization
You can check if your images are optimized using Netpeak Spider in a few steps:
Launch Netpeak Spider with all previous settings.
Make sure that 'Images' parameter is ticked and start crawling.

Take a look at the list of detected issues on a 'Reports' → 'Issues' tab on a sidebar. It could be:
broken images
missing images ALT attributes
max image size (by default, size should not exceed 100 kBs, but you can change limits in the tool settings)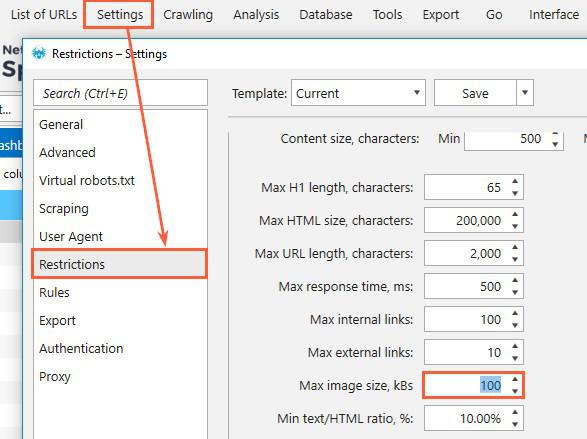 In a Nutshell
Any professional copywriter or other specialists who work with content should keep in mind a lot of different nuances about technical web content optimization. There are several technical SEO things you need to do while creating new content or auditing existing articles:
Use structure elements including headings, lists, and tables.
Write text with an optimal number of characters.
Use Title and Description meta tags properly.
Optimize your internal linking.
Keep your content unique and fix duplication issues as soon as possible.
Use images in your content and optimize them.
Do you integrate technical SEO in your daily copywriting tasks? If you do, which ones? Share your experience in the comments below.