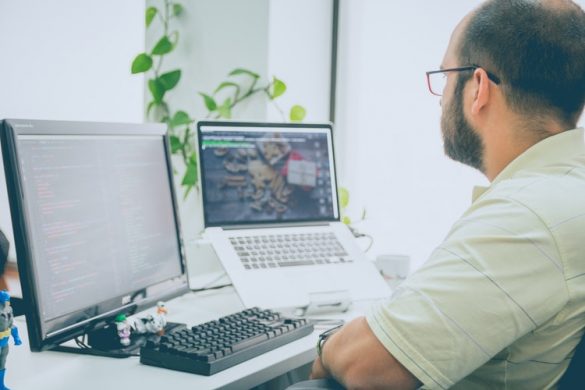 When you love your job, you would do anything to keep it. Even if that means sacrificing your free time. However, how much is too much?
Let me tell you a little story.
Prior to building my profitable freelancing career, I was lost. My 9-5 job gave me the security and the stability I needed but I wanted to be my own boss.
After researching what skills are needed for the niche I'm interested in, I started learning little by little. It got to a point where I'd be home from work and continue to stare at the screen for the next five hours.
Fast forward a couple of months when I found my first clients. Since there was more than one project I got involved in, the day suddenly became too short.
The next thing I know, I'm late with the project's delivery because some clients wanted their work done before the deadline. And I accepted that request.
The reality hit me harder than I could have thought when I fainted and hit my head on the hard tiles of a supermarket. It was a breaking point for me.
No sleep and constant stress left its toll on me. Luckily, I have no lasting effects from my victorious fall. It sure was painful, but the realization that I need to change my approach to work was priceless.
What I came up with are a few steps and a few useful apps that help you prevent freelance burnout.
Step #1: Create a Functional Schedule and Stick to It
When you're starting your freelancing career first and foremost you have to create a functional schedule. If you're an old-school type of person, get yourself a notebook and make a bullet journal.
Pro Tip: stay away from post-it notes so you don't end up with a room full of small papers scattered everywhere. You'll lose too much time looking for the project with today's due date that you haven't started yet.
On the other hand, if you prefer doing everything on the computer, download a calendar app or use the one you have where you can enter your obligations and deadlines.
For example, the regular calendar app can prove to be useful for daily and weekly tasks.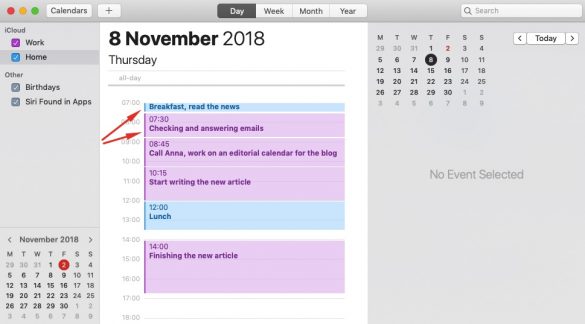 Here's the breakdown of the tasks I have to do on Nov 8th. Each task is divided by hours and has a different color so you can see right away which is the home task and which is work-related.
To add a new task, you have to simply double-click on the blank space and add the event on the right, then click "Apply".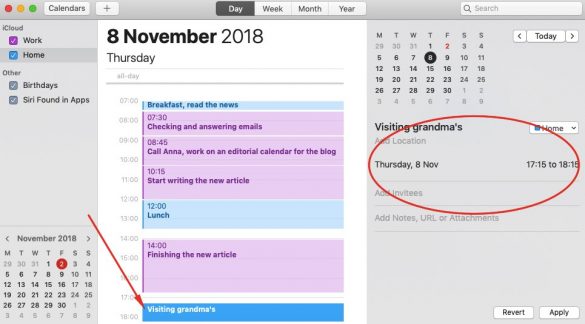 What's great about it is the option of syncing with your phone so you get the notifications before you have to start with a certain task.
As far as the weekly schedule goes, mine looks something like the one below.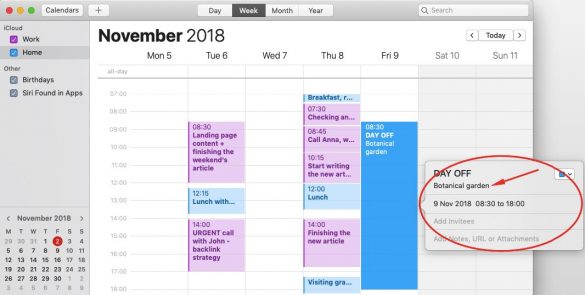 You can see the "Day off" and the little window next to it, where you can add the location for your event or task.
Some days are still blank because I get last-minute projects during weekends and I tend to fill in the weekly calendar at the end of the week.
If you want an app with more options, like multiple reminders and flexible pre-alert time settings, you can go with CalAlarm 2. Its interface is similar to the Mac calendar.
Although, the main difference is that it's made exclusively for phone use. In case you're more comfortable using a mobile phone than a computer, then this kind of app is for you.
For the tasks that don't have a specific due date, you can set up a reminder that goes on on a daily or on a weekly basis.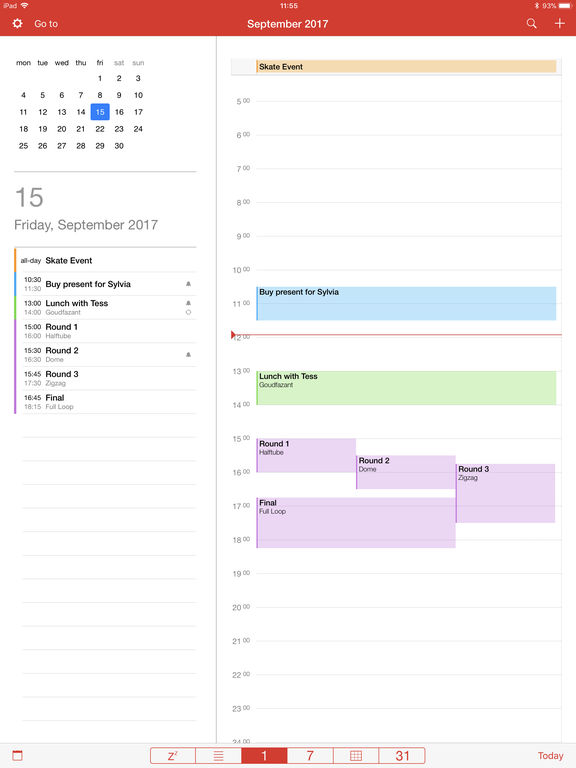 The weekly schedule here is a bit clearer when you have lots of tasks in one day.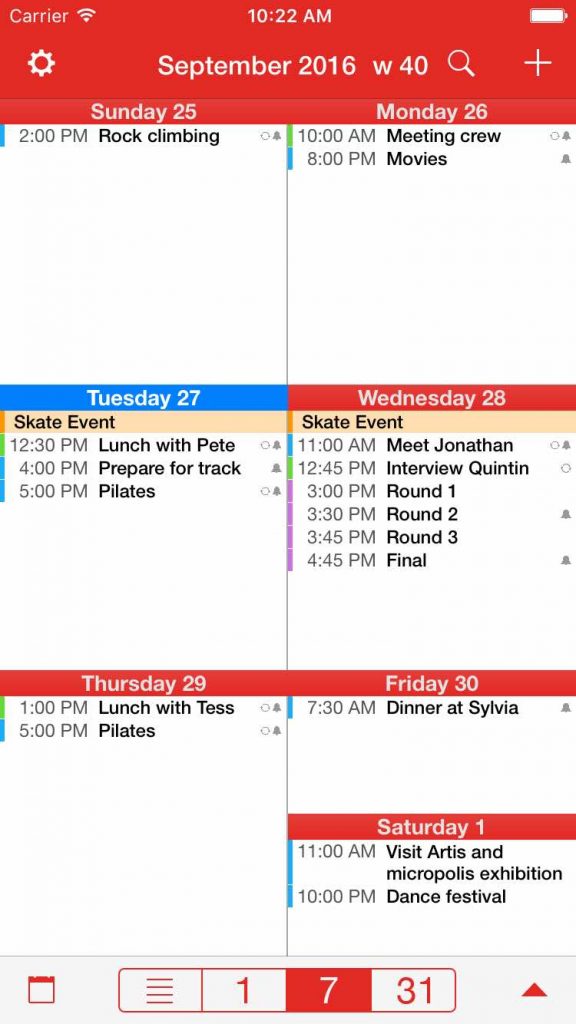 Another great advice I wish I got was to dedicate extra hours to each task because 2 factors can have an influence on its outcome:
The internal factors – They encompass the conditions such as writer's block and fatigue, or simply not asking the right questions about the projects. What's more, our surroundings can affect us deeply. The smartest move you can make is to a have the

perfect home office

where you'll be able to focus.

The external factors – These can happen anytime. The most common one is the lack of internet connection, followed by unexpected chores (such as picking your grandma from the hospital). Even waiting for someone else to complete a part of the task (if you're working with a group of people) can have consequences on the completion of your job.
Lastly, set clear working hours. Deciding whether you'll work after 5 and on weekends makes it easier to add the assignments to the calendar.
Here are my working hours which I send to all of my clients prior to start working with them.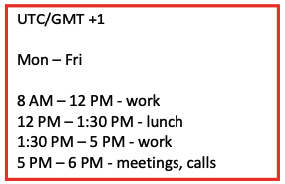 When they know my availability times, it's easier for both to agree on a project deadline or on a meeting.
Step #2: Prioritize Work and Clients
The freelancers who get to work on a steady influx of projects have to know the art of prioritization. For example, if the due date for a huge project is in two weeks' time, it's obvious you'll take the smaller one that's due in 3 days.
However, some clients want their work done as soon as possible. Then you have to take the discussion on a next level and stand your ground. Explain to them why is it you can't fulfill their absurd request instantly.
Clearly, freelance newbies will take on all at once. But the client's wish to have everything immediately isn't worthy of your health and your day off.
To see what is taking up too much of your time, it's best to use Toggl. After you enter the time you spent on every task, the app will analyze where your hours went and what's holding you back. 
The app showed me where I should put more focus and which tasks are completely useless.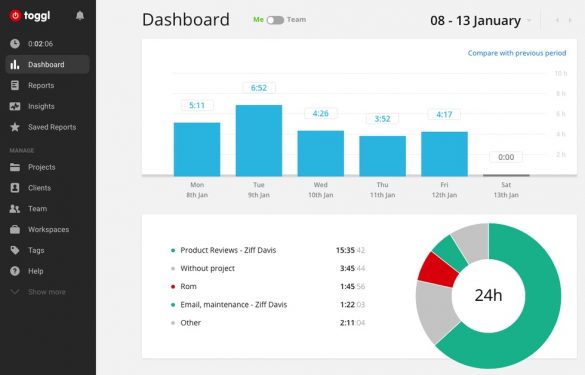 It's true that you're bound to sacrifice a little at the beginning. Luckily, later on in your career, you'll get to choose what you want to work on.
Step #3: Complete the Project Ahead
After you've learnt how to deal with the clients' irrational demands, you can think of how to complete the project ahead of what you have planned without suffering freelance burnout. Following are 5 suggestions to make it possible.
Eliminate toxic distractors while working – The new reality show will hardly encourage you to start working. Instead, you'll end up binge-watching 5 episodes and waste your precious time.

Chop the projects into smaller parts – A couple of small bites makes it easier to eat a cake. It's exactly what you have to do with your projects.

Resolve one by one – Be careful not to take the middle part before the first one or you'll get lost.

Save your projects online – For this step, I like to use the good old Google Drive, where I store every single project I've done.
As you can see, you only have 15 GB of storage, but can upgrade it for a monthly or annual plan once it's full.
Use an app that remembers your passwords – I used to think I can remember all of my passwords until I forgot a few of them and missed a deadline. A great app to prevent this is

LastPass

, where you can store all of your passwords and secure them with a master password.
Say Goodbye to Freelance Burnout
My bad working schedule and wrong approach to the jobs I was assigned caused me a disaster. Sadly, it can happen to you when you least think about it.
However, careful planning and a few other tricks will prevent freelance burnout from happening.
Just keep in mind to avoid supermarkets when you're feeling sick.