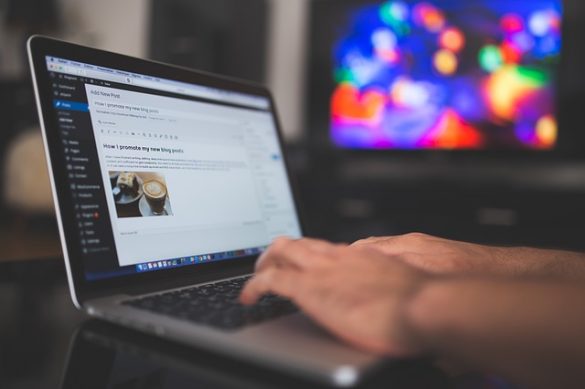 SEO is a big concern for anyone who runs a website with a blog. If you publish a blog on your business website, you will need to have an SEO strategy in place.
And one of the key features of a good SEO strategy is title tags. But what are these, and how should you use them effectively to improve your SEO?
Here's what you need to know about using title tags on your blog to get the most out of them.
A Quick Look at Title Tags
First of all, what exactly is a title tag?
A title tag is an HTML tag that goes in the head section of every page on your website. Its key role is to provide information about the topic of the page.
Sometimes these are generated automatically by your CMS, but you can often create your own tags— this is possible on WordPress.
Where will you see the title tag? It's often not particularly visible, but the main place you will see the title tag is in the search engines. It is the primary link that appears when the results display, and the text below the title is the meta description.
Title tags also show up when you share a page, such as a blog post, on social media. If you share a link on Facebook or Twitter, for example, the title will be taken directly from your tag.
The other place you can see the title tag is in your web browser, but how visible it is depends on the browser you are using. Apart from these situations, the title tag remains hidden most of the time.
Why Title Tags Matter
Title tags are important for both readers of your content and for the search engines. They tell the search engines what the page is about, and they have a lot of SEO weight.
They also provide the first impression of a page for readers. People decide in seconds whether to read a piece of content. If your title tag is not appealing, whether in the search results or a social network, it will get fewer clicks.
How to Get the Most from Your Title Tags
Writing effective title tags is essential for good SEO. It won't suddenly send your site rocking up the search rankings, but it is an important foundation. Here's how to use title tags to make sure they are working hard for your blog.
Write for Clicks
In order to make your customers actually want to click onto your site, your title tags should appeal to your target readers.
Make them compelling by using all the same rules for creating an enticing headline: put your target customer front and center. Ensure that every word is geared towards enticing them to click by offering value, something that they can benefit from. Check out a great headline/title tag example from Louise Myers, below: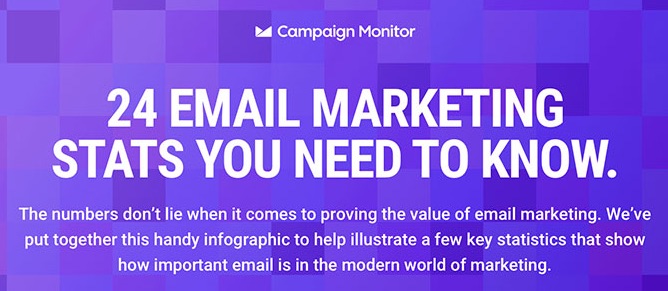 Image Louise Myers
Not only is the headline visually bold, but there is a promise of providing something to the reader that they "need to know": which in turn evokes curiosity and intrigue. It compels clicks effectively and powerfully by providing a clear benefit to its audience and the page title makes the promise of the infographic integral.
CoSchedule's Headline Analyzer is a particularly useful tool for testing your headline clickability: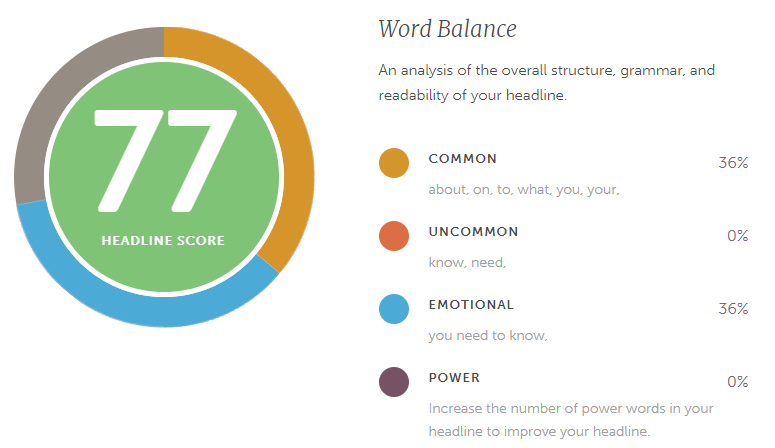 Image CoSchedule
Enter your headline into the search field, provide some basic details, and CoSchedule will return an insightful analysis that highlights its structural and grammatical qualities. If you're suffering from copy blindness, this tool is a particular lifesaver.
But remember, your title tag is limited to a certain number of characters on SERPs. As such, it's important that you tread that fine line between being short enough to be visible, but enticing enough that customers will want to click on it. You may need to condense or change your headline when converting it into a title tag.
Use Keywords (Sparingly)
While getting clicks is the most important factor, don't forget about the search engines. You want to get into the habit of optimizing all your pages for search, and that means using title tags that are optimized as well.
They should normally be optimized for one keyword phrase, and this should be the primary keyword for the page. Don't go overboard with other keywords — cramming in a list of keywords will not help your SEO and will put off potential visitors.
Don't obsess over getting your primary keyword into the title, but it should be fairly easy to do as long as the page is relevant to the keyword.
A fine example of this can be seen on the website flipping platform Exchange.

Image Exchange
On its page dedicated to buying businesses for less than $10k, the heading clearly hit the primary keywords, but in a way that is both SEO- and user experience-led too. The page title too ("Buy Online Businesses & Franchises Under $10k | Stores For Sale") is concise, succinct, and keyword-optimized — excellently executed.
Try to front load the main keyword where possible, meaning you should use it at the start of the title rather than the end. The SEO value might not be huge, but it can still help.
There is one other benefit of using the keyword in the title. When people search for that keyword, if your link shows up in search, the keyword will be highlighted. This can encourage more people to click on it.
Don't Make Them Too Long
There are no rules when it comes to titles. You can make yours as long as you want, but it's a good rule of thumb to limit it to about 60 characters. This is the number of characters that Google typically displays in the search results.
You usually want your entire title to be readable in the search results, so keeping it to this length will help to make sure that happens. The same is true when you share your links on social sites, which will often cut off the title if it is too long.
Don't worry too much about this — after all, some titles are naturally longer and they may work better that way. But if you can keep your title short, do.
A useful tool to quickly test your title tags (and more) is SEOmofo's Snippet Optimizer.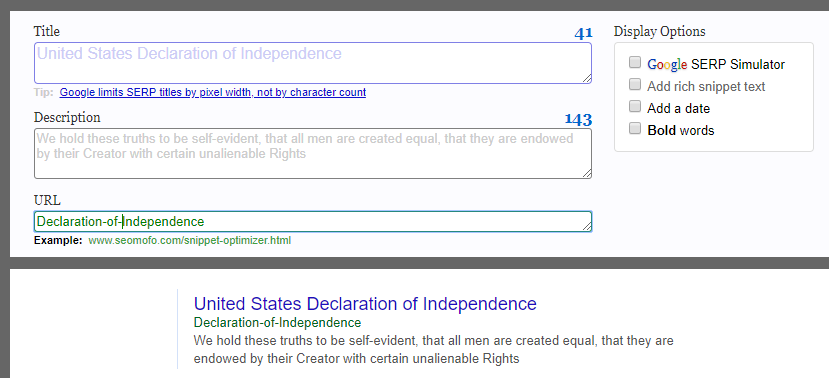 Image SEOmofo
Simply enter your title, meta description, and URL, and it'll show you how it looks on Google's SERPs. It's a handy tool that saves you time when you're in a pinch.
Make Your Title Tags Unique
Don't get into the habit of using the same title tags for every page, and put a bit of effort into making them unique.
This shouldn't be hard with blog posts because the titles will all be different anyway. But for your other web pages, like service pages, ensure they are all different.
Title tags are a quick and easy way to improve your overall SEO. They won't suddenly get your site to rank, so don't expect to simply improve your titles and see a big jump in your rankings. But they do play a role and they can also help you to get more clicks when your pages start ranking.
Take a holistic approach to your SEO and understand that good SEO is the combination of lots of small parts, including title tags. Then use the tips in this guide to maximize the power of your title tags and ensure you're not missing out on any SEO benefits.
About the author
Victoria Greene: Writer & Content Producer
I love helping people get the most from their businesses (& life)! When I'm not pottering in my garden or doodling in my notepad, I'm thinking up new ways to maximize content and get those all-important sign-ups.