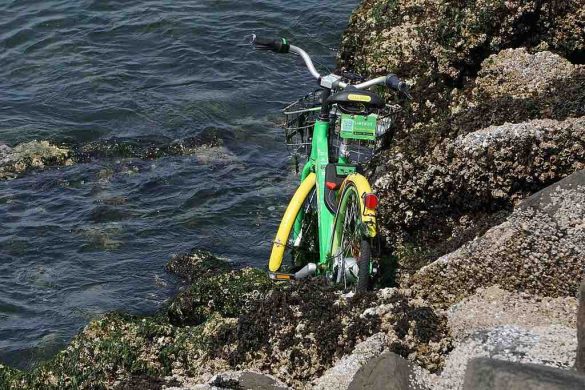 When I first saw the bikeshare program in Minneapolis, I thought, "This is great! Now everyone can get a bike whenever they need one!" (Something I continue to hope for.)
And for a while, it was great.
Now that a few years have passed, I'm souring on bikeshare. And it's mostly because of dockless programs like Limebike. Scenes like this have become common:
I found an @ofo_bicycleUK on Lyons Walk – dockless cycle sharing seems like a great idea – only trouble is, it's stuck in a tree! #ofo can we get this bike back on the road? 🚲🌳 pic.twitter.com/BEUR7v5FjR

— Alice Young (@alicelayoung) August 8, 2018
There are dockless bikes all over the sidewalks in my neighborhood. They end up in the bushes. In trees. In the river.
It's a lot like content. It's a great idea. I want everyone to have access to all the awesome, useful content that they want. But after a while, things get messy. I call it the Limebike Model of Content Organization.
And it's time to clean it up.
Problem #1: Stranded Content
 

View this post on Instagram

 
See that bike in the river? It's not doing anyone any good. It's completely isolated from its partners, a dock, a rider, and anything else that might make it useful.
It was useful once.
But somehow it landed where it has no business. It's an orphan. Which is why we call this type of content "orphan content" or an "orphan page."
These pages aren't linked from anywhere else on your site, and that's a problem. Not just because it's bad for user experience, but also because search engine crawlers have difficulty finding them.
(Internal links are good for SEO, too, so you get a double bonus for fixing these issues.)
This can happen in a few different ways, and it's especially common on sites that have been around for a long time.
Maybe you went through a redesign or a content reorganization and something got left behind. Or it was going to be part of a campaign, but the campaign never got finished. It could have been the spoke of a content hub that got moved.
Whatever the reason, you need to fix it. You need to find these stranded pieces of content and get them back where they belong.
How do you go about finding them? With a full content audit. Tools like Screaming Frog won't find your orphan pages, so you'll need to get a second list from your CMS of all the URLs of published pages. When you compare them, you'll see entries on the second list that the crawler from the first didn't find.
Those are your pieces of stranded content.
Once you find them, you can get them back where they belong. Where they can start doing some good.
Problem #2: Heaped Content
Meanwhile, inside my Shanghai compound, pile of illegally parked @ofo_bicycle share bikes continues to grow. #sharingeconomy pic.twitter.com/BGbpa6OaCn

— gabriel wildau (@gabewildau) March 28, 2017
While I've never come across this a pile of bikes quite like the one pictured above, I've definitely seen content that looks like this.
When you've been creating content for a while, it starts to pile up. And if you don't have a good organizational system, it's going to get heaped.
Once you've completed a content audit, you should be able to create a concise, organized, sensical map of where every piece of content lives. If you can't, you're looking at heaped content.
And it's time to get it organized.
The best solution is one of the trendiest concepts in content marketing right now: the pillar (or hub-and-spoke) model.
You probably have big, valuable, evergreen pieces of content and smaller pieces that aren't quite as comprehensive.
By organizing them into sections with smaller pieces all linking into the bigger ones, you'll create a better user experience by funneling your readers toward the resources they're likely to want. And you'll help search engines figure out which of your content is important.
And as a bonus, it's easier to keep organized and updated, eliminating stranded pieces of content in the future.
It's a win for everyone.
(Note: this is an easy one to head off if you start your content marketing with a plan. If you're still early in the process, take time to plot out what you're going to do earlier rather than later.)
Problem #3: Broken Content
We have LimeBike in my city. Unfortunately this is happening more often or Bikes are being thrown in the river smh pic.twitter.com/7uUtxyYMkn

— Elisabeth (@Elisa2469er) October 3, 2017
Dockless bikes have to be tough. They go through a lot of wear, and they need to stay functional. Fortunately, your content doesn't get beat up as much.
But it can undergo stresses that will break it. And that's bad.
Broken content can take many forms.
Maybe your blog post has a link in it that's pointing to a page that's no longer there, so it gets hit with a 404 error. Or an embedded video has been pulled off of YouTube. Or you included some kind of interactive tool that no longer works.
Content can also become broken over time in a non-technical way. Sometimes old content just isn't relevant anymore. Or the information becomes outdated.
All of these things can give your content a flat tire. (Or two.)
Some of these pieces of broken content are easy to find. Tools like AtomSEO and Google Search Console will tell you about broken links.
But finding irrelevant and outdated information isn't so easy. To find this content, you'll need to go through a manual content audit that includes reading through each piece of content to see if it's still performing how it should.
If it's not, you can send it in for a tune-up.
Problem #4: Full-On Disaster Content
A pile of Ofo (bike sharing) bicycles in China waiting for repair. Too Much Money Chasing Too Few Ideas https://t.co/ywgMR3torH pic.twitter.com/oOVU57hdYS

— Jason McMinn (@jasonmcminn) May 1, 2017
I don't know how this happens. But sometimes there's just an absolute disaster of bikes (or content).
Usually, it's some combination of stranded, heaped, and broken content. It's a mess.
And the solution for this type of problem can be complicated. In my experience, it's often best to start over.
Now don't get me wrong—I don't mean that you should delete it all and start writing new content. But you may want to take those pieces of content apart and recombine them into something new.
Because let's be honest: if your content looks like this, you probably have problems beyond organization. There's definitely some good content in there. But it needs to be taken out of the mess it's in and put into a completely new system.
This is a big undertaking, but it's absolutely worth your time. Because no matter how bad your content looks at first glance, there's a really good chance that you'll find some great value in there.
But you might need to take a central idea and put it into a new blog post. Or combine several posts into an infographic. Or update and refilm some videos.
The point is that you should be ready to take what you've created and (dis-)organized and use it as raw material. It can be a painful process. Especially if you were the one to create much of that original content.
But in the end, you'll build a much stronger foundation for your future content marketing efforts.
Bring Back the (Content) Dock
We may never again see the golden age of docked bike sharing. I fear that dockless is here to stay.
But your content can be grounded, well organized, and useful to your visitors. If you're on the lookout for stranded, heaped, broken, and full-on disaster content, you can fix it. You can update, tweak, and organize it in a way that brings value to your readers.
And from there, you can create a solid content marketing foundation.
The world will thank you for it.
Featured image credit: Dankarl via Wikimedia Commons
Author Bio: Dann is a content strategy and marketing consultant who helps companies build, reach, and engage audiences. He also blogs about strategy and marketing at www.dannalbright.com. You can find him on Twitter @dann_albright.