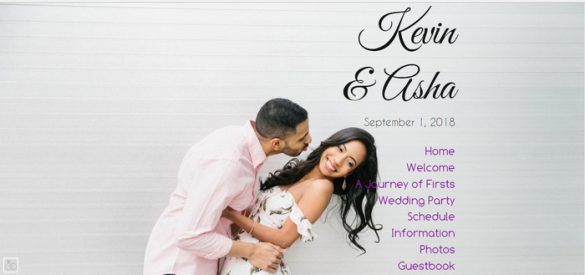 Okay, you just got engaged, and now, you need to begin arranging your big day!
One of the most efficient ways to communicate all of your wedding details and alerts to your invitees is by creating a wedding website.
Picture that happening to countless couples – a rich market for a wedding website. You can look at this two ways: you can create your own wedding blog OR tap into the pool of engaged couples (potential clients!) who want to create their own wedding website.
If you're looking at the latter option, what you need now is to draw inspiration from some of the best wedding websites out there. A dandy place to start your search is on wedding websites such as Wedding Wire, The Knot, MyWedding.com, Wedding Paper Divas, Wedding Woo and NearlyWeds.
A "wedsite's" primary objective is to convey all of the fine details of the wedding to all of the guests. Information such as:
What is the wedding time & date? (ex: Sunday, June 15 from 5pm-11pm)
When is the deadline for RSVP?
The guests should arrive at what time?
Where should guests park and are do any fees apply?
What is the dress code? (Spotlight things like semi-formal and any special dress prerequisites, like what type of shoes they should/should not wear; also offer shop recommendations – for example, if you get your gown at JJ's House, make sure to mention that.)
Does the wedding possess a theme? Are there any colors that guests should wear or avert wearing?
Is this an adults-only wedding or are kids welcomed?
Are the ceremony and reception sites wheelchair accessible?
Will the reception and ceremony be held at different or the same locations?
Any prohibitions or special requests, such as no cameras for an offline wedding?
Who do guests contact with inquiries?
And wait — that's just the tip of the iceberg!
There is the reception:
What food/dessert will be served?
What if a guest has a dietary limitation or allergy?
Will there be dancing?
Will there be any special activities occurring that guests need a heads up about?
What time will the reception conclude?
What about other wedding-related events … is there an open rehearsal dinner, a Sunday brunch, or welcome BBQ for the guests? Consider noting any wedding-related event info in its own section on the site.
Group hotel blocks are very important too if the couple is going to have many guests come from out-of-town or have a destination wedding.
Then there's still the guest book, photo album, gift registry, wedding day transportation, and even the honeymoon!
The following wedding website examples are so lovely that you may want to emulate them (and please, feel free). At the very least, you can glean some ideas for your own website. Seeing what other duos are doing, or have done, with their wedding is always the most intriguing form of inspiration.
The following ten couples have used different themes, colors, music, varying sections of content on their sites and re-ordered their segments to make completely elegant and unique designs. And we must add, they're totally rad!
Have fun exploring our 10 best wedding website examples below.
Top 10 Wedding Website Examples
10. Morgan & Garrett – CA, USA
9. Leah & Kevin — Virginia, USA
8. Heather & Randall – MI, USA
7. Dylan & Kevin — CA, USA
6. Jen & Rob – MO, USA
5. Anna & Tommaso — Italy
4. Asha & Kevin — Texas, USA
3. Nikki & David — NY, USA
2. Tanisha & Antonio — NC, USA
1. Amanda And Alec — Texas, USA
There you have our pick of wedding websites!
There are tons out there, but this is a great start if you want to impress your clients or snag new ones.