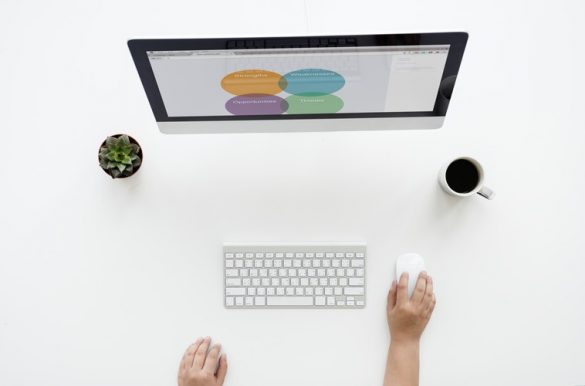 It's no secret: without focusing on your search engine optimization (SEO) strategy, your brand or business will not survive, let alone thrive, in today's digital world.
Whether you're running a sporting events consultancy service or you have a budding eCommerce empire selling novelty socks – if you don't optimize your content for search, not many people will know you exist.
And it doesn't matter how good you are at what you do: if you're not visible online, you will not enjoy the conversions and levels of profit you no doubt deserve.
A significant part of boosting your search engine rankings and enhancing your SEO efforts is by choosing the right keywords for your content – and to do so effectively, it pays to use a robust keyword suggestion tool.
Which brings us onto Ubersuggest.
In February 2017, Quicksprout founder and world-renowned digital marketing, Neil Patel, acquired Ubersuggest.
Initially, there were some rumblings of excitement in the digital marketing world, but a host of industry experts felt the idea was flawed, branding it an initiative that would offer very little value to the everyday user.
These criticisms were cutthroat to say the least – but why?
Many sceptics believed that Ubersuggest would end up becoming an expensive premium SEO-based subscription service, all geared toward lining Mr Patel's pockets.
But, they were wrong. Despite the rafts of negative evaluations, a little over a year later, Ubersuggest is now live and integrated with Neil Patel's main website.
The platform has delivered on all of its promises as an accessible, accurate and intuitive keyword planning tool that yields genuine results – at zero cost to the user.
How to use the Ubersuggest keyword planner
One of the most notable things about Ubersuggest is the fact that whether you're the owner of a SME or a seasoned digital marketer, this tool offers real value.
Ubersuggest is straightforward to use and it's easy to grasp the basics, meaning you can get up and running with your keyword research campaign almost instantly.
Fundamentally, you can type in the keyword or phrase you deem most valuable to your campaign or the content.
To refine the results, it's possible to select the medium for which you need keywords (for example, YouTube, shopping, news, web etc.) as well as the search region (worldwide, UK, USA, etc.) you're looking to target: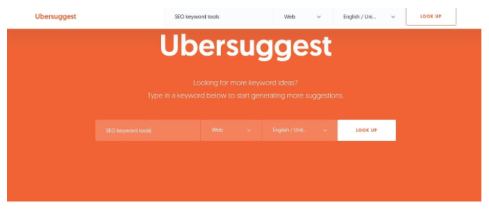 Once you've hit 'Look Up', Ubersuggest returns a list of keywords or terms centred around search volume, cost-per-click prices and online traffic competition (for each keyword).
Once the results page is in front of you, you can compare, filter, highlight and export your prefered key terms to a CSV file for your reference – it's also possible to filter any negative keywords relevant to your content or campaign if you feel necessary: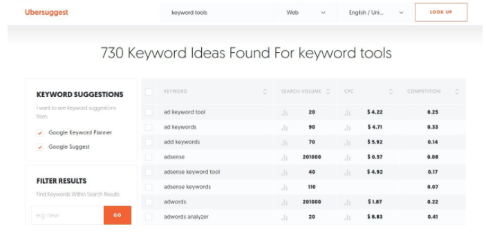 Useful features and functionality
Ubersuggest has an interactive, easy to useful interface that is accessible to all. To help you get the most from Ubersuggest, here are three particularly useful pieces of functionality:
Reliable results and data: A great deal of keyword suggestion tools return inaccurate results, diluting a brand or business's SEO marketing progress. As Ubersuggest pulls its search data from Google Suggest plus a mix of other accurate sources, it offers data based on the keywords or terms that real-life users are inputting in search engines. These are the kind of terms, words and phrases that will ultimately boost your SEO authority, increasing brand awareness and sales.
Rich keywords: It may be a simple platform, but Ubersuggest provides search volume keyword results that are genuinely comprehensive, boasting reliable metrics in addition to suggestions that give the user the ability to drill down with their research and chose search terms that will give their content or campaign an extra dimension of depth and meaning.
Super snappy filters: Ubersuggest's super speedy filtering functions are very intuitive, giving users the power to chop down lists of keywords relevant to their campaign or content in real-time. What's more, filtering out negative keywords from the results page is just as snappy, leaving you more time to focus on what really matters – pushing your business forward.
While some SEO suggestion tools out there boast a seemingly endless list of features, they do come with a sizable premium price tag. If you need an accessible suggestion tool that can source valuable keywords that really count, Ubersuggest is arguably the best piece of software for the job – and of course, the added bonus is that it's free.
For more digital marketing-based insights for your business, read Your E-Commerce Business Can't Thrive Without a Decent Copywriter.
If you need more info on PPC, read How Does PPC Work?