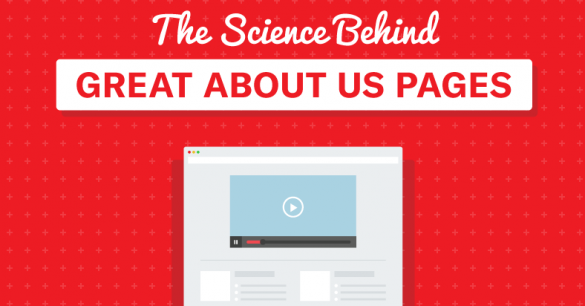 Sending out a clear and inspiring message about your brand is one of the key components of any successful business model, helping to establish a loyal base of customers and attract many more. This not only includes advertising your products and services but also sending out a powerful message about who you are as a company in terms of your values, ethics and ambitions.
Many visitors intrigued by a company and looking to understand what they're about will intuitively click on the About Us page. This is the platform where companies can provide much more detail about themselves and truly impact on an audience. Perfecting this page is no easy task, however, so Siege Media has come up with a guide to take you through all of the components needed for the ideal About Us page. Their guide also includes 50 About Us page examples to add spark to your design.
[bctt tweet="Ingredients to Make the Perfect About Us Page" username="blpro"]
Inspire emotions
Studies have shown that customers will go with their emotions rather than simple information when making a decision about a brand or company. Try to awake and inspire emotions in your audience to invoke a powerful response.
Keep it above the fold
The phrase 'above the fold' refers to the upper part of the landing page which doesn't require scrolling down to read. Experts advise placing the most important information above the fold as up to 80% of users look for information in this area rather than scrolling down.
Clear value propositions
Ultimately any visitor to your page wants to know what your brand can do and why you are the best at it. Avoiding too much complication can work out best when it comes to communicating your qualities to an audience. Also keep in mind the point above and keep your value proposition above the fold!
Establish trust with photography
When people see a friendly face they can immediately begin to trust a company. For example, leading company Zendesk has portraits of each company founder along with a story of how they came together, helping to build a bond of trust between company and audience.
Provide important contact information
There's no use inspiring a potential customer or client if they aren't able to get in touch with you or find your store. For example, as a retail shop you need to have a clear, easy-to-use map showing exactly where you are along with detailed instructions on how to get there. A recent study showed a whopping 51% of people felt that "thorough contact information" is the most important feature missing from most websites.
Avoid stock photos
A study looked at the difference between stock photos and authentic photos and found a massive 45% difference in page conversions. This is because stock photos can make a brand seem to lack resources and originality, so make sure you take the time to get the right photos for your About Us page.
Show the positive not the negative
72% of customers would rather read about what a brand can do for them, rather than what it could help you avoid. Keep your focus on the positive that your company can offer and you will find a similar positive response in your audience.
A call to action
Research has suggested that a call to action at the bottom of a page can boost conversion rates by up to 300%. This call to action can often prove the difference between a customer still undecided and one who has made a firm decision.
Include happy clients and customers
There is little better to vouch for a company's quality than a record of pleased customers and clients. Including a section of positive reviews or publishing testimonials is an excellent way to communicate to people that your customers' well-being is the priority for your company.
Videos attract interest
People in the modern age are so used to seeing videos and images everywhere that they are much more enticed by video clips as opposed to text. A survey conducted by Forbes found that 59% of senior executives would rather view video content instead of text, while younger generations have also been shown in studies to much prefer video content.
Finding the right solution for you
As with anything, it's important to put these principles into context, as not all of these will work for all companies. Despite this, having a well thought-out strategy behind your About Us page rather than simply filling it up with information will put you in a good position to create the best possible page.