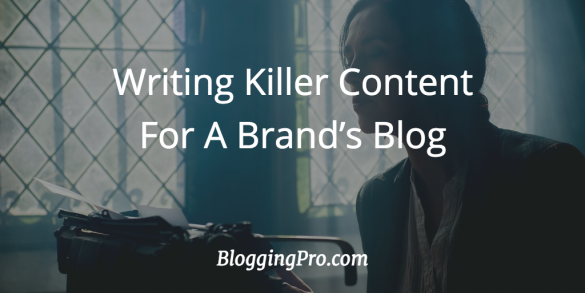 There's a disconnect between brand messaging and blog posts. Visit any number of freelancing writing websites and you'll find a common thread among many of the job postings that are seeking a writer for branded content.
Typically, a job post will lay out a simplified request with a few key points. The writer is asked to type up a certain number of words, include a focus on a specific topic — and that's about it.
The problem with these posts is obvious — the writer isn't required to do a lot of research about the brand that will be posting the content. This leads to incredibly generic posts that fail to capture the brand's message, miss the company's demographic completely, and fails to gather the type of quality leads the brand needs to generate new sales and develop relationships with loyal customers.
So how do we solve this brand-to-writer disconnect? At Presto Media we focus on the differences between an article versus a campaign.
An article is any piece of content that serves a purpose. An article might educate a reader, entertain them, or provide some other type of insight. A campaign sets out to accomplish a very specific end goal for the brand. That goal may be to sell more product, provide a positive feedback loop for a company's actions, or develop a stronger relationship with new and returning customers.
So how can a brand create better branded content that resonates when hiring freelance writers? We've compiled a list of several simple but effective tips.
Learn how a brand can create better branded content when hiring freelance writers. Click To Tweet
How to write killer content for a brand's blog

Explain Your Company Culture Before You Jump Into A Request
Before a blog post can be written for a brand, a writer needs to understand how the company conducts itself, both internally and externally. A job request should include information about the company's goals, a few examples of the work conducted by the business on a daily basis, and an understanding of what the company plans to accomplish now and in the future.
Provide Writers With An Elevator Pitch
Attempting to explain the entire focus of your company to a freelance writer is going to take time. Instead, write up an elevator pitch that explains the overall operations of your company. Elevator pitches are typically 30 seconds long so keep it short and too the point. If you can't explain your brand in 30 seconds or less, it might not be the right time to request branded blog posts.
Supply Links To Previously Written Content That Resonated With Your Customers
Don't grasp at straws with content that lacks focus. If a reader loves one piece of content then jumps to a second article, only to find a completely different kind of focus, you are likely to confuse them about your brand. Instead, have readers check out what your audience has converted because of in the past.
At Presto Media, our content strategists read through a brand's previous on-site and off-site content to discover the type of content that gains shares, comments, and provide the best calls to action.
Have A Clear End Goal You Can Provide To The Writer
If you run a healthy lifestyle company your end goal is probably to sell more product or services to your customers. If you request an article titled "10 Healthy Foods That Will Boost Your Metabolism" there's a good chance you sell products based on the post requested. Be sure to define the products you sell and how they apply to the article. A writer can provide stronger sales points in the form of more direct writing if they understand why the article matters to your brand.
Break your products or services up into brand pillars - three most important things about your brand. Click To Tweet
It's smart to break your products or services up into brand pillars. These are typically the three most important things about your brand that you know resonates with buyers and provide value. The writer can use these pillars to focus their content on what matters most to your customers.
When a writer understands your end goals they can use sub-headings, bolded content, and other forms of punctuation to call attention to important aspects of the branded content they are creating for your campaign.
Give Examples Of Content You Like
Branded blog content doesn't have to look completely different than the content you would find on news sites, personal blogs, and other web platforms. In fact, we would argue that your content should feel like something an internet user would want to see in their social feeds and then click on to read and share.
When hiring a freelance writer, provide them with a few examples of the content that resonates with you and your user base. This provides the writer with an understanding of the "voice" you want applied to your article and it helps jumpstart the research phase of their writing request.
By providing content you find truly worthy, it can also give the writer the fuel needed to position your brand's products above the competition.
Don't Be Afraid To Request Calls To Action
If a reader stumbles upon your blog there's a good chance they were already seeking out information about products and services you offer. If a writer provides valuable information that speaks to your demographic, calls to action can help drive sales following brand awareness. Don't create so many calls to action that you lose sight of the articles focus, but also don't shy away from asking for the sale. That's sales 101!!!
Create Truly Unique Content That Stays On Message
An easy trap to fall into as a brand is "doing what works" in the form of repetitive content. Instead, you need to provide truly unique viewpoints and suggestions for each piece of content. This is where a strong campaign strategy is needed. Make sure your writer understands what you have written about in the past, why you are focused on the type of content you need created now, and what you are planning for the future.
Take your customer or potential client on a journey through your branded blog and they are more likely to see your brand as an authority in its respective space, allowing them to make what they believe to be a more educated buying decision.
This post was written by James Kosur, co-founder and President at Presto Media, a content company that helps publishers, agencies, and brands, develop high-quality content at scale. He has worked in new media for 18 years with an emphasis on content creation, campaign management, and growth hacking.