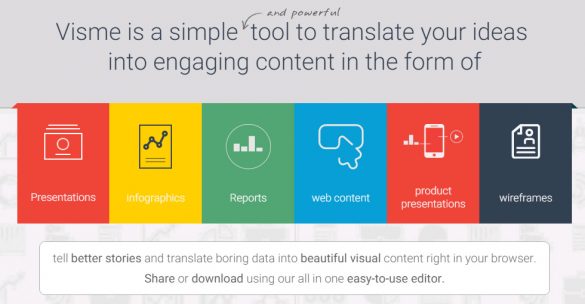 Graphic design has become an integral part of the daily work of the online marketers and the new-age design tools are doing everything possible to facilitate the design process.
The need of an easy-to-use design tool targeted at amateur designers has created a huge market gap that was quickly spotted by numerous IT startups around the world. Half a decade after the boom of the first revolutionary browser-based design tools creative agencies are still challenging the way we see graphic design.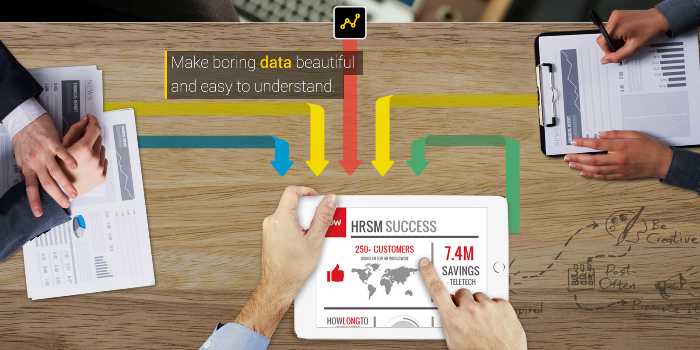 Currently, the Web offers an abundance of tools that help creatives translate data into visuals. The contemporary design tools are focused on providing a specialized set of instruments for building specific content, like presentations, infographics or videos. But only a few have dared to go the extra mile and explore a more complex design environment where taking advantage of multi-functionality is a natural part of the design process.
This is where Visme comes to shine.
To say that Visme is a graphic design tool is simply an understatement. The innovations that power-up this tool go far beyond our understanding for browser-based design experience. Coined as "The Swiss-Army Knife of Visual Content", Visme offers a variety of web instruments that allow a seamless design experience in the cloud. Unlike other competitors in the branch, Visme provides the tools necessary to create a wide variety of design products.
What content can you create with Visme:
Presentations
Infographics
Web banners
Animations
Print materials
HTML5 designs
Backed up with a huge library of preset templates, Visme turns designing into a game of matching different elements into a single visual content. The tool lets creatives play around with vectors, raster images, text, audio, and code to create the ultimate design piece.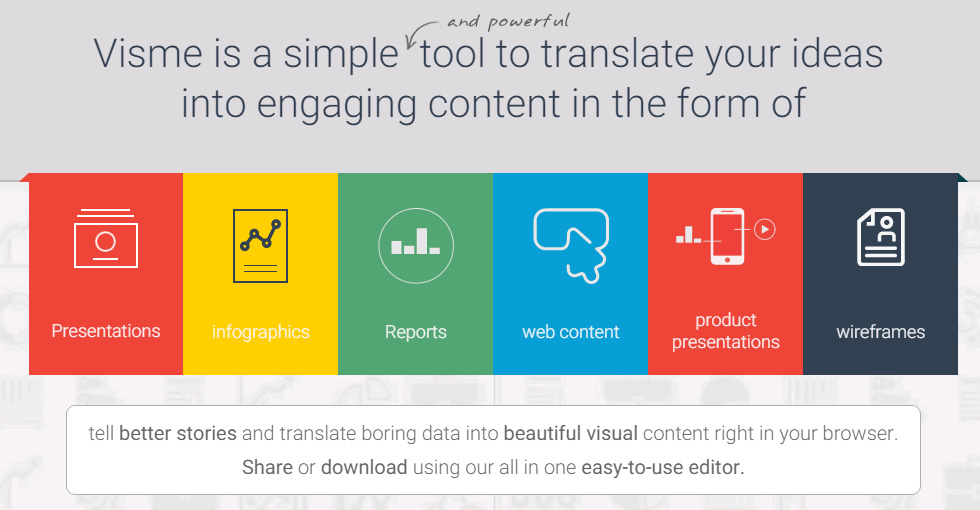 After its first release in 2013, Visme has undergone some serious transformations. The different changes of the tool culminated into a new software version release that answers thousands of user requests and completely reimagines design.
Features to look out for:
Tons of graphics assets
Predesigned templates
Vector icons
Layered text widgets
Massive audio library
Animation options
Multi-functional timeline
Hundreds of professional fonts
Granular text styling
Advanced object operations
Animated chart widgets
The number of newly added features is impressive, yet, the way they actually change the design process is even more spectacular. Visme is so incredibly intuitive it's hard to notice the differences at first. It creates a completely uninterrupted workflow that encourages creativity and clears the boundaries between idea generation and the visual execution.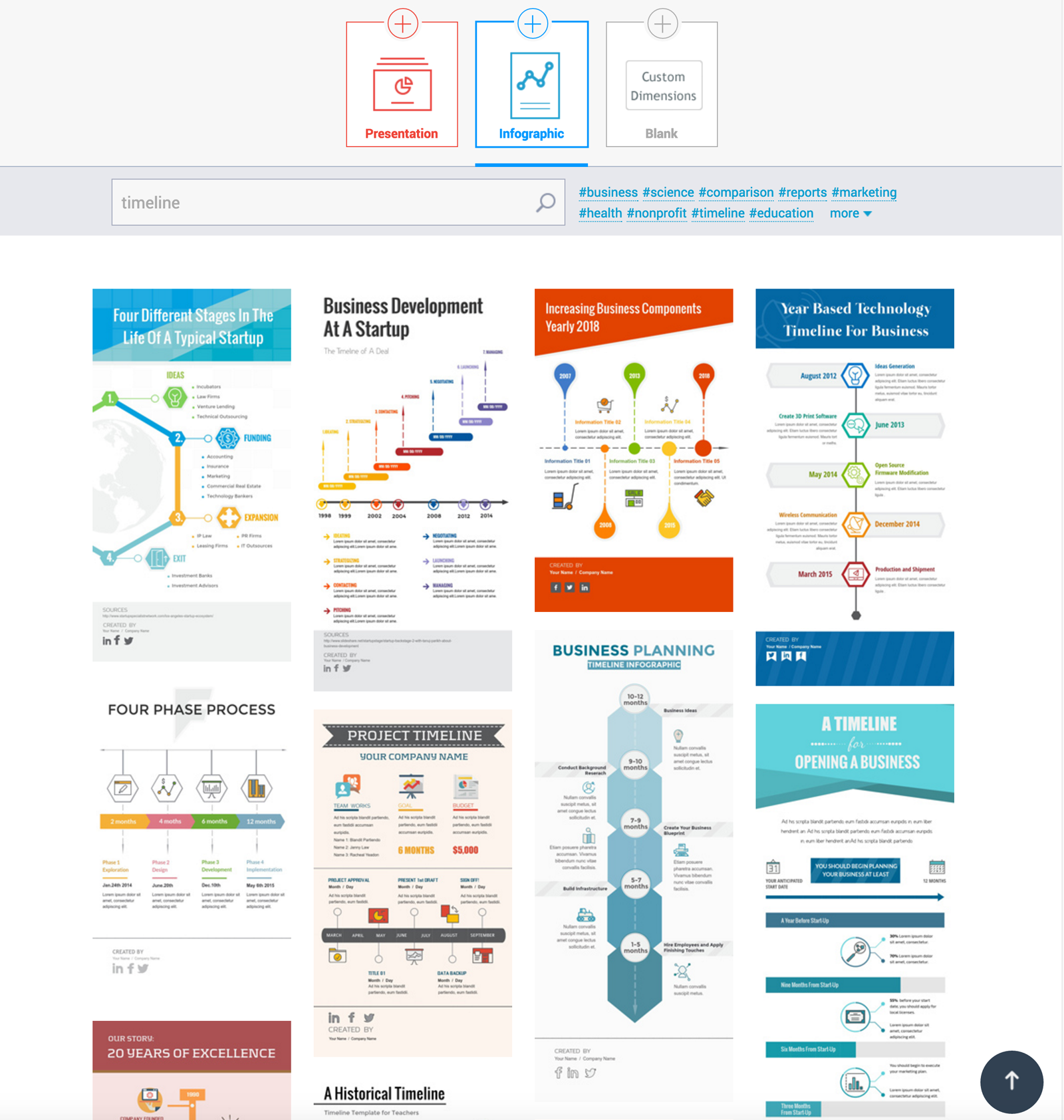 With Visme, user's are able to translate boring data and add interactivity to their designs with video, audio, third party embeds, and more – all thanks to its powerful animation engine. With options for voiceover and custom MP3 adding, users can easily design their own unique videos or turn their static design into an engaging animated banner that can be effortlessly exported in HTML5.
Turning data into numbers is even easier with the new advanced charts. Every chart can be quickly edited and restyled to match the user's taste and idea. By default all charts are animated, so users can easily transform their static designs into animations. With the all-encompassing timeline, design elements, audio files, and animations can be easily managed and edited.
But that's just a small part of what this tool has to offer.
Getting to Know Visme
Visme's online support center provides a wide range of resources, Q&As, and tutorials that can help user's get started with designing in the new environment. The tool's Youtube channel has over 30 tutorial videos that teach users the nits and bits of designing with Visme. Along with its tutorial set, Visme's team has started a new video series for non-designers that explores different design rules and handy advice translated into a simple, understandable language. The series are a design bootcamp that will get you prepared for building great designs within minutes by putting all the amazing features of this tool into use.
The Conclusion
To see a design tool so perfectly crafted that you can barely make the difference between working in a natural creative habitat ( good old pen and paper ) and designing in an artificial two-dimensional environment ( design software ) is a rarity observed only with a few tools these days. Visme has done a great job in taking the browser-based design experience to another more advanced level by creating a multi-functional design tool that combines different media elements into a single visual content. Having its new version just rolled out, Visme will continue to upgrade its features and now, more than ever try to answer the requests of its user's by delivering a tool that's perfectly tailored to the needs of the modern designer.