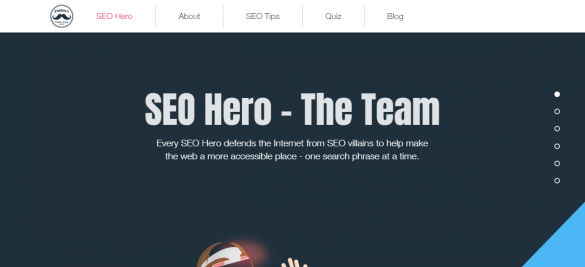 In case you hadn't heard, Wix had launched an SEO competition last November, claiming they would honor the winner of the competition with the title of 'SEO Hero' and a whopping $50k prize. The contestant who created a new website, with a new domain and optimized it for the search term "SEO Hero" would have a chance at winning if their website ranked best out of all the competitors in four months time.
The end is near for Wix's SEO Competition, and we personally can't wait to see the results and find out who will be titled 'SEO Hero'. In 10 days time, we will find out which of the hard working SEO experts has made it to the top of the SERP's, and who will win $50 000.
To beat Wix at their own game, the contestant needs to be eligible and to beat this website – www.giftedseohero.com – in the race. If Wix wins the competition, they will donate half of the amount to charity, and divide the rest among the first few places in the competition.
So far, Wix definitely has some stellar competition to beat. The entries in the contest are quite impressive so it will definitely not be an easy challenge for the website builder. One of the most positive things that came about thanks this competition is that website owners with little knowledge of SEO have the opportunity to learn all about the topic from industry experts. As the search term suggests, the website's content needs to be all about SEO, thus making the topic more accessible to the general public.
We were surprised to see so many great entries offering valuable SEO advice. One of the most prominent pieces of advice that SEO experts are talking about, is offering readers fresh and evergreen content. Not to mention that the competition entries all contain blogs with blog posts that provide very good tips on how to optimize your website. Tips include the basic SEO elements like optimizing title & description, and some go into more technical details. Some of the experts are even offering detailed step by step guides on how to optimize your website for search engines in their blog posts. Wix even gave the inside scoop on how they do outreach for SEO.
This just goes to show how important having and maintaining a blog actually is in the world of SEO. As most of us know by now, blogging is the best way of providing readers with new content on a frequent basis. As most of a website pages are static and don't need to be changed that much, having a blog can help keep your website fresh and constantly updated, which is something that search engines encourage. Therefore, blogging will ultimately help in improving a website's rankings.
However, blogging is not only good for SEO. Having a blog can help you create a community of loyal followers, and help you position your business as an industry leader. In any case, we are most certain that whoever wins the competition will have a blog that is updated frequently and offers its readers, unique and valuable content. Good luck to all!
This post was written by Ruth Eschenheimer of Wix.