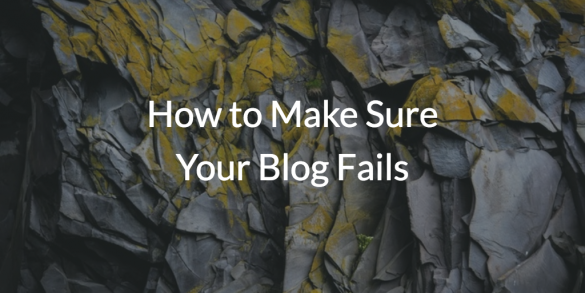 27% of websites around the world use WordPress, with 50,000 new ones added daily. Looking at the overall picture, your blog – and ours as well – is a mere dot in the cosmos. We're not even needles in the haystack.
Doomsday perspective? Yes. We can't ignore the numbers.
However, we've seen how some needles have pricked enough people to get attention. In spite of the millions of blogs in existence, in spite of the handful of blogs dominating their niches, there is enough of an audience base for you to make a name for your blog.
You just need to make sure you do it right and avoid bad blogging practices that are, unfortunately, easy to get used to. So, as we end the first month of the year, let's take a look at these habits and throw them out of the window so your blog won't be a failure.
Bad blogging practices
Staying stagnant
Being stagnant covers a lot of ground. A couple of them are as follows.
You cover the same topics again and again without adding something new or changing your approach.
Your design has been the same since…well, 2000 called and wants its template back.
You've been reading the same sources ever since you began blogging – without discovering new things.
What to do? Shake things up!
If you're feeling adventurous, go to the extreme and change niches. Maybe even leave WordPress (this is not unheard of these days, right?). After all, there is life outside of WordPress. Take them out for a test drive – Drupal (there are plenty of SEO friendly Drupal themes out there), Svbtle, Blogger (yeah, why not?), and Ghost are only a few.
Learn new things. Take online courses – content/email marketing, copywriting, SEO, and whatever will help you breathe new life to your blog.
Don't get feedback
For how long have you been blogging? 10 years? Yeah, you don't need anyone to tell you what to do. In the words of F1 icon Kimi Raikonnen, "Leave me alone. I know what I'm doing."
Right.
You may be awesome, but you're not perfect. You're too biased even if you don't realize it (see what I did there?), so you will probably miss areas for improvement.
The fix?
Have your peers evaluate your posts, blog design, social media strategy, etc.
Review products without disclosure
Blogging is great, isn't it? You get products for free in exchange for a review.
By all means, continue doing that BUT make sure you disclose it fully. Consumers trust blogs more than other platforms, but if you review products (and endorse them) without revealing that they have been given to you, your credibility will take a dive.
Don't be afraid to state explicitly that you're featuring a review unit. Just make sure you always – always – write a fair review.
Guest blog indiscriminately
Guest blogging is very much alive but you can only benefit from it if you stay above board. We can't count the number of guest post requests we receive daily. Some of them are great, but many just don't cut it. Some requests are from spammy sites. Many are clearly from marketers who are guest posting solely for dropping links – and they don't even admit to the fact that they want to promote a link or two.
While it is tempting to accept as many guest posts as possible – it's free content after all – it really is a bad idea. You don't want to link to sites which are penalized, have low-quality content, or have low authority.
In the same way, you don't want to pitch guest posts to the first blog you come across. You might think that getting a hundred links is good for your blog, but that's not true if those backlinks are from low-quality or unrelated blogs.
You'll benefit more from a handful of links from high-quality blogs. Check out this guide on how to find those blogs.
Final thoughts
Blogging has changed much over the decades, but as they say, the more things change, the more they stay the same. In this sense, the goal of reaching an audience and building a solid readership by providing information they want, need, and can relate to is the constant. Make sure you keep your blog alive by doing that and chucking bad blogging practices out the window.