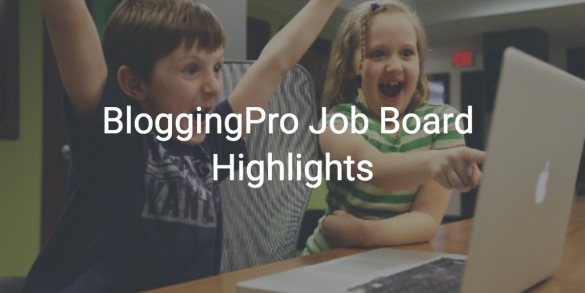 Good morning, BloggingPro job hunters.
It's that time of the week again when we share some of the best writing jobs from our Job Board.
Good luck, and have a great week ahead!
Paid blogging jobs
Online publisher is looking for a freelance writer who has previous experience writing eBooks, courses, and long-form content focusing on online marketing, blogging, and writing.
While experience in creating audio and video courses is not a requirement, those who have created these before will be prioritized.
Tech 2000 is seeking an experienced Content Developer to work on a customer project to build the content for courseware. Content Developer will be working with an Instructional Designer.
This is a contract position and will require 20-30 hours per week for an extended period of time (30-90 days). This position is remote but, candidates will need to be available to work during business hours and must reside in the US.
An established candy e-commerce retailer with a start-up vibe wants several freelancers to join their Content Creator Team to contribute compelling copy — both products descriptions and headlines — for more than 1,700 products.
You will write copy that is focused on customer benefits, and conveys positive emotion for a variety of candy and favor categories (chocolate, gummy, hard candy, sours, tins, boxes, decorative bags, bulk candy), and a variety of events (weddings, birthdays, holidays, baby showers, business promotions and more).
Pre-launch photography education website is in need of talented writers with experience in the photography field. Their goal is to share the joy of photography with readers and provide them with a go-to source on how-to, gear tips and news related to photography.
They are looking for talented writers to write as both "ghost writers" & "named writers" on our site.
CBR.com is looking for experienced list writers. Ideal candidates should be able to write list features and video scripts (including commentary) about the latest comic book and pop culture happenings.
Author:
Noemi
Editor of Splashpress Media, writer, and geek bitten by the travel bug.