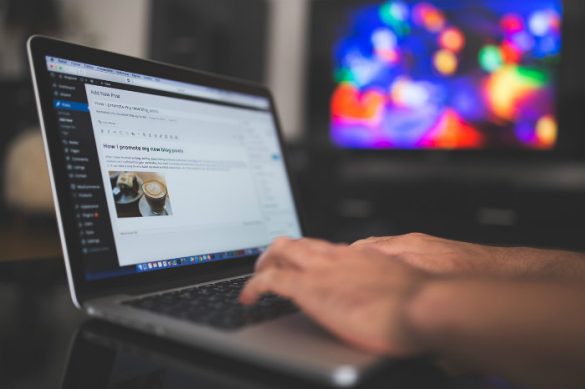 Writing guest posts for others' sites can do great things for your own blog. It can gain you traffic and new readers and get your name out there to people who have never heard of you, but beware! Pitching a guest post is not just cut and dry. There are a lot of unwritten rules that set the spammers apart from legitimate guest bloggers. Stay away from these pitching faux pas to have the best chance of success.
1. Start with a Super Generic Template
Copy and pasting a template for your guest post pitch to a hundred different blogs is impersonal and ineffective. The people you're sending the email to have read sometimes hundreds or even thousands of pitches and chances are, if you got your template off the internet and just plugged in their name and information, they've seen it before. You want to be new and fresh to catch their eye, so take the time to write each different blog their own email.
2. Pitch a Vague or Boring Idea
If you can type your pitch idea into Google and find thousands of articles identical to what you're writing, then it's not worth pitching. You can even do a Google site search to check specific websites for the content you're interested in pitching to see if they have it covered or not. Make your ideas original. Form each idea to attract a certain audience to make your articles less generic sounding and more niche sounding.
Also, make sure when you pitch your idea you are very specific about what the article is. Make sure it is well thought-out so the blog manager knows exactly what you are talking about and doesn't have to ask any further questions.
3. Blatantly Ignore the Guidelines
Most blogs that you'll be pitching to have guidelines for guest blog posts. Some are quite elaborate, while others are a little vaguer. If you don't read these guidelines, you're already doomed. Certain websites might have a separate email address to use for pitches, a subject line they want guest bloggers to use, specific formats to follow or guidelines for the topics themselves. They'll know if you don't follow these, so make sure you read and adhere to them. It's disrespectful to ignore these guidelines.
Also, don't think you're too good for the rules. Don't say, "I know the guidelines said this, but …" Just follow the rules or don't pitch to them at all.
4. Write Poorly
Duh. If your writing is subpar in your pitch email, they're not going to want to see any more of your work. Take the time to proofread your pitch and make sure you sound professional. Watch out for common grammar and spelling mistakes that trip up even the most experienced writers. It never hurts to have someone else read the email before you send it, or at least proof your template.
5. Lack Organization
There's nothing worse than missing a deadline or asking the same blog twice – or more – if they are interested in your work. Staying organized helps you know who you've reached out to and what the status of the inquiry is at all times so you avoid embarrassing moments. Keep a simple spreadsheet to file everyone you have reached out to or are in contact with to help you keep everything straight.
6. Be Totally Irrelevant
It's easy to send your pitch to any and every website you can find, but you want to make sure your idea is going to mean something to that specific blog and their specific audience. You're wasting your own time by sending out pitches to websites that don't have anything to do with your topic idea. I couldn't tell you how many times I have received pitches for topics for my design blog about things like LED lightbulbs, lawn mowers, or even casinos…
Look for blogs that your pitch will add to and will make sense with, and focus on just a few publications instead of sending out hundreds of emails. Quality over quantity.
7. Don't Get to Know the Blog at All
With each blog you send your pitch to, you want to do your research. Find out who their audience is and how your pitch will affect their website. If they already have an article similar to what you want to write, don't bother sending your pitch. Also, if your post goes directly against what the website stands for or other articles on the website, your pitch probably won't fit and won't be accepted. Knowing about the blog is the first step to pitching a guest post idea. It will make you seem a lot more informed and knowledgeable to the blog manager and make your pitch more appealing.
8. Be Uncommunicative
Once you have made contact with the blogger or editor, you want to keep up the communication. If they ask questions, answer them in a timely manner. If they suggest edits to your post, make them. If they email you, email back. They said yes to you. Don't repay them by being hard to reach and unresponsive. Keeping up good communication will help you get the opportunity to write more for the site and build a professional relationship.
Avoid these things and you stand a good chance of succeeding with your guest post pitch!
What's the worst guest post pitch you've ever received? I'd love to see your best worst examples – share them in the comments below!
Adrienne is a freelance writer and avid blogger. She is always learning new things and is eager to share them in her blog posts about everything from travel to internet marketing. Check out her blog Design Roast to see more of her work, or tweet with her at @adrienneerin.