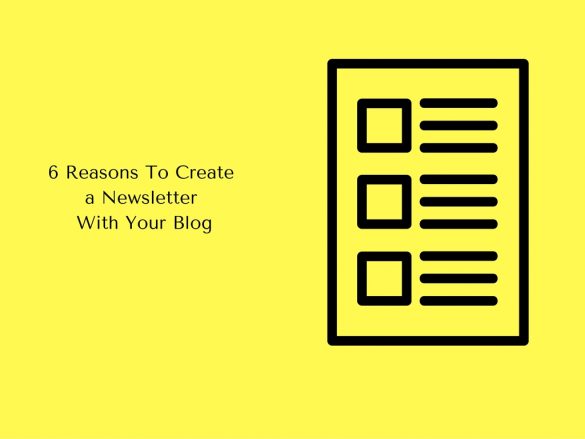 Some of the most successful bloggers do something interesting: they create an email newsletter to go along with their blog. Despite changes in digital marketing strategies, email is still an extremely useful tool for generating leads and driving conversions.
Sending a newsletter every time you publish a blog post can help you harness the power of email. It can significantly increase your number of subscribers and promote your overall email marketing efforts.
Even though blogging is typically a much more personal form of communication, this doesn't mean a newsletter won't do your company any good.
If you're not convinced that combining an email newsletter with your blog is a terrific idea, here are some things that might change your mind:
1. Newsletters Build Communities
Did you know that landlords of apartment complexes often like to create newsletters to create a sense of community within their complex? They post information about holiday parties, yard sales, and neighborhood events. These newsletters are exciting for most renters because they offer companionship and a feeling of belonging.
When subscribers sign up to receive your newsletter, they're not just gaining weekly reading material. They're gaining a community of members who are interested in similar topics. They can participate in a group with like-minded people while investing in your blog.
2. Newsletters Signify Loyalty
As sad as it is to admit, most blog readers are one-time visitors. Most of the traffic blogs receive are readers passing through because of a search engine query or a friend who shared the post on social media. It's not that your blog was bad or they didn't enjoy the content. They simply forgot the name of your site as time passed.
When you create a pop-up that invites readers to subscribe to your newsletter, it gives them a way to find you again. Many readers will simply click out of the pop-up, but some will have enjoyed what they read, and be interested in learning more. They'll be grateful for the easy way to remember your blog.
3. Newsletters Promote Older Posts
Each newsletter should provide things like relevant information, tips and tricks, events, and most importantly, should highlight past blog posts that align with the newsletter's focus. This will lead more readers to previous posts.
Directing readers to previous posts has some specific benefits worth pursuing. First of all, this helps to improve your rankings. It can also help you earn more per blog post. A well-planned email marketing campaign that includes a regular newsletter can build trust in readers, encouraging them to make purchases or engage with content.
4. Newsletters Are Familiar To Readers
Although some forms of communication, like RSS, are foreign to many of your readers, email is likely to stand the test of time. It's completely recognizable to your readers, and it will continue to be a standard of communication that everyone knows and loves. When they receive a newsletter in their email inbox, everyone already knows what to do with it, which means it should be more effective.
5. Newsletters Enhance Engagement
Newsletters are also very social, which can lead to increased engagement. Using Google Analytics, newsletters help you track the number of new subscribers and how people interact with the emails you've sent. As you study this information, you'll be able to target those actually interested in engaging with you.
Newsletters are also very easy to market on social media, opening up your blog to a new world of possible subscribers. In combination with your email marketing campaign, promoting your newsletter on social networks will emphasize engagement from readers across the board.
6. Newsletters Increase Readership
This is perhaps the most important reason to include a newsletter with your blog. Every blog wants more readers, even if they already have a substantial following. However, it can be hard to gain the attention of readers with all of the competition out there.
New readers pay attention to things that grab their attention, like graphic design, high quality images, structure and length of the text, or the title and introduction of the first post. They also notice when you have a newsletter that sums up the blog post and lets them know they want to read more.
Does this information mean you should send out a newsletter every time you write a blog post? No…but it does show the value of paying some extra attention to your blog readership. And a newsletter is an all-around great way to find and retain readers for your blog.