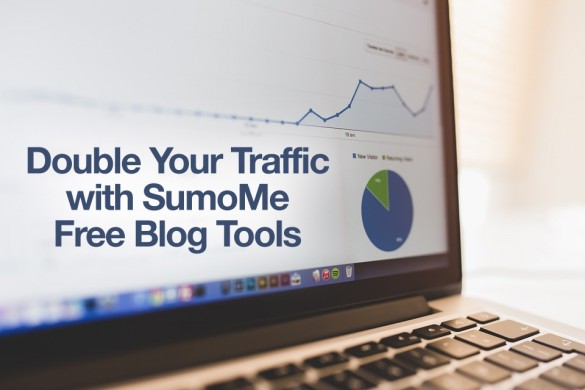 A lot of digital marketers still believe in the misleading phrase — "If you build it, they will come."
By generating great content, you are essentially laying the foundations of what could be a highly profitable site. But this alone is not enough to attract traffic and generate conversions. You need to pour in active effort in optimising your site with insightful tools – such as Sumo.
Sumo is an all-in-one platform for maximising traffic and conversions to your site. Apart from comprehensive analytics tools (heatmaps, content analytics, social share buttons, etc.), you can also leverage your traffic using lead generation tools – from contact forms to list builders.
Getting Started with Sumo
What's the best thing about Sumo? You can try all its amazing features – absolutely free. If you have a WordPress website, you can easily install Sumo through the plugins library. From there, you can click on the Sumo button on the upper-right corner to get started. Doing so for the first time will bring up a sign up form to Sumo.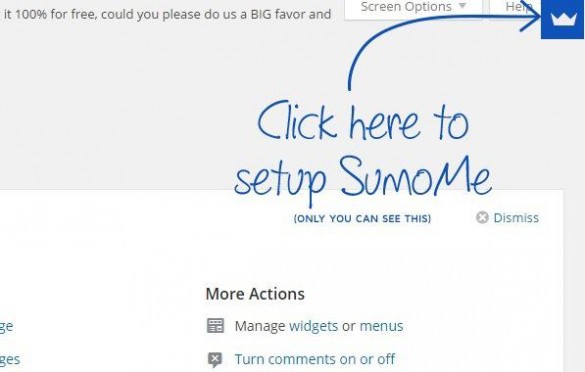 Another option is to sign up and access Sumo directly from their website. Once logged in, click on the Add New Site button. Input your site URL in the "Add a New Site Field" and then click the green Add Site Button.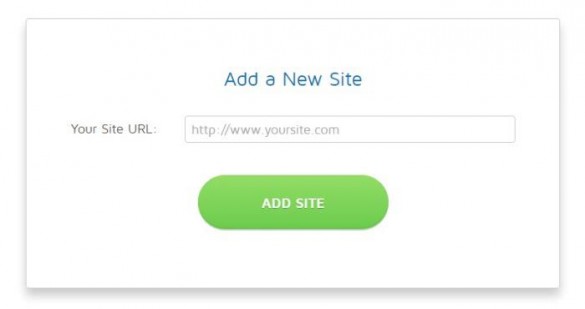 For this article, we are going to share how we have been using various Sumo tools right here on BloggingPro to boost our UX, newsletter subscribers and to gain more detailed insights into how our readers use this site. To proceed with this step, we simply added the URL ("https://www.bloggingpro.com/") to the Add a New Site form.
After this step, you should be able to see Bloggingpro.com listed under "My Sites" in your Sumo account. To get started with your site, click on View Site Details from the list. This will open up the "Home" window.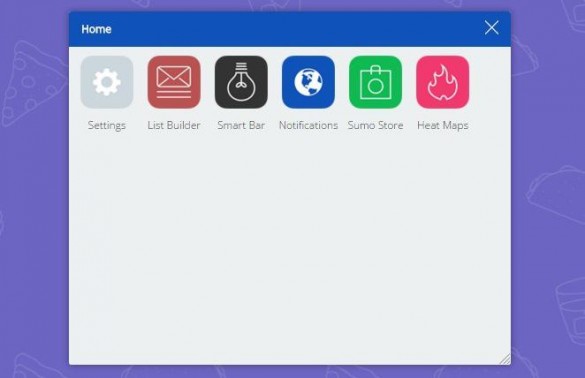 You can access all the site optimization features of Sumo right from the home window. For now, let's take a look at one of the most important tools for on-page optimization – heat maps.
Using Heat Maps to Track User Behavior
A heat map is a visual representation of the average user behavior on your site. The hotter a spot is, the more your users gravitate towards the specific elements in that area. For example, we used Sumo to obtain heat map data for right here on BloggingPro to see which sections of our jobs board was getting the most clicks.
Creating Heat Maps
To use Sumo's heat map feature, simply click on the Heat Maps button from the "Home" window.
It takes a while to obtain sufficient data for your heat map. First, you need to enable tracking by clicking on Record New Campaign for This Page.
You can monitor the current active campaign for your site by clicking on View Active Campaign for This Page.
To stop tracking and generate your heat map, click on Stop Recording Campaign for the Current Page.
Depending on your site's traffic, it can take a while before you obtain enough clicks for your heat map. Just remember that you can manage multiple campaigns at once by clicking the "Campaigns" tab to the left.
For advanced users, don't forget to check the current settings for the heat map tool. Here, you can specify whether or not you want to track the clicks of users who are logged in to your site. You can also use page query strings to identify pages that depend on query parameters.
Analysing Heat Map Data
Looking at the heat map below, you can tell that users are more interested in looking for internships, full-time, temporary, and telecommuting writing jobs.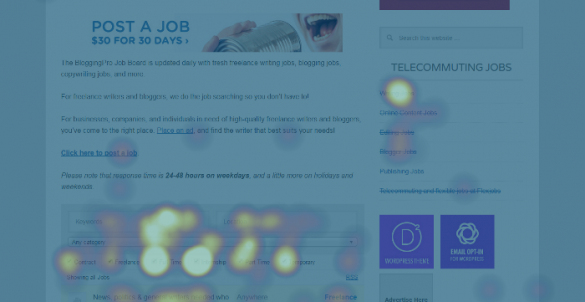 Also notice that users also click on the first item in the Job Board list. If we want to improve the overall user experience and value, we need to offer more job listings that fit the preferences of most users.
Additionally, the heat map shows the current site's weak points. For the example above, it's clear that users have little to no interest in looking for "Publishing Jobs".
Rolling Out Popups With List Builder
Sumo also enables you to easily build customisable popup forms to empower your lead generation efforts. Despite being around for a long time, popups are still highly effective for generating leads. It works by presenting an opt-in form automatically after a user loads your site. This gives visitors one immediate opportunity to convert into subscribers.
We started using the Sumo List Builder popup for our newsletter signups here on Bloggingpro.com last year and we saw our daily signup numbers almost *triple* overnight!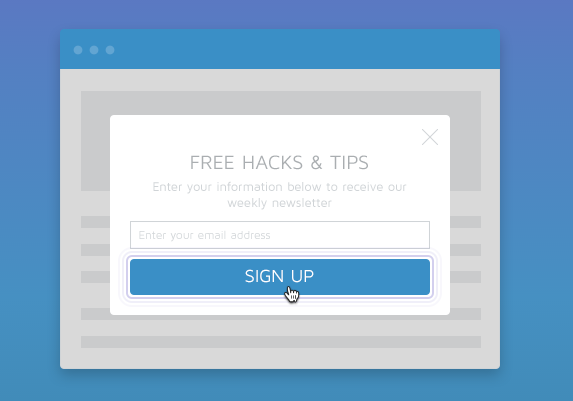 Building Popups
To get started, click on List Builder from the "Home" window.
Click on the "Design" tab to build your popup form. Take advantage of the live preview to the right as you edit your form.
After designing your popup form, don't forget to specify the required fields, the popup form behaviour, and the display rules to regulate how your form works.
Click on the sliding button (topmost tab) to activate your popup form.
To optimize your popup form, review your conversions by going to the "Emails" tab from the List Builder window. Here, you can use an interactive timeline to track how many forms were triggered on a specific date. It will also show the number of users who engaged with the form.
Alternatively, you can use the A/B testing feature to quickly optimize and develop highly converting popup forms. However, you need "List Builder Pro" from the Sumo store for this. For new accounts, remember that you can still take advantage of the free 14-day trial.
Adding a Smart Bar
Apart from adding a popup form, you can also use Sumo to create a "Smart Bar", which appears when the user scrolls down. This is usually a small form with a CTA and a button. But with Sumo, it can also be used for increasing social media followers or obtaining email addresses.
Building a Smart Bar
Click on the Smart Bar button from the "Home" window.
Just like popup forms, you can use the visual editor to quickly build a Smart Bar. By going to the "Design" tab, you can easily specify settings such as the "Bar Mode", target URL, text, and fonts.
Make sure you choose the correct mode that you need. The available modes are "Email Collect", "Call To Action Button", "Twitter Follow Button", and "Facebook Like Button".
Don't forget to specify your Smart Bar's behavior and display rules.
Activate your Smart Bar using the switch on top of the Smart Bar menu.
As you can see, BloggingPro utilizes a "Call To Action" Smart Bar, which can be used to encourage users to click the included button:

To track the effectiveness of your smart bar, click on the "Emails" tab. This will show you another interactive timeline that displays the status of your current campaign.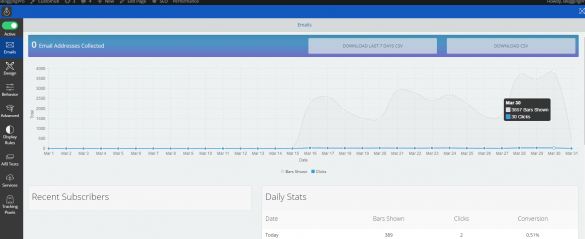 Remember that it's also important to review the history of your Smart Bar, especially if you've been applying new customizations from time to time. By clicking on the "Emails" tab, you can also view the daily stats such as the number of bars shown, number of clicks, and the conversion rate.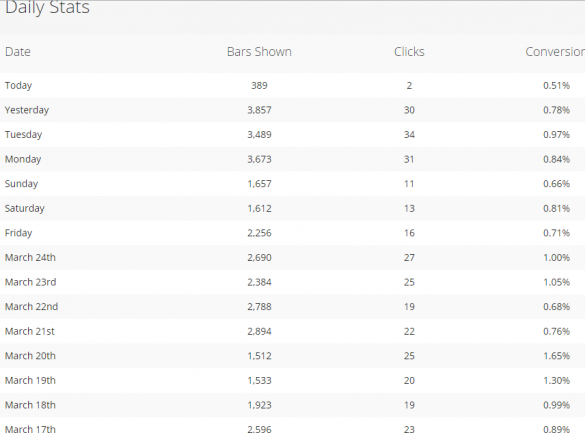 In the example above, you can tell that the Smart Bar version used on March 20th was the most efficient in terms of conversions. Although the latest version generated more subscribers, the number of bars shown during those days was significantly greater. Reviewing these numbers can help you identify the best version of your Smart Bar. This is critical if you truly want to maximise conversions and leverage traffic.
Conclusion
Sumo gives you access to powerful features that can unlock more traffic and conversions for your website. BloggingPro still has a long way to go in terms of maximising Sumo's benefits. Fortunately, there is always a way to obtain all the data needed to point the campaigns in the right direction. Thanks to Sumo, everything you need for increasing traffic and conversions can be found on a single platform.