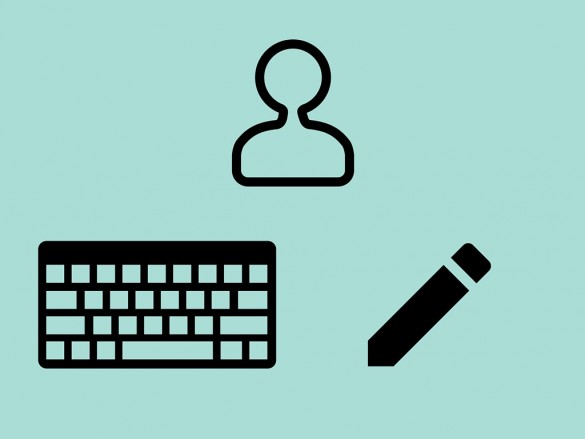 Blogging and copywriting are often considered one and the same in business. If your company has a blog, that makes you a blogger, right? Perhaps, but you may also be a copywriter. There are actually some key differences between the two, and understanding these differences can shape the way you approach content.
Let's begin by examining loose definitions of blogging and copywriting. Blogging can take on many different forms. Some bloggers write about their lives or experiences as a hobby, while others choose targeted topics for a specific audience in order to make a living. These bloggers typically dedicate a lot of time to single blog posts, including pictures and anecdotes that make them original and appealing.
Copywriters, on the other hand, "strategically deliver words (whether written or spoken) that get people to take some form of action," says Neville Medhora, copywriter for AppSumo. "Copywriting is essentially moving words around to sell better." Essentially, there's less time and thought put into this style of writing. It's crafted quickly and cleverly to sell a product, boost marketing efforts, or improve SEO.
That's the largest defining difference between blogging and copywriting. Here are a few more.
1. Bloggers Pull from Experience
For copywriters, writing a good blog post revolves around doing surface research on a topic and writing about it like an expert. Bloggers, on the other hand, are the experts. They've lived their blog posts, which often makes their content much more compelling, authoritative, and appealing to readers.
Experience in blogging can come in many forms depending on the type of blog that's being written. One blogger that specializes in writing personal stories might share how they learned the valuable lesson of hard wok by building a pole barn. A blogger who writes about internet marketing might write about their experiences with HootSuite, or other specific marketing tools. In both scenarios, their first-hand experience leads to believable and entertaining content.
2. Copywriters Use Less Voice
It's not that copywriters don't have the talent for adding voice to their writing. Rather, they're asked to leave it out to create a more unified voice for a certain blog or pseudonym that's written by many different people. Copywriters focus more on the message than conveying personality or voice.
Bloggers thrive on their personal voice that brands them as individuals and helps to cement their place in the internet world. Without a certain voice permeating their content, these writers will struggle to make a permanent mark and advance their blog.
3. Bloggers Write Better Headlines
Some copywriters can develop some pretty great headlines, but more often than not, the greatest of titles are written by bloggers, not copywriters. These headlines include click-bait, uses of puns, inspirational blurbs, and other word phrases that capture attention and divert users to their article.
4. Copywriters Often Sell Better
The sole purpose a copywriter is to sell something, so it makes sense that they would specialize in this avenue. Even if bloggers choose to sell something on their blog, most often, their posts are centered more on the story, not the product. Copywriters value a good story as long as it complements their need to move product.
Perhaps the best way to put this is that bloggers entertain while copywriters call for action. Copywriters want their users to perform a certain act after they read a piece of content, whether that action is clicking on a link, reading a particular blog post, interacting on social media, or purchasing something on a website.
5. Copywriters Write for Clients; Bloggers Write for an Audience
A major defining factor in this situation is the audience. Most copywriters write content for a specific client. It doesn't matter how well written the article is. If the client doesn't approve it, it'll never be published. For that reason, copywriters have to learn the art of writing for their clients rather than for an audience.
Bloggers generally don't have clients. They have an audience, and if they don't know their audience extremely well, their copy will never be read and shared, and their brand won't stick. The best bloggers have a thorough understanding of their target audience and everything from their blog design to the voice used in the article will cater to that audience.
Bloggers and copywriters both provide a lot of value when used in the right applications.
Make sure you understand the differences between them, however, so you can achieve your intended purposes.