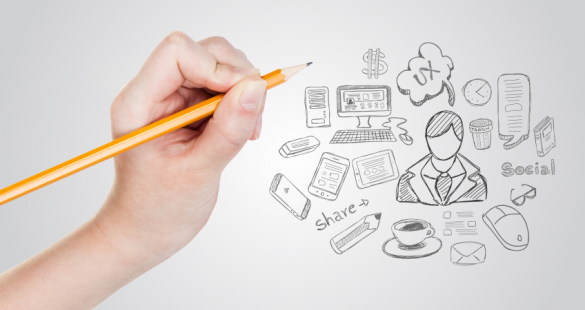 When was the last time you thought about color theory? Maybe it was that high school art class you had to take to get your diploma? Or, perhaps you were forced to listen to your spouse ramble on about why the living room needed to be repainted last summer.
Whatever the case may be, most people don't think about color theory very often. It's just not a popular topic of conversation. However, as a blogger who's interested in growing readership and increasing revenues, color theory is something you need to think about.
The Power of Color Psychology
Outside of the design world, most people aren't familiar with the idea of color psychology. Well, simply put, color psychology is the study of how different hues and tones influence human perceptions regarding certain situations.
While you may not consciously realize that a certain color is impacting you in a specific way, the reality is that the human brain is wired in such a way that different shades elicit different meanings. This is why retail stores choose particular colors for sale displays. It's why safety signs are implemented under a strict color code.
Individual colors produce very targeted psychological and emotional responses, which is why stores, businesses, and even bloggers need a firm understanding of color psychology. By understanding how color scheme impacts your blog's user experience, you can better engage your visitors and enhance conversion rates. It's as simple as that.
For example, the color black ignites qualities like strength, power, definitiveness, precision, and accuracy. As such, it's perfect for industries like construction, oil, finance, and manufacturing. Green, on the other hand, elicits concepts like organic, youth, education, and adventure. As a result, green is ideal for science, government, medicine, and human resources.
Color and Blog Recognition
The ultimate goal for most bloggers is to build popular blogs that are recognizable. Once you're able to create a recognizable blog, you can charge premium rates for advertising, sell content space, and generate steady revenue. The trouble is that blog recognition doesn't come easy in an increasingly saturated online world.
While color alone won't push your blog to page one of Google, it will enhance recognition with your target market and eventually allow you to generate some level of brand equity. In this article, YouTube designer Marc Hemeon shows us how this works with four examples of popular color schemes. Based on colored buttons alone, he says most people are able to guess which website each set represents.
How to Choose a Color Scheme
So, the pressing question is, how do you choose the color scheme of your blog? Well, it's not as easy as simply telling you which colors to pick and where to place them. Every blog is different – and each audience unique. However, you should think about these tips as you define your color scheme.
It may be exciting to think about the possibilities of bright neon colors combinations, but you should stick to an easy-to-read color palette.
Color can be effectively used to draw attention to certain elements. This is especially true if you use a neutral palette. When combined with soft colors, more alarming tones can help you guide your users.
Study the competition. There are plenty of case studies – such as this one – that show you how the difference in one simple element can completely change your conversion rates.
If nothing else, this article should point you in the right direction. As you can see, color theory and color psychology matter. It's not something that's only relevant in a classroom or art studio. If you want your blog to thrive, you need to understand that the color scheme you choose directly impacts user perception and experience.
Lay The Welcome Mat: 5 Homepage Tips That Invite Readers In