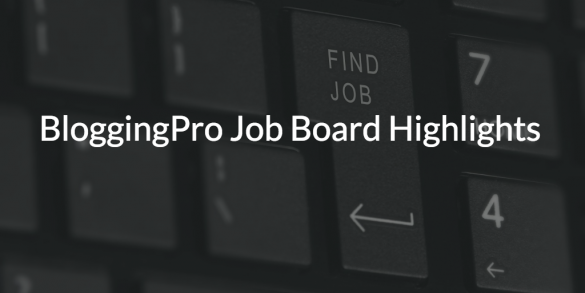 Happy Monday, everyone!
It's time to look at the best blogging jobs from our Job Board once again. We wish you the best of luck. Have an awesome week!
The best blogging jobs this week
Creator magazine, published by the collaborative workspace company WeWork, is looking for freelancers to write feature articles and profiles of entrepreneurs.
An Inc. 500 self-publishing, service company is seeking highly-skilled marketing candidates for a home-based, independent contractor opportunity. In addition to highly adept telephone and email communication abilities, the candidate is required to have a personal computer with high-speed internet access, reliable phone service in a quiet space through-out the business day, and email capabilities.
One of the world's largest photography blogs www.Digital-Photography-School.com (dPS) is seeking photographers to create two articles per month or more about helpful photography tips and techniques. Articles need to be of a high quality, demonstrate a deep knowledge of digital photography and include your own original images. dPS aims to help beginner to intermediate photographers to improve their photography through well written, informative content.
An officially-licensed NASCAR publishing company is seeking accomplished freelance feature writers.
To be a qualified candidate, you must currently cover NASCAR. This is a great opportunity for an experienced writer. Social media engagement and experience is also a plus.
Cheapflights is looking for a new travel blogger (contract position) for our Southeast Asian travel blogs (www.cheapflights.com.ph/news and www.cheapflights.com.sg/news). They're looking for someone with a fresh, fun voice who is going to have readers hooked with his or her passion for travel, knowledge of Southeast Asian travel trends, off-the-charts writing style and creative ideas. The ideal candidate must stand out from the crowd and stay on the pulse of all things travel.
Author:
Noemi
Editor of Splashpress Media, writer, and geek bitten by the travel bug.