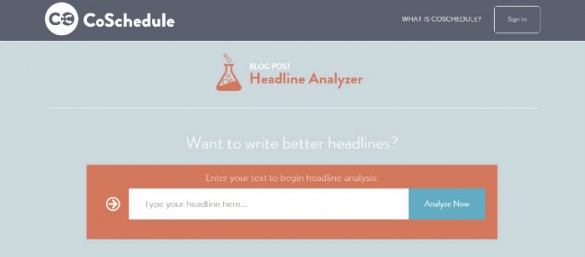 Editor's note: This post was written by Antonio, a hopeless optimist who enjoys basking in the world's brightest colors. He loves biking to distant places and occasionally he gets lost. When not doing that he's blogging and teaching ESL. He will be happy to meet you on Facebook and Twitter.
Despite all the marketing tools available today, content is still the king. However, creating the right content is a lot harder than you might imagine. One must face many enemies: procrastination, which can be as addictive and as toxic as the dark side of the Force, writer's block, which can be as powerful as Darth Vader Force Choke, or lack of ideas, when your mind feels like the vast emptiness of the Galactic Empire.
Fight them we must! That's what Master Yoda would do, and so will you! The reasons behind these is nothing else, but fear. Fear that we will fail to create the best possible content. But, instead of running from it and procrastinating, we must face it head on.
We have selected 10 tools that should help every young Padawan become a true Jedi of content creation. Learn to wield these content-creation tools just as you would your lightsaber.
Brainstorming/Prewriting Tools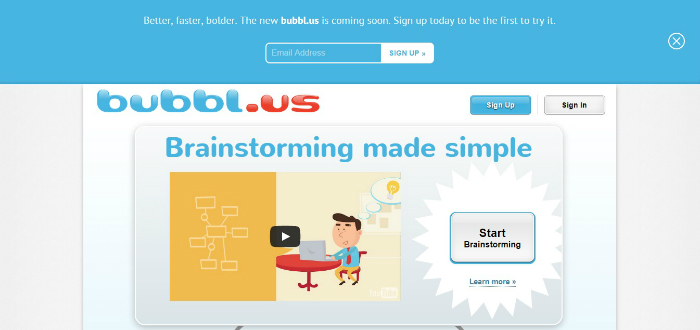 Mind mapping is one of the most common techniques for extracting ideas from the chaos inside your mind. Bubbl.us follows that concept by allowing you to create brainstorming diagrams. All you have to do is start with an idea, or a single word, which you enter into the parent bubble of the app, and watch your thoughts branch out and become more organized. Never let a good idea get lost in the shuffle with this useful tool.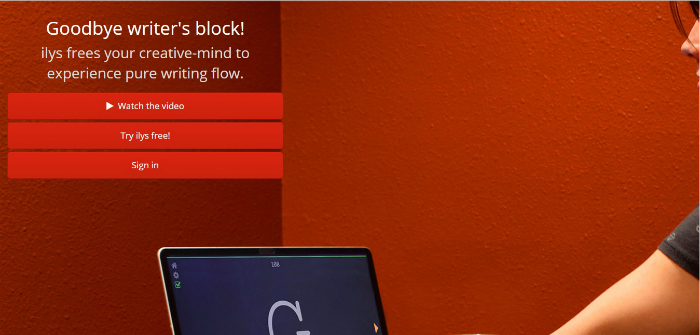 This online writing platform is one of the strangest and most fun ways of coming up with creative content. For starters, you set a word count first, and you start writing. But, here's the kicker: you never get to see or edit what you are currently writing. You only get to see the last character you've typed and that's it! Of course, you can edit your work, but only if you've managed to fill the word quota you've set.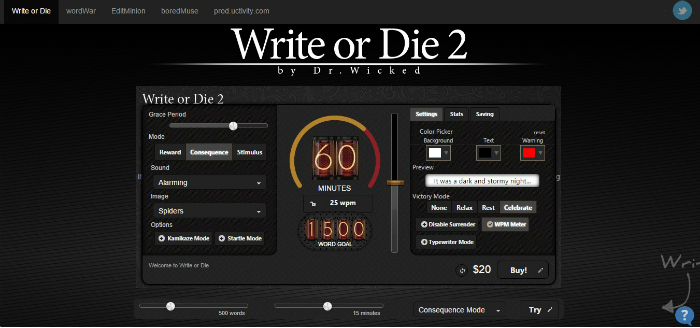 We have to be honest here: this writing tool is more ruthless than Boba Fett. It's probably the only app that will start deleting your work if you are not writing at a certain pace. That would be the famous Kamikaze mode. Other modes and options will either offer positive reinforcements if you match the word goal, or begin to strip away the environment, which will become increasingly unpleasant, or even distract you with horrifying images and loud sounds. Sounds pointless, but it's actually a great way of getting the words to flow out of you before you have a chance to overanalyze everything.
Writing Tools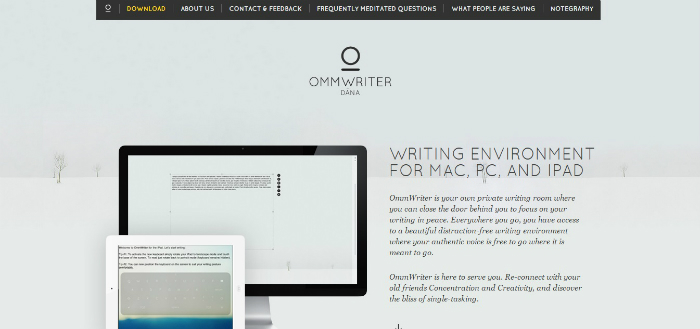 OmmWriter offers probably the most pleasant and streamlined writing environment you can imagine. Not only is it free of any distractions, but it also provides a soothing ambient soundtrack while you write, backgrounds which help you focus on your writing, and sound effects which award your every keystroke, motivating you to keep on going. It's sort of like Obi-Wan Kenobi to WriteOrDie's Vader.
Another tool which offers a distraction-free environment, but it does so in a slightly different way to OmmWriter. For instance, once you start typing in Calmly Writer, everything but a blank sheet disappears from the screen, allowing you to concentrate solely on your writing. You can also try out its "Focus Mode", which makes everything fall out of focus but the paragraph you are currently working on.
Editing Tools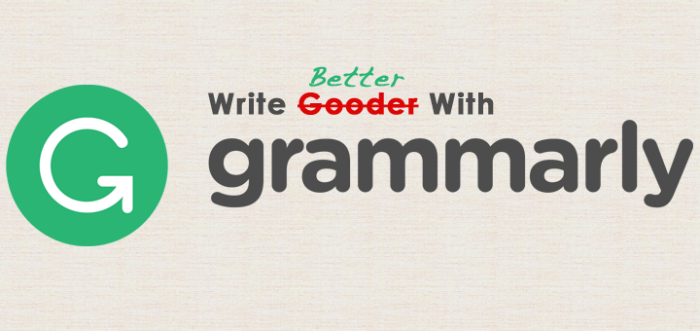 There are lots of apps out there which check grammar, but only Grammarly will spot more mistakes than any word processor. It will also check your spelling, punctuation, sentence structure, and detect plagiarism. In addition to that, it will provide you with explanations on each error and tips on how to correct them.
If you still prefer to let professionals do the editing for you, or if you are behind schedule, one of the best content editing services you can find online is EduGeeksClub, which gathers some of the best writers in the industry.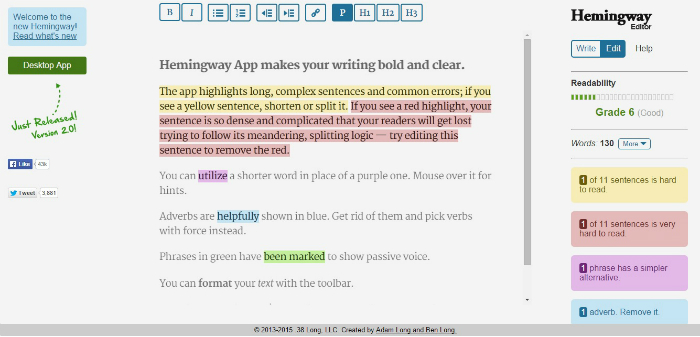 If your writing tends to wander all over the place, or wordiness is your vice, you can make it more focused and optimized with the help of Hemingway app, which analyzes your sentences, and suggest corrections. Also, it splits complex and hard-to-read sentences and highlights the use of passive voice. Master Yoda doesn't like this.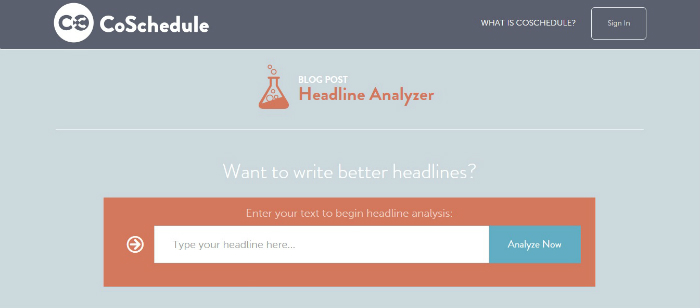 Producing amazing content without having the right headlines to intrigue the reader is like having a shop without a window. In order to help your content get noticed, CoSchedule's Headline Analyzer will show you how to improve your title-making skills, but also rate your current headlines based on its algorithm.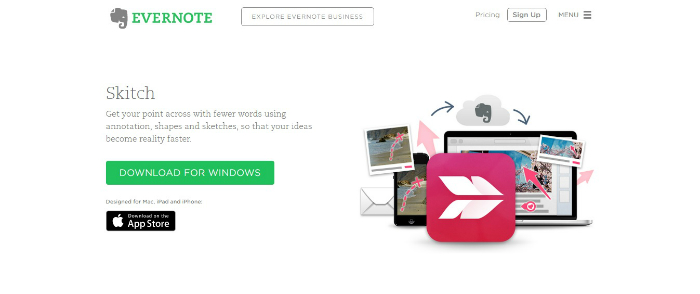 Everybody likes media-rich content, so in order to give your work some pop, check out Skitch. It lets you create images through capturing screenshots and adding shapes, annotation and text to them in order to capture the reader's attention. "A picture is worth a thousand words" may be an old saying, but it's never been truer than it is now, in an era where life is measured in seconds.
These tools will help you pass through each phase of content creation with flying colors, turning you into a true content Jedi. Now it's just up to you to make your brilliant ideas come to life, and we are sure you will be successful. May the Force be with you!