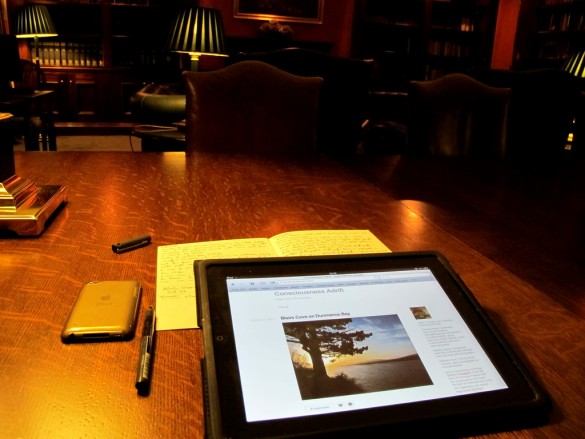 Mobile blogging is now easier than ever. Apps designed and especially suited to the iPad are making adding pictures and videos to your blog easier than on a computer. Faster and easier mobile Internet service is making blogging from your iPad a more convenient and time-saving option for bloggers. Check out the eight best blogging apps and tools to power up your mobile blogging experience and make shouting out from your iPad even better.
Blogsy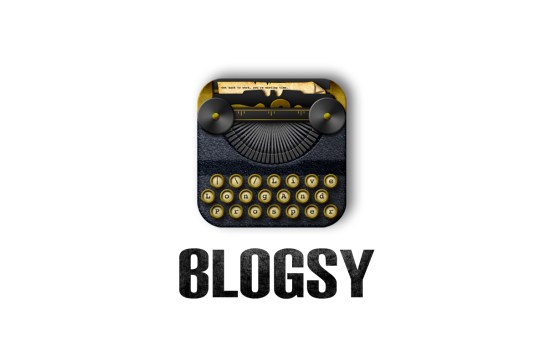 Blogsy is specially designed to make blogging from your iPad a better experience than on a computer. From your iPad's media sidebar, you can easily drag and drop pictures and videos to your blogs no need to embed codes or links. This app works with WordPress, Blogger, Tumblr, TypePad, Joomla, Squarespace 5, and many other blogging platforms. The Blogsy app for iPad costs $4.99 but is worth the time-saving investment if you regularly use media in your blog posts or manage multiple blogs.
Blogger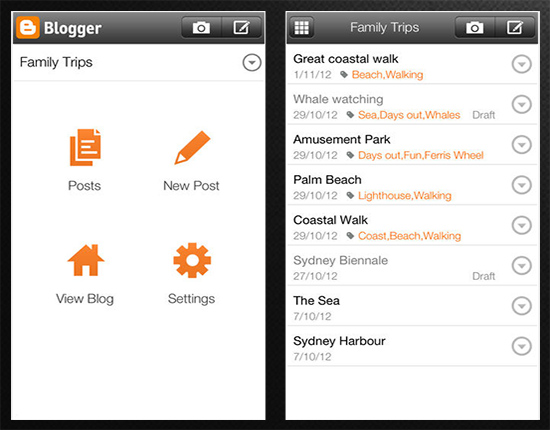 Using the Blogger app, you can write, edit, and publish blog posts from anywhere using your iPad and any fast and easy mobile Internet provider like T-Mobile. The Blogger iPad app also lets you take pictures directly in the app for snapping pictures on the go and posting directly to your blog.
Tumblr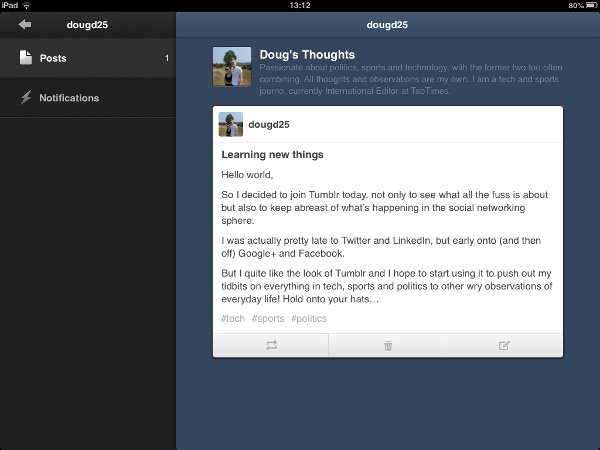 Tumblr is even better on the iPad with a layout optimized for usability and style. Only on iPad, sticky avatars scroll along with you, so you have a constant visual reference of whose comments you're reading.
WordPress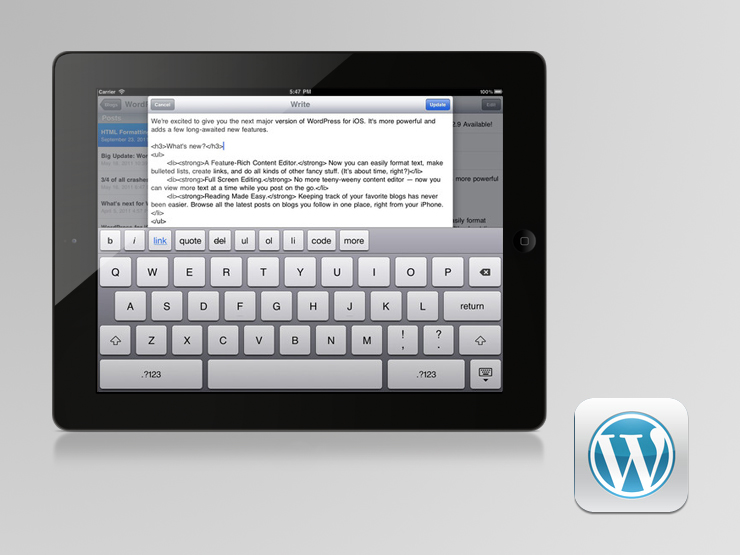 In addition to posting blogs and media on the go, WordPress for iPad gives you access to your blog stats and allows you to manage comments. The large button keypad in the iPad app also makes it easier to quickly write up posts and comments.
Kidblog
iPad use in educational settings is increasing, and more than five million K-12 students are using Kidblog to reinvent the idea of global pen pals, publish creative writing, and create digital portfolios in a safe blogging space. The iPad app makes it easy for even young students to directly upload pictures to their blogs without having to embed codes or links. In addition, the easy-to-use teacher dashboard allows educators to manage classroom blog and comment activity.
Newsify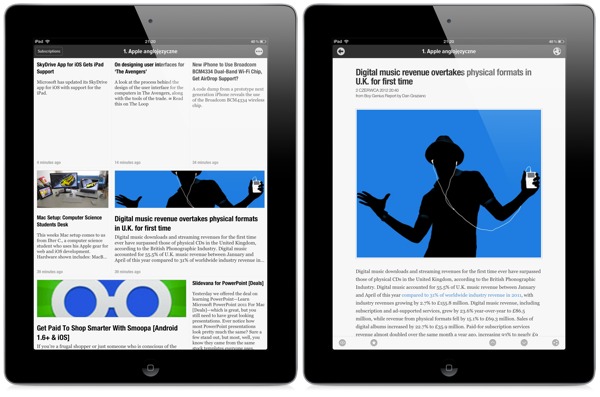 Blogging on-the-go means you need convenient mobile access to all the latest news and your favorite blogs. Newsify for iPad features a visually appealing newspaper-like layout where all your news, the blogs you follow, and RSS feeders come together in one place. Tap on an article to read in full screen or share to social media and Tumblr blogs. Newsify can sync with iCloud or other apps like Feedly, which also pools news and blogs together. This is an excellent tool for bloggers to quickly and efficiently stay up-to-date on the topics that interest them.
Adobe Photoshop Express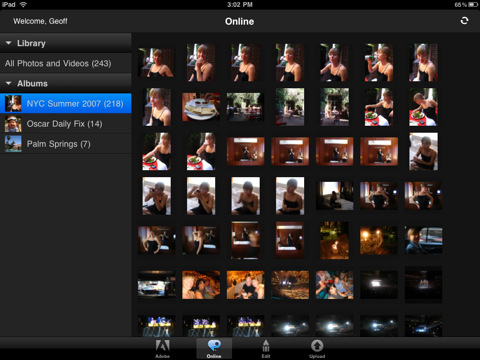 Mobile bloggers need a go-to app for quickly editing photos and video. For the iPad, Adobe Photoshop Express is one of the best options out there. It's free, easy-to-use, and includes great features like blemish removal and pet eye removal, as well as basics like cropping, color adjustment, and auto-fix. The Advanced Pack is available as in-app purchase for $4.99 and includes bonus features like removing fog and haze from photos, eliminating unwanted grain and speckling in nighttime photos, and handling of larger size photos.
Adobe Photoshop Mix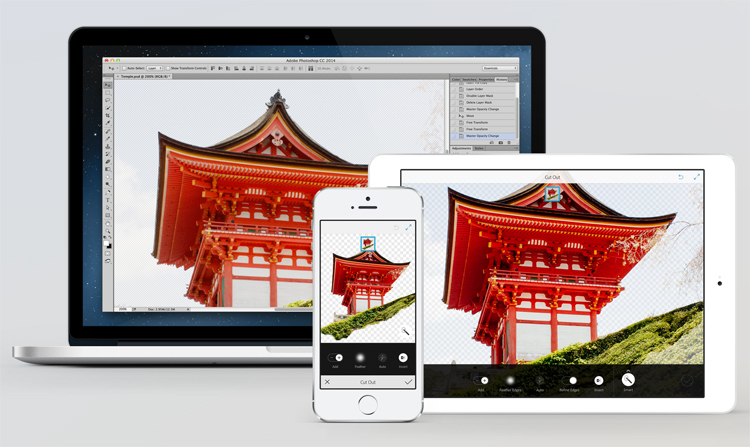 If you're a photography or an art blogger, or just love playing with images, Adobe Photoshop Mix is a must-have for mobile blogging. It allows you to make image compositions, select content to remove from images, and make nondestructive edits. When used with new generation iPads, equipped with Retina display, this app will get you better resolution than on most computers. This app is free, but if you want to back up all of your images across devices and get full access to Adobe Photoshop and Lightroom features, you'll need a subscription to the Creative Cloud.
Powerful and productivity-enhancing iPad apps are making it easier for bloggers to stay up-to-date on-the-go and publish quality and engaging content to connect with followers. Blogging apps for iPad are also opening doors for new bloggers to interact with digital international audiences in meaningful ways.