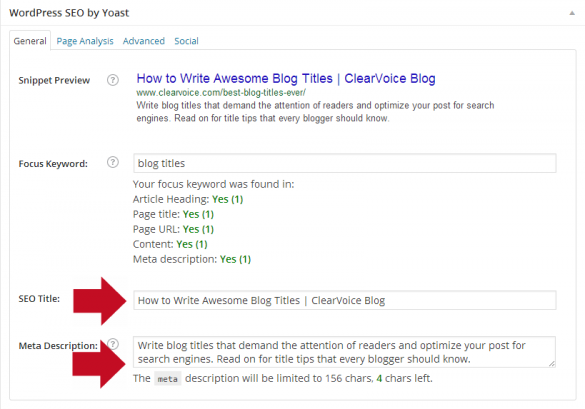 Editor's note: This post was written byLisa Kasanicky, content curator and blog manager for ClearVoice.com, a content marketing platform used to connect brands with authoritative content creators. With a writing career that spans more than 20 years, she is author of "The Complete Idiots Guide to Girlfriend Getaways" and creator of a website dedicated to beauty and wellness.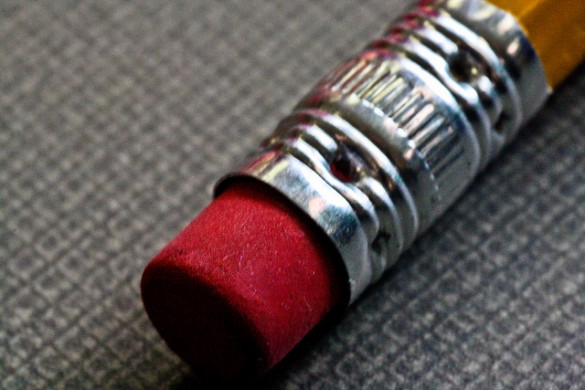 Strike up a conversation about semicolons, and nearly everyone in the blogger community will chime in with a fierce opinionlove them, hate them, or kill every last one of them. But utter words like metadata and source code and be prepared for a communal moan (or yawn).
Who needs to worry about whats going on in your blog source code when your artful prose speaks for itself?
You do. I do. And anyone who wants to survive the wave of content that floods the Internet on a per-millisecond basis.
To stand tall in todays content economy, your carefully crafted content need a wingmana shadowy doppelganger who tells the story of your post to search engines and social networks in the language that they want whispered softly into their algorithms.
This, my linguistically minded friends, is the magic of blending the art of blogging with the science of SEO. Armed with an understanding of these back-end blog blunders , youll be equipped with a secret strengththe almighty power of better performing, socially shared blog posts and the peace of mind of being forever credited for the content you write.
Your SEO title is lousy.
The best guide Ive read on writing killer blog post titles is 52 Headline Hacks by Jon Morrow. I printed that sucker out at work and forwarded to every writer and editor I knew. Besides the creative thought behind his suggestions, the brevity and punch of his examples were spot on for both humans and search engines.
The thing is, hitting that Jon Morrow sweet-spot style is challenging. The trick of crafting click-worthy headlines is that what might be catchy for your article title might not work for the meta page title that search engines use to index your page. Because your article title will be used by default if you dont write an SEO title (which translates to the metadata page title in your source code), youll benefit from tweaking it to ensure search engines know exactly what you post is about. If theres one thing I know for sure about SEO, your title tag is the most important bit of code in your metadata.
Im not saying you shouldnt be creative with your SEO page title, just front load key words (yes, keywords in SEO terms), keep it to 55 characters or less and include your blog name. In the example that follows, our actual article title is: Grow it Like Groot: How to Write Awesome Blog Titles that Expand Your Audience. I modified the text in the metadata for brevitys sake.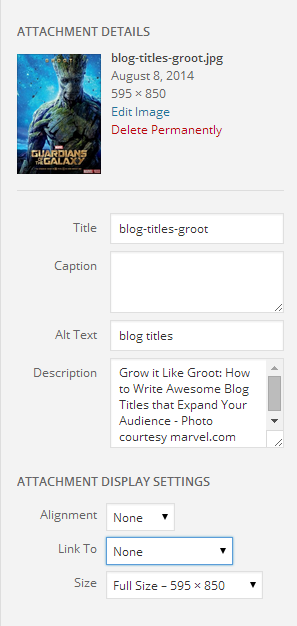 (Note: For this example, we are using the WordPress SEO by Yoast plugin.)
Your meta description is nonexistent.
Major fail. Know why? Youre missing the opportunity to craft a succinct description of your post with the words you want people to use to find it. If you skip writing a meta description for your post, search engines will find the keyword a user was searching for somewhere on your page and pick a string around it to display as the snippet in search engine results.
Translation: Ugliness.
Econsultancy hit it dead on with their definition of the meta description as the first touchpoint with your brand to the world. Or in our case, your blog post. Dont leave the meta description field blank. Use your mad writing skills, front load your keywords and keep it to about 155 characters. In the example above, the meta description has our target keywords as well as a call to action.
Your social metadata is weak.

Skip your social metadata and youre blowing the chance to talk directly to the users of the major social media platforms. The social meta fields give you the opportunity to craft engaging messaging associated with your post specifically for the audience of each social platform and thus increasing the chances of your content being read, particularly:
Facebook Meta Tags: The Facebook Open Graph language delivers a tightly crafted message about your blog post specifically targeted to Facebook users, including a title, description and optional image.
Twitter Cards: Similar to Open Graph but developed and used solely by Twitter, this metadata set gives you control over how your content looks when shared on Twitter.
Google+ Meta Tags: Just like Facebook and Twitter, Google+ uses metadata to identify the elements of a post.
Beyond how your posts display and are described on social media, social metadata has uses we've only begun to understand. News aggregators like NewsWhip are using Twitter Card data to populate their feeds and rank performance of web page and posts. Our developers here at ClearVoice are scrutinizing the social metadata in posts to associate authors with posts and rank them on content performance. Mobile apps are grabbing data from posts to display content across multiple platforms.
Keep your social meta titles and descriptions about the same size as your meta tags but tweak them for the various audiences. Below is an example of a social metadata for Facebook. For a more in-depth discussion of social metadata, check this post out.
Your blog image names are not optimized.
You know youve done ituploaded a stock photo directly into your blog post with its original stock name. You know thats a no-no, right? By simply renaming shutterstock_179197631.jpg as red-stiletto.jpg, youll be able to find the image in your media files.
But theres more to it than that.
I recently did some poking around my personal blog and found that users were actually finding me from an image search (patting self on the back). Keep every door open to your blog doorstep, including through your images. At the very least, give your image an appropriate title and fill in the title and alternative text fields when uploading it into media. This populates the image "alt" text in your code, which is an important SEO element.
Using our previous example, heres our blog image for our blog titles post.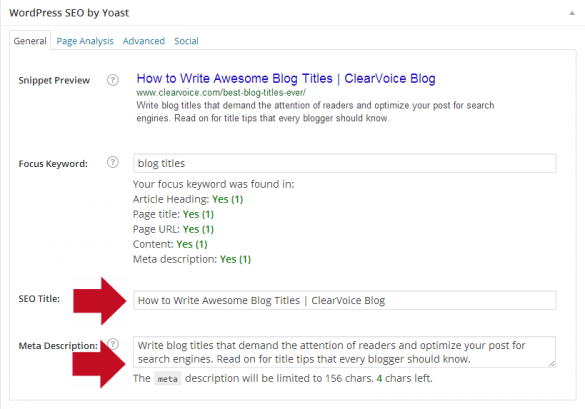 You have no post tags.
While theres no inherent SEO value in tags, they do enhance the navigational experience of your usersif you do it right. The challenge with tags is consistency and strategy. My advice is to flip to a clean page in your notepad and write down all the words and short phrases that have any meaning to your blog mission. Tear the page out, slap it on a wall somewhere within eye range and choose two or three of these words to associate with each and every post. New ones might crop up along the way but by using tags consistently, youre creating a user roadmap of your blog topics. This Best Practices for Using Tags in WordPress post by Wufoo offers excellent advice on getting your tag act together.
Your user settings are incomplete.
When you publish a post, it has an author associated with that post, which is most likely you. Your user settings, and those of your contributors if you have them, should have at the very minimum the author name, Twitter handle, Google+ profile URL and short bio. You may or may not be outputting them but they are important elements in the blog authorship equation.
Whew, that was a lot. Ill leave you with this one final thought. Whether you love semicolons or avoid them like the plague, the prose that you write is your own unique creation. If youre worth your weight in words, you deserve to have people read your work. Readership doesnt come easy though. Get a leg up by avoiding these blunders and write on. Heres your no-blunders, pre-publish checklist:
Page title
Meta description
Facebook title and description
Twitter title and description
Google+ title and description
Image name, title and alt text
Post tags
User settings of post author
Correct author selected for post