With readers growing blind to banner ads and attention spans decreasing, we need new ways to increase readership and garner more clickthroughs. Sticky elements that hover, float, slide and pop out at us do tend to have higher clickthrough rates than traditional static content. When used sparingly of course. Therefore, visual appeal and positioning play keys roles in determining how users interact with your content and other site elements. Having great content is the first step and an attractive design and layout seals the deal.

Thankfully, it's quite easy to integrate styles that help boost the visibility of various blog elements without the need to jump into code. Through simple yet powerful WordPress tools and editing plugins, we can accomplish great things without dabbling in too much code. One very effective element design is the floating sidebar.
The floating sidebar ensures that at least one section of your sidebar is always visible as your readers scroll down the page. Making whatever content in that position stand out whether it's an ad, email signup box or link to more content on your site.
Here's a quick walkthrough of this awesome WordPress plugin.
Install the Q2W3 Fixed Widget (Sticky Widget)
The Q2W3 Fixed Widget is capable of instantly transforming any widgetized sidebar element into a customizable sticky, non-intrusive  attention seeker.
Once the plugin is installed and activated, hover over Appearance, then select Fixed Widget Options. Here you'll be presented with a set of options that most WordPress users can ignore. However, depending on your particular theme and layout, you may need to adjust margins and other properties.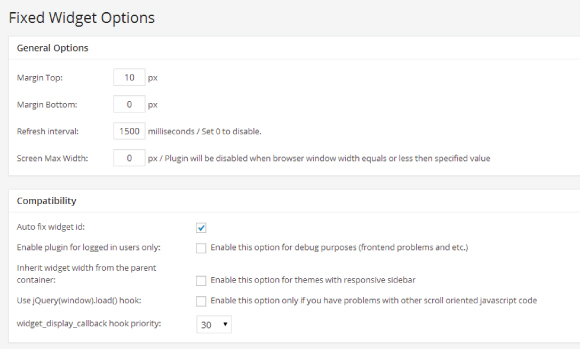 Essentially, you're able to tweak the options until they fit your theme perfectly.
Margin Top & Bottom: These refer to the vertical positioning of your widget
Refresh Interval: Changing this may be necessary if your theme uses dynamic content such as infinite scroll, lazy load and other javascript based elements. If you don't have dynamic content, this can be set to zero.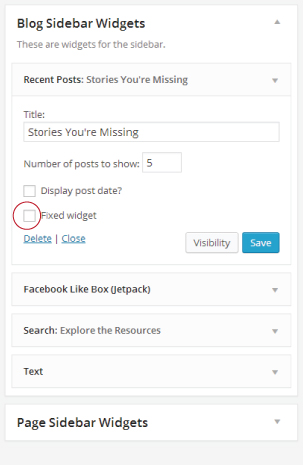 The other elements usually work out of the box and are self explanatory.
The Next Step
Go to your Widgets page in WordPress admin and check the particular widget you'd like to make sticky. Hit Save and you're done!
Click here to download the Q2W3 Fixed Widget.
Begin Focusing on Conversions
Writing with real conversions in mind as the end result is one of the keys to building a successful blog. A results-driven mindset leads to better writing, improved engagement for readers and an open mind to strategies that work.
A sticky bar is ideal for any content you need to standout and coupled with these powerful conversion optimization strategies, you'll be well on your way to making your website or blog a greater success.
Bear in mind, however, that simplicity is always better when trying to improve clicks and conversion on your site. One main, targeted option presented to readers will far outperform a crowded page with 10 call to action buttons. More does not mean better in these scenarios and can degrade user experience. Do everything in moderation.
Robyn-Dale Samuda is a Web Developer & is owner of Yuraki, a Website Development, IT Consultation & Online Marketing Firm in Jamaica. He has a passion for the web and helping clients achieve more online.