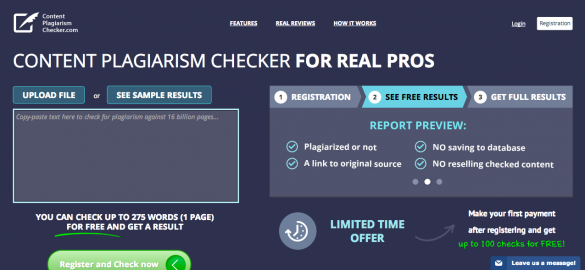 Last week, we talked about the slippery slope of plagiarism and how to avoid it. We mentioned using some tools that can let you know if your content is found elsewhere on the web (that is, you somehow wrote the same exact content as someone else). Alternatively, these tools can let you know if someone else has plagiarized your work.
One of these tools is ContentPlagiarismChecker.com, and they want to give BloggingPro readers the chance to try out their platform via this giveaway.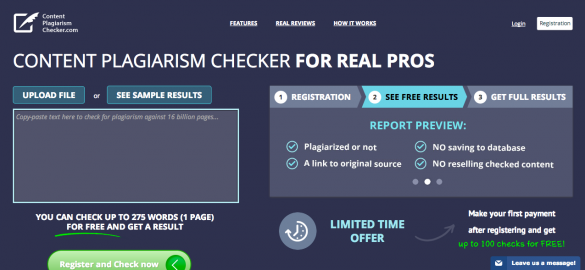 How does ContentPlagiarismChecker.com work?
Once you visit the home page, you can:
Try the service for free by pasting text in the checking area right on the home page (limited to 275 words)
Register to see free results
Review free results (if plagiarism is found, they give only 1 source, others are hidden)
Purchase credits to check texts of any size and without any limits.
Because we're doing a giveaway, BloggingPro readers will get an invitation code, which you will have to enter in the corresponding field when you visit ContentPlagiarismChecker.com. You will then get 10 credits automatically (enough to check 10 pages).
The ContentPlagiarismChecker team will then get in touch with you via email, as they want your valuable feedback. After you share your experience, they will add 100 credits to your account. That's enough credits to check 100 pages!
Simple, isn't it?
So here's the invitation code you'll need: 1aswe34444. Remember to use this code when signing up, and to  respond to their email with your answers to the survey. This way you will surely get 100 credits allowing you to check 100 pages for plagiarism without spending a single penny.
Note: Emails may get lost in your Spam so please check this folder, and if the email is there – mark it as "Not spam". Good luck!