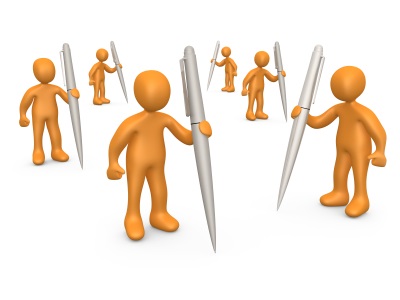 Image Credit: Chennai Social Media
A recent Webmaster Help video has Matt Cutts, head of Google's webspam team, shedding light on what was considered legitimate guest blogging. Most of his insights were obvious, things any sensible blog owner (who accepts only high quality content and credits the author) would know.
But we exist in a Google world. Words from a representative of this "super power" need to be dissected and then digested.
What are the dangers of guest blogging?
There's plenty of speculation on the value of guest blogging. Over the years, Google has uncovered numerous shady link-building practices. Consequently, they've pounced on the most likely culprits – directories, article sites, press releases and advertorials. They have also devalued footer and sidebar links because they were being abused.
As more online marketers and blog owners venture into guest blogging – the 'flavour of the month' as Matt Cutts referred to it as – author boxes could be next.
Links placed within a post are presumed to be relevant. They serve to further inform a reader of concepts that cannot be explained within the post itself, or to back up statistics that have been quoted. Author box links, on the other hand, rarely benefit the user. You might say it's the writer's payment for the post. It can then be argued that anchor texts placed in the bio (at the bottom of a (this) blog article) is a form of advertisement.
As you may know, I'm a guest blogger on this site myself. Yes, a link to my website is useful and appreciated, but not as a means to gain Page Rank or 'link juice'. It serves to inform readers of where I come from. If they value my knowledge, they know where to find me, and my company's services. Producing a guest blog post should be a genuine desire to share knowledge with a different audience than one I might get on your own website. Many, however, value getting back-links above all else and allow their content to suffer because of it.
We've already seen how serious Google is about fighting spam. I wouldn't put it past them to announce a "no follow" for author box links soon. Though, it's worth noting, that although "no follow" links do not pass Page Rank, they have in themselves were found to noticeably correlate to high rankings.
How does Google determine spammy guest blogs?
According to Cutts, a guest blog post may trigger suspicions if:
The post is unrelated to the blog's theme or topic
When someone is paying for links, the article written is often either off-topic or irrelevant; born from the fact that one party is getting monetary reimbursement for the service, and this is the primary goal. Everything else suffers. It doesn't really match the subject of the blog. You'd be seeing a bunch of keyword-rich anchor text scattered strategically throughout the content. It's those links that a non-tech person might just pause at and wonder why they're there. To a smart web user, they are blatantly obvious.
It's appears to be re-using or spinning content
Apart from unrelated themes for a post, some people attempt to just spin the content of a write-up and send them off to different blog sites.
Excessive number of guests posts (on yours and others' blog sites)
Mass guest posting often denotes low-quality content and results in an unnatural link profile. There's one rule in SEO that has remained consistent to this day – mixing it up. While guest blogging is a great way to leverage another person or entity's audience, it still pays to write the majority of your blog's content. These posts should be fresh and unique. Combining search marketing tactics was important before. But with Hummingbird fluttering its wings, a multi-pronged strategy is crucial. 
What's in store for the rule benders?
Authors wanting to go about it a different way will probably never even get published on a half-decent blog. If they do manage to get published, their back-links may well do them more harm than good.
Google Penguin and Panda will root out any thin content, poor-quality links from unrelated sites, and over-optimisation of anchor texts. An algorithmic penalty is likely to dump your site from the SERPs, and you won't get any warning in Webmaster Tools. Even if you manage to correct your errors it could be a long time before your site re-establishes itself. Often, recovery is dependent on when Google performs a data refresh, which can be months apart.
Keeping it Real
Guest blog posting can be relatively risk free if your intentions are pure.
Relevant, original and factual content
Relevancy and originality go hand-in-hand in great blog posts. Topics may well have been written about in the past, but your approach should be unique. The write-up should present new ideas.
When writing about facts, each one should be verifiable. Proper source attribution should be practised at all times.
The audience of the host blog is always number one priority.
This can be tricky for a guest author, but is essential in proving your worth to Google. A post should always be intrinsically relevant to the theme of the blog and the website as a whole. If this deviates too much from your own knowledge, then you shouldn't be attempting to guest post for them in the first place.
The mark-up rel="author" is implemented
Google author mark-up is a way for Google to determine who writes content. It allows an author to take credit for work, and in turn, build up an 'authorship' profile. It stands to reason that if an author is willing to take credit, or, conversely, be held accountable for written content, then the intention behind the guest post is pure.
Seek out suitable websites that are related to your niche
After determining your target audience, the next step would be finding specific people to reach out too for guest blogging opportunities. Start by looking for influential people with blogs that welcome contributions. Your aim is to
Now that you've found some possible targets in your niche, it's time to do a little legwork. To make sure they're the right fit, investigate using these steps.
Check for a blog – you can't be a guest blogger if the website doesn't have one.
Examine domain authority and link profile – find out whether your prospect is a highly credible one by checking their link profile and domain authority. You can see both here.
Qualify engagement – almost everyone has a social campaign going. So you need to determine which one is compatible with the goals you had in mind. Look closely at the kind of engagement a blog gets. Know what its community looks like.
To these points, I'll add:
Avoid loading your author box with anchor texts; one company link and a social media link is more than adequate
Don't post too often
Publish articles at regular intervals but not too many at a given time
Focus on providing value-added content (on both your own posts and that of guest bloggers)
Parting Words
Guest blogging isn't the new content marketing. But, when done right, it can allow your company to gain a stronger presence on the web.
About the Author:
Richard Eaves is a Digital Marketing Specialist for Smart Traffic, an SEO company helping business across different sectors drive web traffic and increase sales and enquiries. He oversees more than 300 campaigns for the company. Catch up with him on Twitter.
My name is Richard Eaves and I'm a digital marketing specialist working for Smart Traffic; a UK-based SEO company who have offices all over the world. I'm originally from Lancashire in the UK but am currently based in Cebu City, Philippines. I developed a passion for SEO and all things digital marketing while working as a webmaster back home. I particularly specialise in technical onsite SEO and content writing and development.