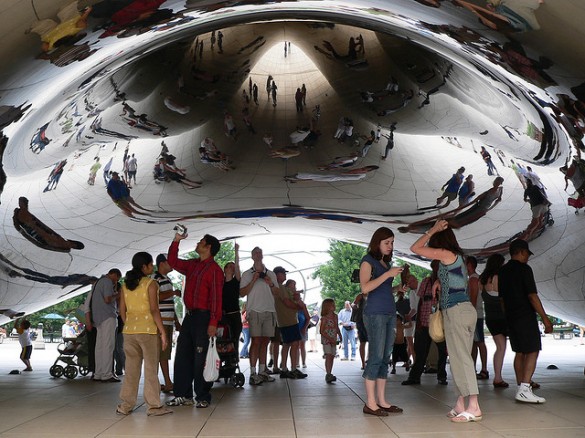 Image source
 "Life is never made unbearable by circumstances, but only by lack of meaning and purpose." – Viktor E. Frankl
Many people today are constantly searching for purpose in life. Discontentment transcends age, gender, economic status and race. Fortunately, we are interdependent as a species. We thrive on affirmation and never hesitate to give advice. Such interactions don't always lead to knowledge of the "ultimate goal"; but they do yield meaningful, shared experiences.
Answering a friend's question.
Making a suggestion to a colleague.
Following the advice of a family member.
These are all great examples of shared experiences. Since technology has made communication much more convenient, idea and opinion sharing effectively found its way online. Capitalising on the human tendency for semantics, search engines are rapidly moving away from keyword-prompted results towards meaning-based answers to user queries.
The Hummingbird Algorithm

Image Credit: free-seo-news
Google recently unveiled a new search algorithm focused on user intent, rather than individual search terms. Named Hummingbird, it aims to provide faster and more accurate results.
Penguin and Panda were updates to the existing search mechanism. But this precise little birdie is a complete replacement; a new algorithm if you will.
Pundits have varying opinions about Hummingbird. However, there's general agreement that Google's search capability has indeed become more sophisticated.
Search engine expert David Amerland underscores the following milestones:
1. Increased ability to deal with complex search queries
2. Improvement in the indexation of entities within specific web content
3. Has got better at "relationally linking" search and web documents
With this shift towards semantic search, online marketers are rushing to see how client rankings will be impacted. If you're nervous about your own site's performance on SERPs, I suggest you take minute to ponder on the implications of the new Google algorithm. The keyword is no longer the "be all and end all". The perceived meaning behind queries is what matters now. You want a strategy for success? Optimise for shared experiences, not key terms.
As a company blogger, you're in an excellent position to implement this. Content is the best tool for creating shared experiences. Later on, I'll be providing tips on improving your blog in this respect. First, let's have a look at how meaningful experiences can be created via two of digital marketing's hottest trends.
Mobile and Social Media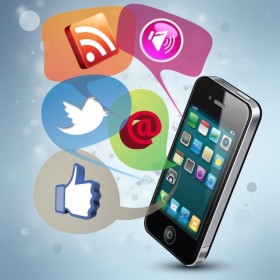 Search will always remain fundamental. But it's just an act in the play now. The Experiences that people share have accumulated. This has led to the creation of a powerful collective repository; one so vital that it's accessed every minute of the day. The catch? Most of it isn't on Google.
The pervasiveness of social media and mobile is conditioning a new generation of connected consumers. Yes, they still use search engines. But they also rely on their networks of relevance to guide them in making purchasing decisions.
Modern buyers are sophisticated enough to identify advertising ploys. In fact, they don't trust ads. But they do trust their peers to give unbiased feedback on a service or merchandise. Surprisingly, results from this year's Trust Barometer study by Edelman indicate that they also trust employees of companies.
Why?
Consumers wish to find qualified information quickly. For them, employees have the inside scoop. They allow customers to find helpful answers, rather than those that sell.
What does this have to do with content?
Collaboration. Churning out valuable content doesn't need to be a single-team effort. Enlisting the aid of various experts (within your organisation) provides an article with diversity. This tactic enables you to reach a broader audience. You can have the IT people answer forum questions or get one R&D member to write about the process involved in creating new products.
The Journey towards Conversion
What good is a business without profit? Ultimately, all that quality content on blogs and social media platforms are meant to increase conversion. But it's a two-way street. Profit needs to be earned. You have to show consumers that your brand is worth a shot. To achieve that, measures leading to meaningful shared experiences need to be set up.
Social media marketing guru Brian Solis defines a clear path towards this goal.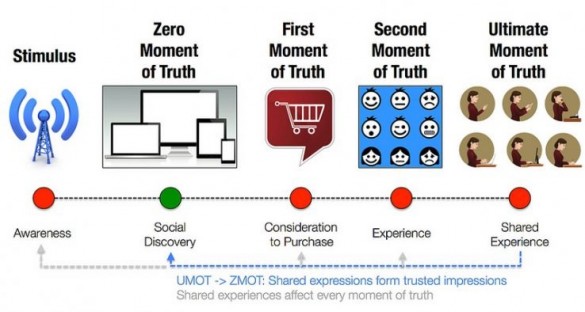 Image Credit: MOZ Blog
1. Stimulus or Awareness
As part of a well-orchestrated marketing campaign, you post amazingly informative content on the company's Facebook page.
This initial stage is about leaving an enticing trail for people to follow. You can strategically share content to a specific audience or make it accessible to the public.
2. Zero Moment of Truth (Social Discovery)
That piece of content gets the attention of many people within your FB community. They pass it along to individuals within their own social media circles.
People within your social community affirm the FB post's effectiveness by sharing it with others. When shared often enough, it'll create that much-needed buzz.
3. First Moment of Truth (Consideration to Purchase)
One person gets hold of the viral post on Google+. He is impressed with it and considers purchasing the product mentioned.
At this point, the person will want to know more about your product. He'll "google" the company and read countless reviews. He'll even ask people within his online social sphere about it.
4. Second Moment of Truth (Experience)
The person transitions from prospect into a customer. He purchases the product and tries it out for himself. He then compares his experience with the benefits stated in the article, or with the information he got from other sources.
Convinced that the product is worth trying, he buys it. He will then try it himself and draw his own conclusions.
5. Ultimate Moment of Truth (Culmination of the Shared Experience)
The customer is more than happy with the product. It exceeds his expectations. He'll then write and post his own review. Or he could recommend it directly to others.
After testing the product, he passes judgement on it. It's worth noting that the consumer is always apt to offer feedback, whether he likes the product or not.
Why should I care about UMOT?

The five stages above highlight the transition from consumer expressions to impressions. Think of UMOT (Ultimate Moment of Truth) as judgement day. For months, you've worked hard on providing a great experience for people, through your product. You've published interesting articles on your blog and posted worthwhile information on social networks. A customer's feedback will let you know if you've succeeded or failed. This is why it's so important for organisations to plan and design a path towards creating that "fulfilling shared experience" for customers. Being proactive ensures that you get good results in the end.
How do I ensure positive impressions through blogging?
Before you can focus on actual content creation, it's necessary to determine touch points. These are clues to the type of shared experiences your blog followers consider valuable. You can find this by reading through the comments on your posts. Note the issues being raised and the questions asked. Does your site have a forum? Actively monitor ongoing conversations through participation. Look for patterns and decipher the meanings that lie below the surface.
Furthermore, feedback is shared. One person's UMOT can be another's social discovery. From the earliest stages, you'd want good publicity for your brand.
Tips for creating great content as part of your UMOT optimisation strategy:
1. Answer the important questions in your article
Earlier, I mentioned to pay close attention to questions from followers. Now, it's time to answer them. If people's queries essentially fall under the same topic, answer it in a blog post. When writing, be as detailed as possible. Your readers will be using this for future reference. Take note of what you've written down too. The same query may crop up again. You'll want to have consistency in your answers.
2. Backup claims with factual evidence
Baseless claims don't have a place in your write-ups. If you must make one, back it up with factual evidence. Research adds authenticity to an article, but make sure it's relevant to the topic you're discussing. Finally, cite study sources as meticulously as possible.
3. Include them in your articles
Put a new spin on "audience participation" in your blog. Occasionally, tackle an issue a customer shared with you. Or you can write an article based on someone's thought-provoking comment. Always name your source, unless he requests anonymity. This move reflects a sincere desire to cater to the needs of the customer.
4. Give credit where it is due
This may sound cliché, but clients really do "make" your business. It's only proper that you recognise their importance. Writing thank you blog posts isn't a new idea, but it'll never go out of style. Appreciation is timeless. It could also result in positive feedback for your brand.
5. Try something new
Innovation doesn't just apply to your products and services. It should also be reflected in your blogging efforts. Incorporating games into your blog is an effective way of spicing things up.
The Bottom Line
As search becomes more personal (meanings and connections instead of random keywords), your brand should invest in co-created shared experiences. Keyword anthropology should go hand-in-hand with social media and mobile marketing.
Harness the untapped power of your blog. Use it as a tool for creating moments customers will want to revisit repeatedly.
About the Author:
Richard Eaves is a Digital Marketing Specialist for Smart Traffic, an SEO company helping business across different sectors drive web traffic and increase sales and enquiries. He oversees more than 300 campaigns for the company.
My name is Richard Eaves and I'm a digital marketing specialist working for Smart Traffic; a UK-based SEO company who have offices all over the world. I'm originally from Lancashire in the UK but am currently based in Cebu City, Philippines. I developed a passion for SEO and all things digital marketing while working as a webmaster back home. I particularly specialise in technical onsite SEO and content writing and development.