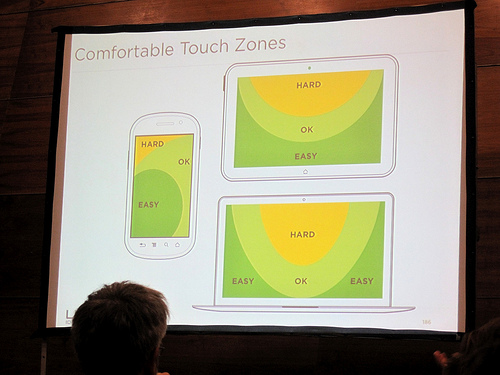 Maintaining a site is an ongoing process. Since technology, the Internet, and software programs are constantly changing, it's important to decide what style and design is important enough to incorporate and what is just a fad.
Keeping a website fresh is important when it comes to being relevant in your industry and staying ahead of the competition. One important design feature that's proving to be a essential concern for any site, and one well worth investing in, is responsive design.
What is responsive design?
We've all encountered a website that won't load on our smartphone, or a site that shows up but renders poorly so it's not even worth looking at the content. Most website owners have realized the importance of including a web-only version, but that's not necessarily enough.
As you may have noticed, more and more people are using devices other than their laptop or desktop for the majority of their online activities. In fact, PC sales appear to be on the decline for the first time.
So what does this mean? Responsive web design means that you don't have to make the choice between a website or an app. Instead, the website adjusts to whatever hardware someone decides to view it from. This is becoming hugely important as your website receives more mobile views, and high-quality mobile versions becomes the standard among readers.
Here's why you need responsive design on your site right now.
1. A mobile version isn't enough
Having a web version and a mobile version of a website was sufficient to get most websites by until now. However, with a wide variety of desktops, laptops, tablets, and smartphones out there, a professional website needs to be compatible with all of those devices.
2. Better customer interactions are possible
The websites that use responsive design will look great no matter how a person views them. This means you'll have no unhappy customers who can't find the information about your business by viewing your website on their smartphone. Because we live in such a competitive world, that online edge can help your company outshine the competition and keep its customers happy.
3. You'll be ahead of the curve
It's clear that responsive design is going to become the Internet standard. Having responsive design even showed up on the Ecommerce Marketing Checklist for this year, but the majority of companies and websites have been slow to make the switch.
Those who are changing over to responsive design, or beginning to build websites that incorporate responsive design from the start, are going to be ahead of the rest. If they have it now, those businesses are serving their readers better. Overall, responsive design is an investment that most professional websites will choose to make eventually, so you might as well start benefiting from it as soon as possible.
Finding a designer
When you're looking for a designer to activate responsive design on your site, it's important to choose one you can trust. They should have great examples of responsive design (see  http://www.bearcreekweb.com/portfolio.aspx.) for which they've been responsible on their site, and you want to choose a designer with a good reputation of getting projects done within a deadline.
Setting a budget from the very beginning and being clear with your designer about what you want will make it easier to choose, since there are many designers out there with a variety of experience and pricing.
Image credit http://www.flickr.com/photos/visualpunch/8746152576/sizes/m/in/photostream/