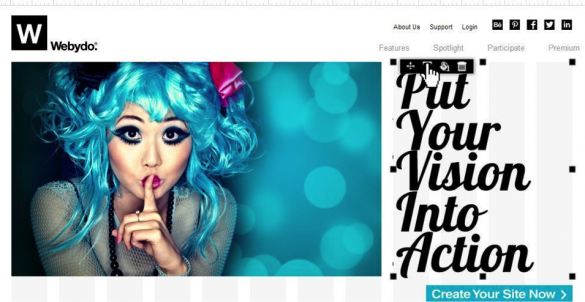 There are so many absolutely free, awesome things on the web these days: search engines, video players, chat clients, social networks, website builders – name it, you've got it! Today, we are happy to announce a giveaway in partnership with Webydo, a free online site builder. The Webydo team wants to express their gratefulness to their current and prospective customers by offering one free lifetime subscription to their professional web suite.


Do I need a Webydo Account?
1. Yes. If you're a web designer who dreams of liberating himself/herself from handwritten code dependency.
2. Yes. If you want to start making money online from your talent.
3. Yes. If you want to create a website that will have a professional look and rich functionality in mere hours.
4. Yes. If you want to explore your website design skills.
You can start discovering the advantages of using this cloud hosting service at no charge right now – registration and their feature-rich toolbox are offered for free. Thus, you're risking nothing when creating an account on Webydo. You might be risking getting addicted to their Design Management System and CMS, though.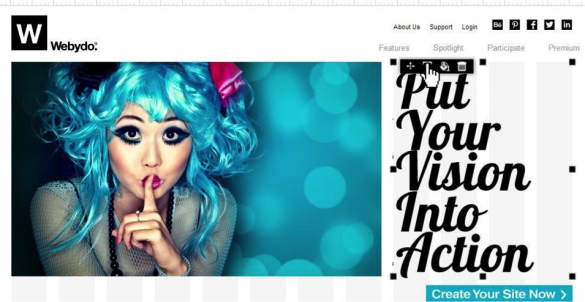 The Webydo DMS and CMS
The Webydo DMS puts designers in the driver's seat: their web design studio offers you full control over your creation. With Webydo, you don't need any assistance from the developer's side: their patent-pending system automatically converts your graphic design into HTML code.
Moreover, unlike similar web services that offer limited space for customization, Webydo gives its customers freedom: you can either design a website from scratch (starting with a white canvas), or you can opt for a pre designed solution (if needed).
Their DMS is the embodiment of true WYSIWYG and drag-and-drop principles of editing. It's very simple and intuitive: every change you make on your canvas is saved to the code. What's more – you can immediately see how your website will look like on the web. Crop, resize, move, add, remove, change, adjust – their CMS can be compared to building blocks for kids. Simply take the elements you like, put them together, and your online fortress is ready! The service is free, unless you decide to move your web presence to your personal domain name ($9.90 monthly or $7.90 when subscribed for a whole year).
Webydo User-Centered Policy
Webydo takes care of its customers: it creates a friendly, positive, inspiring atmosphere to boost your creativeness. What's more – when registered, you can directly participate in the improvement of their system – you can suggest a new feature, vote for other customers' suggestions, or report a bug.
Thanks to Webydo's awesome development team and the suggestions from designers, Webydo will be adding one of it's newest features within the next coming weeks; the blog! The team at Webydo is very excited to get this feature out there, as it's expected to be extremely popular.
User-centered policy of Webydo is the core of their success. This platform is created by designers for designers. It offers great user experience, and you can experience it for FREE by taking joining this giveaway (the rules are so simple! – it will take you just a few clicks to participate :)). Remember to share this news with your colleagues. Web design has never been so simple and affordable!
How to join
Just click on the widget below and follow the instructions! We're running the giveaway from today till the 26th of June, so keep sending those entries everyday to increase your chances of winning. The winner will be announced on the evening of the 26th, so keep your eyes peeled!