If the average (somewhat knowledgeable online) person is asked about the best platform to use for a blog or web site, the chances are that his reply will be WordPress. That's because WordPress does have a lot going for it, and its popularity has not skyrocketed without reason. Indeed, there are many who would try to convince you to stick with WordPress.
The truth is that, however, popularity is not always the best reason to use a platform. While it can be a compelling reason – everyone loves it, it must be good! – there is always something that is just as good, or even better, out there. And when it comes to a platform for blogging, Joomla! is one excellent option. You might even hear some bloggers or web site managers tell you they prefer Joomla! over WordPress.
Want to know why you ought to consider Joomla!? Here are some good reasons you should use Joomla!.
It's free.
Just like WordPress, Joomla! is inherently free. This platform is licensed under the GNU/GPL license, allowing you to do practically what you want with it. It also means that anyone who wants to help improve the platform can do so.
It's easy.
Joomla! was built with the ease of use in mind – ease for even the not-so-technical person. There is built-in sample content, templates can be installed with a click or two, and there are succinct directions to point you in the right way. Even if you are new to setting up your web site, you can do so without much difficulty.
Additionally, Joomla! has a user interface that is very pleasing to the eyes, and while looks do not always equate to functionality, in this case, it applies.
Web hosting providers also offer easy install options for Joomla!, proving that the platform is holding its own against its more popular counterparts. More so, there is no lack of Joomla hosting options.
It's "extendable".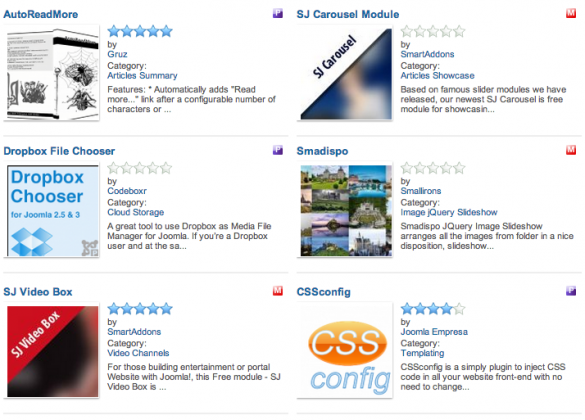 If WordPress has its plugins, then Joomla! has its extensions. The Joomla! Extensions Directory is a rather impressive collection of tidbits which you can use and abuse to make your web site look and behave exactly the way you want it to. If you're a newbie, you can opt to use as few extensions as you wish, but if you want more control and functionality, you will not lack for extensions to play with.
It's secure.
Online security is a very real issue, and anyone who is setting up a web site needs to be able to rest well at night knowing that at its very core, his platform of choice is secure. While we do have to admit that there will always be hackers out there trying to crack even the most secure system, it is good to know that your platform has an excellent security system in place. And that's one of the things Joomla! is best known for: security.
It's suitable for more complex needs.
Joomla! is the choice of many businesses because of its ability to adapt to meet more complex needs. For multiple sites and profiles, replication of sites, easy back ups, etc., Joomla! provides easy solutions.
The bottom line
Joomla! may not be the most popular blogging/web site platform today, but it certainly can match all the other platforms out there. If you want to try something else other than the "everyone-else-is-using-it" platform, you can't go wrong with Joomla!