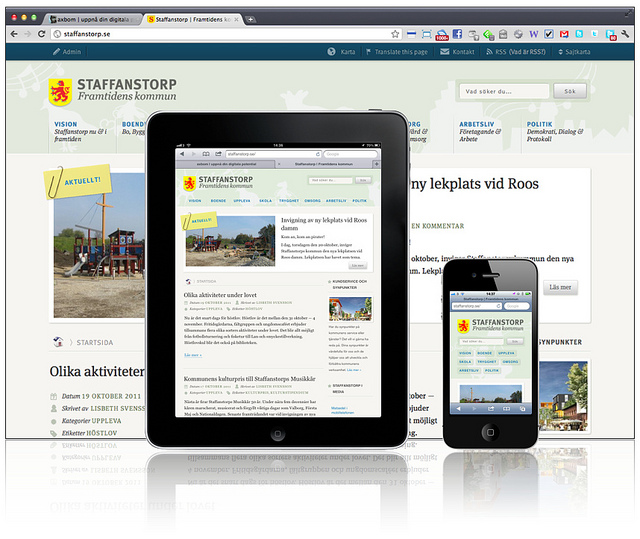 The other day, n most was reading an entry here about how to make your blog mobile friendly, and the last thing the writer mentioned is a blog concept that I personally advocate, that of responsive design.  If you are unfamiliar with responsive design, essentially it is designing your website so that it automatically adjusts to fit the screen of most mobile users.  While I personally advocate responsive design, I understand that it is not for everyone. Today, we will take a look at some of the pros and cons of using responsive design for your blog or website.
Advantages of Responsive Web Design
The main advantage of having a responsive design for your website is that your site will automatically adjust itself based on the screen size and screen resolution of your visitor's device.  Columns, tables, and images will automatically resize themselves, which means that your site will retain most, if not all, of the original design elements.
Since your site restructures itself, the next advantage to this form of design is that you will not need to provide mobile sites for each type of device.  Many sites choose to have separate sites that are optimized for smartphones, the iPad, etc.  With responsive design, you are as close to a "one site fits all concept" as you can get at present.
Also, Google recommends that websites be setup with a responsive design.  As we all know, Google drives a lot of the innovations regarding web design due to the importance of their search engine.  If Google says it's important, it is important.
Disadvantages of Responsive Web Design
Earlier, we said that a responsive design will fit most devices.  The truth is that some devices will still not be 100% optimized with a responsive design.  Depending on how much of your traffic is mobile-generated, this could be an important issue to consider.
Next, a responsive design requires much more time and resources than a standard design or using separate mobile sites. 
In most cases, the average website owner will not have the skills needed to set up this design and will have to hire a developer to convert to a responsive design. The average website owner would not have access to advanced testing software from a company like Inflectra that a developer would.
Also, a responsive design is not viewed as a mobile-only site by webcrawlers, which means you may not be able to use the same SEO tactics to target mobile users as you might with a separate site.
Another consideration: since the site is just a scaled down version of your website, it will load slower than a mobile-optimized website.  This means that mobile devices will need to download unnecessary code which could result in slower download times and force some users to abandon your site.
Finally, if the number of mobile visits to your website is less than 5% of your total traffic, the investment in terms of cost and time may not be worth the result.  You may be better off with a standard option or if you are a WordPress user, can try a responsive theme.
How to Get a Responsive Design in WordPress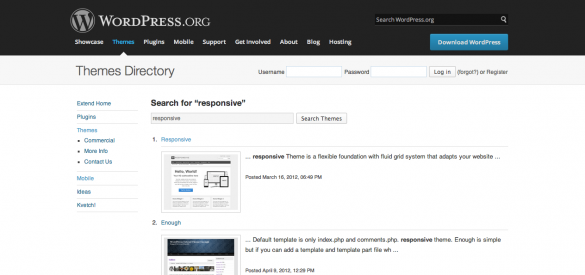 If you already have WordPress installed and don't already have a responsive theme installed, no problem.  All you need to achieve a responsive design is to download and install a responsive template.
First, log in to your WordPress admin page and go to the appearance section of your dashboard.  Next, go to themes and click the install themes table.  There you can search for responsive themes. You will be presented with well over 100 responsive themes to install.  Once you have found the theme you want, click install and then install now in the popup box.  When you have received the message that the theme has successfully installed, click on activate.
Go to your url and refresh the page, and you now have a new responsive design.  If your front page shows up as the customer front page of the theme, go back to you dashboard and then appearance and  then theme options.  Expand the home page section and remove the check beside "overrides the WordPress front page option."  Your original front page should return with the new responsive theme.
To learn more about WordPress themes or to view other responsive themes, check out the WordPress official website. Still not decided if you need to switch? Here are some of our suggestions:
Who Needs a Responsive Site?
After seeing the advantages and disadvantages of a responsive design, you may still be on the fence about whether you should develop one for your site.  Below are some of the types of sites that should utilize a responsive design.  If your site fits under any of these types, you may want to consider a responsive design.
A significant portion of your visitors are mobile users. (Almost everyone owns a mobile device so I think this means you most likely need one.)
A site dedicated for mobile technology and mobile compatibility.(Examples are software/products geared towards mobile users like mobile game sites, etc.)
A website wanting one brand identity (This means that you don't want a separate site.)
Websites that have information that needs to be accessed quickly and over a large variety of devices (Examples are news websites and magazines.)
Retail sites targeting 15-30 year-olds. (It is said that people in this age group are more likely to have their own mobile devices. )
Many web experts agree that a responsive design is the future of web design.  If you want to get ahead of the curve with regard to mobile compatibility, you may want to explore a responsive design for your website.
About the Author
This article was written by Lori Campbell of PressTheWord Channel. If you want to learn how to set up your own responsive web design in detail, be sure to check out their latest WordPress tutorial.
Image via axbom