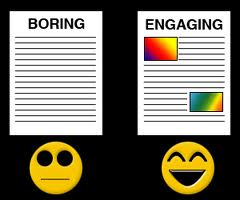 Blogging has proven to be a successful channel for increasing engagement between brands and customers. But not every company is as sexy as MTV and can blog about celebrity spotting and free concert tickets. What about those of us with a business blog focused on potted plants or network servers? Can these "boring" brands possibly create an intriguing blog?
The answer is, yes.
In fact, niche companies can have an easier time blogging than bigger brands since they have a niche audience. These simple steps can help even "boring" brands create a compelling blog.
Know Your Target
Before you can start creating content, you must first know who you are writing for. This is a crucial step in creating an industry-specific content strategy. Your readers are likely coming to your blog with a specific intention, versus casually surfing the web. Do some marketing research to create a "typical personality" (or personas) visiting your blog. Keep this personality in mind with every post.
Add Value
Not only should your content be interesting, but it should also add value. Don't simply serve up some boring facts about the industry, but provide insight and analysis. Tell your readers how they can leverage these facts. For example, Dell sells servers and blades to CIOs around the world. Not the most fascinating topic. But Dell has created a blog, Dell Tech Center, which adds value by moving the conversation beyond selling hardware and offering employee-generated insight.
Add value to your blog by offering solutions to common problems. Home Depot's blog is an example. The company knows many shoppers are DIYers, so the blog focuses on strategies for tackling various home projects with a DIY angle.
Teach Something
Teach your readers something new, or at least help connect them to someone else who can. IBM's blog, Pulse Blog, aids those in the IT solutions business in keeping their finger on the "pulse" of the industry by offering a forum for peer-to-peer and industry expert exchanges.
Using guest bloggers is an easy strategy for teaching on a subject you yourself may not be an expert in, and can offer some great benefits to you and your readers. The blog for ASCD.com, an international education institution, allows guest bloggers to post their own opinions. Called ASCD In Service, this blog stimulates conversation by letting many voices be heard.
Move Beyond Writing
Written words are not the only form of content you can leverage to engage more of your readers. Try images, video and infographics. Most people are visual learners, and if you can offer information in a medium more easily understood visually, these readers are likely to return. Xero, an accounting software computing company, leans on video in a cloud computing guide to give cloud computing a more personal angle.
Like video, infographics are a strategy to differentiate how you share information. Before you dive in, first treat yourself to a few self-taught lessons on creating infographics. The medium is sometimes overused, and is most useful when done well. Taking a few statistics and putting them into a pie chart won't cut it.
Drive Traffic
You may have the most compelling, dynamic content in the world, but if no one is reading it, what's the point? Last, but definitely not least, to really market your niche blog, think about how you're going to increase readership.
Email marketing is one efficient strategy for marketing a "boring" blog. Because the recipients are already getting your email, you know they are interested in the content. Consider including a link to your blog in email blasts to your current customers. Small businesses can benefit from incorporating their blog into an end-to-end email marketing strategy.
Also consider using search engine optimization (SEO) to increase traffic. As a niche business, you're in a lucky spot! Your "boring" blog also likely has very specific words associated with it. Include these words in the headlines of some (don't go overboard here) of your posts.
If you're struggling to create content for a "boring" business, don't fret. Having a narrow focus can actually spark innovation and creativity. Knowing your reader, creating compelling content and driving traffic to your blog will all help that niche blog go from "boring" to booming.