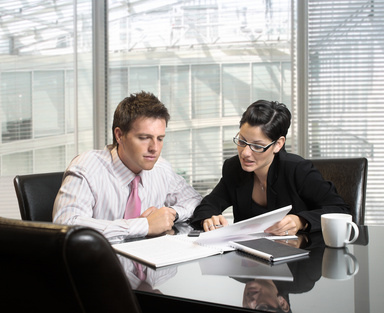 You know having a blog is essential for your business. But your boss? Maybe not so much. Perhaps she's focused instead on getting those big easy wins, or maybe she's so old school she thinks blogging is nothing more than a way to give away precious company knowledge for free. Whatever her hesitations, it's time to shake up that mentality, and the best way to do that is by knowing your stuff. I recommend starting first with a good guide to business blogging, finding a few key statistics, and developing a vacuum-tight pitch strategy. Here's how to do just that.
1. General Content Marketing Stats
First, it's important that your boss understands that blogging isn't just some fun activity, but rather a crucial piece of a larger content marketing strategy. Things like a viral video, for instance, would be nice to have, but no content marketing strategy would be complete without a full suite of efforts to fall back on should one big bang strategy not go as expected.
Once this is clear, your boss may find a few general content marketing stats compelling:
• More than half of all internet users read blogs once a month or more.
• 78% of users conduct product research online (and one of the best ways to get found is by having a keyword rich content strategy).
• 33% of US consumers spend three or more hours online a day (and that's growing with cloud use).
• Every stat listed here.
Blogging can help increase revenue, traffic and conversions, all while saving your company money along the way.
2. Demonstrate How a Blog Can Move Customers Through the Sales Funnel
Sure, your company has customers. But chances are a fair percentage are getting lost somewhere in that sales funnel. Before you present to your boss, take a look at the company website's Google Analytics data, see where the stats waiver, and link those stats to blog-based solutions. You might look to see:
• Where your traffic is coming from. If, for instance, your traffic is coming heavily from a niche site but not from a place like Facebook, you might make the case to your boss that your company lacks a more social and approachable face, thereby missing out on a dense social media customer base.
• Returning users. Few repeat visits may mean visitors aren't finding much more than the basics on your site. Blogs can help fix this by providing compelling content that will keep visitors around long enough to eventually make a conversion somewhere down the road.
• Conversion rates. Even if you've got a lot of traffic and many return users, they don't mean much if they're not eventually becoming customers. Again, a low conversion rate can help you make the case to your boss that your web content just isn't compelling.
3. Beat the Competition
So maybe your boss doesn't care so much for your own blog. But what about that of your competitor's? If your competition has a slick blog with visitors commenting all over the place, don't hesitate to show this to your boss. Even better, do a little keyword research to see who ranks high for the keywords you'd like to capture. Chances are, they've got a good blog in there somewhere.
4. Find Specific Goals
Now it's time to get specific to your company. No blogging strategy will work (or be very convincing to your boss) if it's got a "slap up whatever we've got" mentality. A few highly compelling goals for a blog include:
• Increased conversions and revenue. No matter how you slice it, a good blog is, at its core, a means of making more money. Whether it's search rankings, domain authority, customer sales, advertising, newsletter signups or anything in between, the point of a blog is to suck users further into your site and either make a purchase from you directly or promote you to their friends. Do your research and present your boss with clear numbers that support just what it is the blog can do monetarily.
• Expertise establishment. A good blog can go a long way towards establishing a company's position as an industry leader. And what boss doesn't want her company to be seen as a respected authority? While not as easy to measure as conversions and revenue, you'll be able to see some indication that people consider your blog (and therefore, your company) to be an expert when a large number of people are linking to your articles or following you on social media.
• Giving the company a more human face. While this is an admirable goal for any company, it will especially be so for older, more corporate businesses with dry marketing and website copy. Photos, employee stories, and direct outreach to consumers can be a great way to give a company a more human face, while still keeping things professional.
5. Make a Sample Editorial Calendar to Match Goals
Once you've set these goals, show your boss you're serious by producing a sample editorial calendar with creative measures for meeting these goals, as well as a mean of measurement along the way. Do your best to keep your blogging content strategy on voice and on theme, while still cracking it open to newer, more web-relevant techniques, like running contests and inviting guest posters,
Want to go one step further? Produce a complementary social media calendar as well, so it will be clear that the blog is a part of a much larger content and social strategy.
6. Pitch the Concept
Finally, once you've got all of your data gathered, it's time to pitch to the boss. And when I say that you want your boss to buy-in, I mean that you really want her to buy-in, giving you a generous budget and not just a few spare pennies rolling around the back somewhere. To do that, you've got to tell a good story. These beginning tips should help:
• Keep your pitch on brand and on voice. What are the brand's larger goals? Fit your blog pitch neatly into these.
• Show where the problems are…Then articulate the clear goals you've identified to fill in the gaps and lead the brand forward. Combine short term goals (capturing a certain keyword) with long-term goals (keeping traffic above a certain threshold) for a more complete vision.
• Come equipped with data. Both about the problem at hand and about what your solution can do. Prove the monetary value of your proposed blog efforts.
• Give your boss a case study of what could happen should you be given a solid budget for your efforts.
• Reiterate your case to drive the point home.
Take-Away
Having a great blog is a key part of any modern content strategy. So do your research, show your boss just how much a blog could offer the company in terms of concrete revenue increases and expertise establishment, and get blogging!