All copyright considerations aside, no one wants to bookmark, like or share a Youtube video- No,  deep inside we really don't! Just like a sneaky fat online hobbit: We wants it, we needs it. We want our Youtube videos downloaded on our hard drive and pronto! Where's the fun in Youtube when we can't grab that hot, viral video for the day? Or watch that latest music video while on a road trip?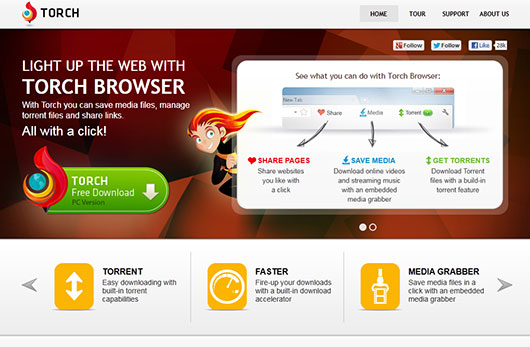 Hey are we not social media hoarders with a knack for sharing and downloading what we set our eyes on? Because its not your birthday, here's something shareworthy enough to make you feel its like 'Christmas on you birthday' whenever you're on Youtube or any video-sharing site. Forget load and lag times with the latest online software called Torch Browser which can download any video you want, when you need it!
So can one new shiny Chromnium browser really have it all? A browser may have all the right tools, but it's still up to the user to feel empowered by it. We have an extreme number of choices when it comes to browsers, browser plugins, apps, add-ons and media utilities. Some useful, some fancy and some antagonizingly incompatible that it throws off the rest of the plugins in your browser. Not with Torch browser, this unique software has all everything you need built-in. Besides TorchBrowser's youtube video downloader online, it has an easy file sharing feature and a torrent downloader that keeps everything in queue. Quite nifty to have around when you're busy blogging and checking out your feeds and channels, Torch browser helps you manuever and work across all platforms. It's free for download and from a blogger's standpoint, this well-integrated browser alone can drive up your social media productivity.