Guest posting is an excellent tool that has served blogs well. Not only does it provide fresh content, but also a fresh perspective, style and personality. It draws readers already dedicated to that writer's work, and offers a unique and helpful chance to network with other blog owners.
But possibly the most popular posts are those written by celebrity guest writers. A number of sources will use this tactic to draw readers, and the posts gather a large amount of attention. Not only for the original post itself, but the potential for reposting, quoting and linking. Social media marketing benefits greatly from celebrity blog posts.
Here are five examples, along with a few tips on what we can learn from each one.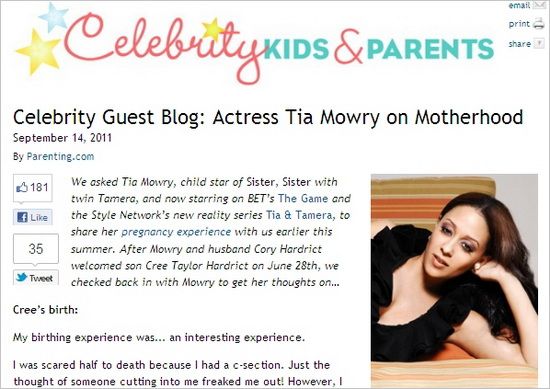 Tia Mowry first made it to our TV screen back on the 90's sitcome Sister, Sister with twin Tamara. Since then she has been in a number of things, including BET's The Game. But last year she embarked on a whole new journey: motherhood. She wrote a celebrity blog post for Parenting about what the experience was like. From the birth of her son Cree Taylor Hardrict, to the joys of breastfeeding and the strengthening of her marriage, she gave wonderful insight into those first few weeks as a new mother that so many of us cherish.
What Can We Learn? Personalization is key. She did not speak in general terms, but wrote about her life in an intimate way that connects to the readers on a deeper level. She reminds all of us who have children of what it was like in the beginning, and brings back cherished memories.
Recently, actress Jessica Alba created a new website called Honest.com. The project is dedicated to helping parents find safe, eco-friendly and attractive products for their children, such as fashionable clothing. It was an idea sparked from her own struggle finding and purchasing responsible products for her own kids. Which is what she has written about on her week long guest posting stint for Lucky Magazine's online site.
What Can We Learn? To share our knowledge with others. Jessica Alba started looking for information on this topic back when she was pregnant, and has continued on for the last several years. This has built up a certain amount of first-hand expertise, which has led to a website. Now, she is both promoting that site and sharing her expertise with readers.
With an introduction by Deb Amlen of Wordplay, Dana Delaney stepped up as a guest blogger. As an Emmy award winning actress and a board member for the Scleroderma Research Foundation, there was a lot for her to write about. But what she decided to talk about was her love of the NY Times Sunday crossword, and where the love affair began as a child. According to her, she used to watch her mother doing it on Sundays, and when she got older she slipped into the habit herself.
What Can We Learn? Sometimes it is better to write on a topic people don't expect. Instead of yet another interview style piece about her work on Desperate Housewives, or the televised mammogram she underwent in 2008 for cancer awareness, she discussed a light and charming hobby relevant to the source itself. It was sweet and surprisingly interesting to read.
Actress Katherine Heigl was one of a number of celebrities to write for series CelebVillage. In her post, she talks about having to balance her love of acting and her love of being a mother. Through the post she talks about finding her desire for both, and reconciling two passions in a busy life, without having to sacrifice too much to make it work.
What Can We Learn? The movie starlet is certainly not the first woman to struggle with balancing a career and a family life. It shows us how great it is to speak about a universal difficulty that many can relate to. Especially in a modern world where more and more women work outside of the home.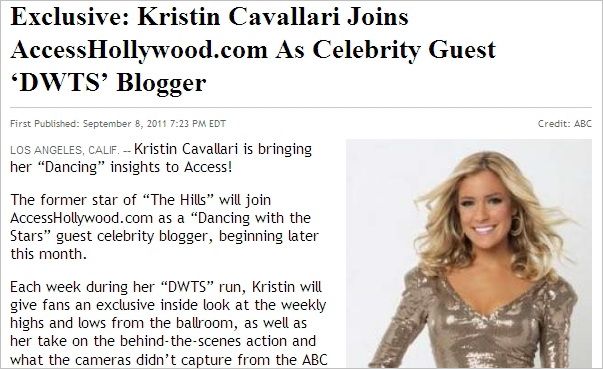 You might remember Kristin Cavallari from her place on MTV's hit series The Hills. She later went on to compete on the popular television reality show Dancing With The Stars. Kristin was not the first on the show to blog for the entertainment source. Brandy and Melissa Joan Hart also provided their backstage access, insight and experiences during their time on the program.
What Can We Learn? Popular topics draw interest. DWTS is a huge franchise with high ratings. Having someone with inside access to the show is a surefire way to bring readers back for more. If your guest poster has some kind of inside knowledge, access or connection to something trending, you're golden.
Conclusion
You don't have to have a celebrity guest poster to draw a crowd (though it helps!). But reading through such posts we can get a good idea of how to make a guest post work, and what people are interested in reading. You can benefit greatly from applying such tactics to your own guest blogging.
Tom Chu is the SEO manager at PsPrint, an online printing company specializing in business card and poster printing among other popular services. Find me in Google+