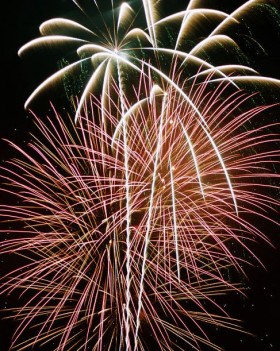 It's getting to be that time of year: The holidays are done, the calendar is preparing to roll over to a new year and everyone is looking for a fresh start. Even if 2011 was a great year, upon reflection, there is always room for improvement and the New Year, though really just another date, is a powerful moment psychologically and a great chance to start.
So, whether, you're looking to get in shape, save money or start a new hobby with the new year, you may want to look at adding a few resolutions aimed at helping you grow your blog and online presence.
Best of all, these are resolutions that are simple and easy to keep, meaning that they may stick around long after you've abandoned some of you other well-intended changes.
So, if you're looking for easy ways to improve your site in 2012, here are just a few suggestions you can commit to right now.
Resolution 1: Maintain a Posting Schedule
Between now and the New Year, you have time to reflect and decide what your posting schedule should be and make a commitment to it. Whether it's posting every day, once per week or something in between, you can find the rhythm that is right for you.
It's important, when setting this pace, to focus on a schedule that you can maintain easily while keeping the quality of your work high. It's better to have three great articles per week than 6 mediocre ones.
Take a look at your writing style, your topic, your life and how it all fits together to find the clip that's right for you.
Resolution 2: Get an Editor
Looking back to the first resolution, while you're focusing on quality it may be a good time to turn over a new leaf on your posting style and shake things up a bit.
One great way is to simply bring in an extra pair of eyeballs to help you read your posts and improve them. Best of all, it doesn't have to be a professional editor or even a very talented writer, you just need a third party who can spot your mistakes and let you know what's confusing.
In fact, in many ways it is better if you don't have a professional writer as you want the opinion of someone who represents your readers, not another writer. So, feel free to ask a friend, a family member, an active member of your community or even a stranger to look over your posts before hitting "Publish".
Failing that, automated services such as After the Deadline and Grammarly can also help a great deal, even if they aren't perfect.
Resolution 3: Get a New Theme
Looks aren't everything but they are definitely important. You have three days between now and January 1st so you have plenty of time to either find a brand-new look for your site or tweak the theme you have.
Make the most of it. Not only will a new theme, possibly, reinvigorate your site but it may boost your interest in it as well. There's nothing like a fresh coat of paint to make something old feel new.
Resolution 4: Get Serious About Blog Promotion
If you're like most bloggers, you've probably gotten at least a little relaxed about blog promotion. You've let SEO optimization, keyword research, leaving comments, networking and all of the other little things that bloggers have to do in order to keep their site growing slide. It's easy to to do this when time gets tight.
Make it a point to change that in 2012.
Set yourself a schedule. For example, you can reintroduce yourself to one or two new bloggers a weeks, leave a few comments per day and write at least one keyword-researched post per week.
If you make promotion part of your blogging routine you'll keep doing it and if you set trackable goals you'll have the ability to push yourself harder to make it get done.
Resolution 5: Get Into Audio and Video
Blogs aren't just about text anymore. Multimedia is becoming more and more valuable as a blogging medium as it allows you to not only improve variety on your site, but also tap into large built-in audiences on most video and podcasting sites.
The new year is a great chance to get into multimedia. Start a video series or do a podcast. Don't feel like getting in front of the camera or microphone? Consider doing screencasts that don't require your voice or face. You can also get a friend who's more comfortable being recorded to help out.
All in all, 2012 is a great year to get involved with multimedia. It may seem to be a bit late to the game, but in reality, there will always be people who are behind you and, furthermore, the field is still very much growing both in terms of participation and audience.
There's a lot of room for new talent and the next hit could be you.
Bottom Line
In the end, there really isn't anything special about New Year's Resolutions. January 1st is just another day and you could make any (or all) of these resolutions on any day of the year with the same impact.
The main advantage of New Year's resolutions is the psychological impact that the rolling over of the calendar has on all of us. Even if you aren't superstitious or otherwise prone to making emotional judgements, there's still something cleansing about a fresh calendar and the way it marks the passage of time.
Still, if you ran across this post on January 2nd or some other day of the year, don't let it discourage you. Today is just as good of a day to start as any other.
After all, what's important isn't the significance of the day you start on, but the importance you place on the resolutions themselves. If you do the latter, you can begin in the middle of June and get better results by December than someone who started on January 1st and cut out part way in.