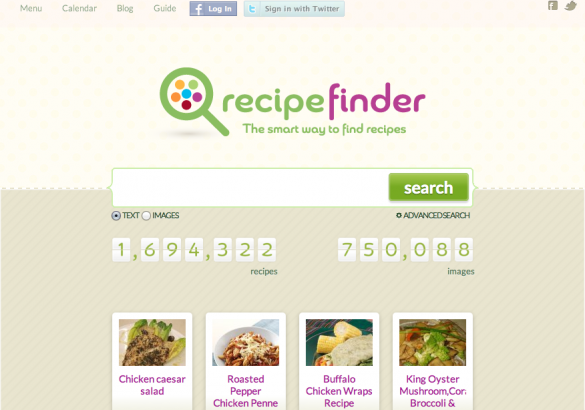 Recipe Finder is the newest search engine on the the block, and it holds a lot of promise for newbie and experienced cooks alike. This recipe search engine was built with the needs of the average person, while at the same time incorporating features that the more seasoned user will find useful. Built using a custom-made search engine, Recipe Finder looks like it is going to be a player to reckon with in its niche. For starters, it has the largest recipe collection one can find online today. With almost 1.7 million recipes (right now) and more than 700,000 recipe images, Recipe Finder does have something to say. Even better, the search engine indexes the most trusted recipe web sites on a continuous basis, ensuring that the collection will only grow as time passes by.
One look at the Recipe Finder home page, and one cannot deny that it has something that catches the eye.
The interface is intuitive, so much so that even a beginner can search for recipes. Just like with your "normal" search engine, you have the search bar where you can type in the recipe name or ingredients. One can hardly miss that search button, which is the key to discovering new goodies one can make in the kitchen.
For those who have been in the game for a while and may need a little more customization, Recipe Finder does not fail to disappoint. The Advanced Search option is brilliant, in that it offers parameters that will make your search more specific.
By clicking on the Advanced Search link that can be found underneath the search bar (right side), customizable fields will appear. Expecting the in-laws to visit for dinner on Saturday? Make sure that you cook enough for the entire party by indicating at least 10 servings in the "Servings" field. If your mother-in-law is particular about calories, you can also specify the number of calories that you want for the recipe. If you don't want to slave over a hot stove for more than 3 hours, just enter that number in the "Cook Time" field. Oh, and if someone in the party is allergic to certain ingredients, you will want to make sure that the recipe you find does not contain those ingredients. Just type those ingredients in the "Exclude these ingredients" field, and you'll be safe! The way it looks, Recipe Finder is out to make things easy for the user.
One thing I like is the option to change the view of your search results. The default is to view the results in text format. After all, you want to read the recipe so that you can determine if you want to make it or not. Then again, when looking for new things to try out, I also like seeing how the finished product will look (or at least, is supposed to look). That's where the image view comes in really handy. Compare these two views for a search for "chocolate cake", and tell me which is better.
Do you see what I mean now?
Do your friends think you're a little bit of an organizing freak? Then you'll love the Menu and Calendar features of Recipe Finder, which allow you to plan what you're going to cook days – even weeks – in advance. Our team at The Blog Herald covered the launch of Recipe Finder, where you can see more tips about these features.
Before I totally forget, Recipe Finder also has its own blog, where users can find even more ideas on what to prepare – whether for special occasions or a simple everyday meal. The blog also features cool food holidays and trivia which any foodie will enjoy.