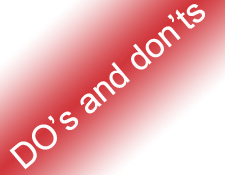 On-page optimization forms an integral part of SEO. It can be visualized as a foundation of search engine optimization. It is simple enough to accomplish and is an absolutely required entity when we look to rank websites for specific keywords. A decade ago, SEO was largely limited to keyword stuffing in content and the various tags. SEO has evolved and become much more complex. However, on-page optimization has not really changed a lot and has remained more or less the same. There are some subtle yet important points to keep in mind when doing on page optimization. I use many of these techniques at the link building service I work for.
DO's of On-page optimization
1.      Using Images: Using images on targeted pages helps in optimization. Use a related image and make sure to include your keyword in the "alt" attribute.
2.      External links: The common misconception seems to be the outbound links are bad and there is an attempt to keep them to a strict minimum to preserve the link juice. It would be in the best interest to refrain from using a large number of outbound links on a page. However, outbound links to authority sites is seen to be helpful in rankings. So, link to a couple of authority sites in your articles.
3.      Placement in H1 and title tags: Use a single title and H1 tag for your webpage and include your keyword in it. Try to include the keyword in beginning of the title or H1 tag. Also, limit the length of the title and H1 tags.
Example:
Keyword: Health insurance
Bad title: The top benefits of having health insurance
Good title: Health insurance benefits
4.      Keyword Emphasis: Bold, italicize or underline the targeted keyword a couple of times in the article. This adds emphasis to the keyword in the eyes of search engines:
5.      Use of meta description: Clever usage of meta description will help to attract visitors. Do not leave the meta- description blank or keyword stuff it. Use it to address the targeted keyword.
Example:
Keyword targeted: Yellow teeth
Good meta description: Do you have yellow teeth? Are you looking for a remedy? Read this article to find out the causes of yellow teeth and its remedies.
DONT's of On-page optimization
6.      Keyword stuffing: Most webmasters know that keyword stuffing is not going to lead them up in the SERP's and refrain from doing so. This is a rookie mistake and you risk getting your site penalized by search engines by multiple repetitions as it is seen as an attempt to manipulate rankings.
7.      H1 tags: Some webmasters tend to have multiple H1 tags. An article is supposed to have a single H1 tag and should ideally use the keyword you are targeting.
8.      Meta keywords: Meta keywords have been devalued by search engines. Gone are the days when using your keywords in meta keywords would help in the SERPS. Use of keywords in meta-keywords does not benefit the site in anyway and they are ignored by the search engines.  In fact, it is suggested that you do not use meta-keywords as it allows your competitors to find out the keywords you are targeting.
9.      Excessive internal links: It is good to have a good internal link structure. But, having excessive links pointing to your pages seems to dilute the link juice obtainable from a page.
10. Avoid Multiple Page Title Elements: Refrain from using multiple page title elements on a single webpage.
Guest Bio: Dr. Mujtaba Ali is a dentist by profession and a freelance writer and webmaster. He is a contributing writer to DiamondLinks.net which is a  link building service.