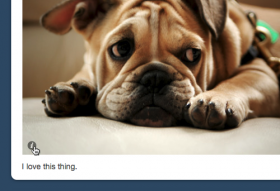 After partnering with SoundCloud in order to broaden Tumblr's appeal to music lovers, the micro blogging service is now including a small (but useful) feature that will appeal to hard core photo bloggers.
The Dashboard now lets you view the Camera Model, ISO, Aperture, Exposure, and Focal Length of any photo uploaded with Exif data. (Tumblr Staff)
Although the inclusion of EXIF data will not appeal to the average user, it's inclusion will excite professional photographers who are (not surprisingly) obsessed with the "hidden" data behind each and every photo.
The inclusion of EXIF may also help Tumblr attract more photo bloggers, as well as give them another reason to use their service over social networks like Instagram, and Twitter (the latter who is jumping into the photo sharing wars).
The feature is only available to Tumblr layouts supporting EXIF tags, which theme developers need to include if they want the camera information to be shown (note: you can also add it as well if you are comfortable with HTML).
For those of you who are photo bloggers, what are your thoughts regarding the inclusion of EXIF?
Would this convince you to use Tumblr as your main photo sharing service or would you consider sticking with services like Flickr instead?
Author:
Darnell Clayton
Darnell Clayton is a geek who discovered blogging long before he heard of the word "blog" (he called them "web journals" then). When he is not tweeting, Facebooking, or blogging about space and his beloved iPhone, he enjoys running, reading and describing himself in third person.