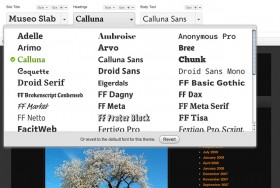 Automattic (the company behind WordPress.com) has released a new feature that will please non-geek bloggers attempting to customize their sites.
Today we're excited to bring you Custom Design, a powerful new tool that combines easy to use, code-free font selection from Typekit and a beautiful CSS editing interface with world-class support from our famous WordPress.com Happiness Engineers. […]

The Font Editor provides a visual preview of your blog with over 50 gorgeous premium Typekit fonts-from foundries like Mark Simonson, exljbris, FontFont, and the League of Moveable Type-and allows you to easily modify the size and style of your fonts. (Official WordPress Blog)
In order to gain access to this feature users will have to purchase an inexpensive upgrade (which costs $30/year), which will allow WP.com fans to easily customize their sites to their hearts content.
As a bonus WordPress.com does allow users to test out the features via a free preview, although they will have to purchase the upgrade in order for readers to see these changes live upon ones site.
Combined with premium WP.com themes, Custom Design and Font Editor should make it even easier for WP.com users to create unique blogs in order to distinguish their sites from the rest of the crowd.
For those of you who host your blogs upon WP.com, what are your thoughts regarding the latest changes?
Also what other features would you want WordPress.com to release or enable in the future?
Author:
Darnell Clayton
Darnell Clayton is a geek who discovered blogging long before he heard of the word "blog" (he called them "web journals" then). When he is not tweeting, Facebooking, or blogging about space and his beloved iPhone, he enjoys running, reading and describing himself in third person.