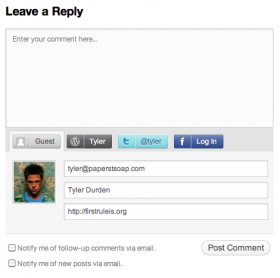 Lovers of WordPress.com can finally allow readers to comment using their Facebook and Twitter credentials without having to install IntenseDebate.
As an important touch, we let you stay logged in to multiple services. This means you can stay logged in to Facebook for convenience, but still leave a comment through Twitter or your WordPress.com account. Just click whichever identity you'd like to use, and the selected one will be associated with your comment when it is published. You're in control of your identity, as you should be. (Official WordPress.com Blog)
Automattic (the company behind WordPress.com) is planning on porting this feature for self hosted blogs via JetPack, which should help fill a gap for bloggers who want social commenting without having to embrace third party options like Disqus or Facebook.
Currently there is no option to post a comment using your Google account, although the team may consider the search engine giant in the not so distant future (depending upon demand of course).
For those of you powering your blogs via WordPress.com, have you activated social commenting upon your sites? Also what other services (aside from Google) would you like to see added?
Author:
Darnell Clayton
Darnell Clayton is a geek who discovered blogging long before he heard of the word "blog" (he called them "web journals" then). When he is not tweeting, Facebooking, or blogging about space and his beloved iPhone, he enjoys running, reading and describing himself in third person.