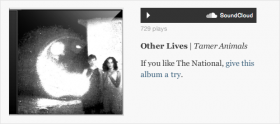 Although there are plenty of options available for music lovers when it comes to choosing a blog service or software, it looks like Tumblr may have edged out rivals with their latest partnership.
[W]e're so excited to finally announce that we've hooked up with SoundCloud to bring their network of sound (music, podcasts, standup, journalism, and pretty much anything audible) to Tumblr.

Not only can you cut-and-paste any SoundCloud track URL into your Audio posts, now you can search SoundCloud from the comfort of Tumblr! (Tumblr Staff Blog)
As a bonus, users can easily embed not only the audio file, but also display an album cover alongside their musical post.
Tumblr fans can even post songs to their blog via mobile by using the official SoundCloud app (note: iPhone and Android only), or from SoundCloud itself via the Tumblr share button.
While SoundCloud does boast an impressive archive of musical files, many of the songs indexed are either remixes or live concert versions (as the professional versions are not available for obvious reasons).
Tumblr fans can check out the latest features by visiting the upload audio page, and for those of you who enjoy music as well as blogging, what are your thoughts regarding Tumblr's latest feature?
Also, should other blogging platforms like WordPress, Blogger, etc., follow Tumblr's lead and create something similar upon their respective platforms?
Author:
Darnell Clayton
Darnell Clayton is a geek who discovered blogging long before he heard of the word "blog" (he called them "web journals" then). When he is not tweeting, Facebooking, or blogging about space and his beloved iPhone, he enjoys running, reading and describing himself in third person.