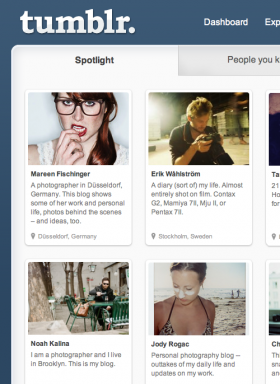 Taking a cue from Twitter, Tumblr has launched a feature allowing their rapidly growing user base to find interesting Tumblogs that catch their eye.
We're always amazed by the breadth and creativity we find on Tumblr, and we're always looking for better ways for you to showcase your talents and other interesting blogs. With the new Spotlight, we've set aside a special place to highlight a few of these blogs that truly inspire us. (Tumblr Staff Blog)
Tumblr is in the process of adding more categories (which users strongly voiced in the reblog section), as well as expanding Spotlight to cater to users beyond the English language.
Along with their Explore page, this should help newcomers of the micro blogging service to easily find new sites to follow, helping to the site to maintain its high retention rate (which was 85% in 2009 before the service went mainstream).
Unlike Twitter's Suggested Users section however, Tumblr's Spotlight is not available within their native iPhone, Blackberry and Android apps (which is sad as it would make it easier to locate interesting tumblogs).
Speaking of Android, Tumblr's co-founder David Karp had a few interesting things to say about Google's mobile OS when he appeared on stage at TechCrunch Disrupt next to Instagram's Kevin Systrom.
Just before exiting the stage and after Systrom answered the Android question Karp was quick to add that Android "Absolutely Sucks To Develop For" (The Droid Guy)
Karp did not elaborate as why he loathed developing for Android, although it may explain why Tumblr for iPhone has usually received more attention (at least feature wise) than its Android sibling.
For those of you who love Tumblr, what extra features do you want included within Spotlight? Also, do you think Karp's comments about Android are valid?
Author:
Darnell Clayton
Darnell Clayton is a geek who discovered blogging long before he heard of the word "blog" (he called them "web journals" then). When he is not tweeting, Facebooking, or blogging about space and his beloved iPhone, he enjoys running, reading and describing himself in third person.