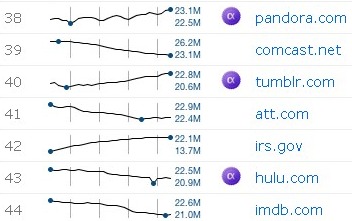 It looks like Tumblr has achieved another milestone as of late, as the micro blogging site is now a top 40 player according to Quantcast, just one spot above the US telecom giant known as AT&T.
In November of 2009, Tumblr stumbled past the top 100 sites and approximately 8 months later they broke through the top 50 sites (and as a bonus stealing the bronze away from Typepad).
Although Tumblr's unique visitors pale in comparison to rivals like WordPress.com and Blogger, respectively, Tumblr's users seem far more engaged on the site when one looks at their page views (note: since Blogger isn't quantified, Quantcast can only estimate their size).
Currently Tumblr hosts over17.2 million blogs, which is incredible considering that the service only boasted 15 million sites in March (which is about 2 million additional blogs in less than 40 days).
With the micro blogging site showing no signs of slowing down, it will be interesting to see if Tumblr is able to catch up WP.com, the latter who currently hosts about 19.4 million blogs (up from 18 million last March).
Author:
Darnell Clayton
Darnell Clayton is a geek who discovered blogging long before he heard of the word "blog" (he called them "web journals" then). When he is not tweeting, Facebooking, or blogging about space and his beloved iPhone, he enjoys running, reading and describing himself in third person.