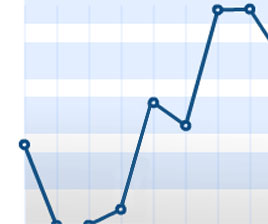 After settling upon a web domain, selecting a theme and choosing a niche for your blog, one decision that bloggers eventually have to make is, "which stat tool should I use to measure traffic upon my blog?"
Although analytical tools will not by themselves boost your blog's SEO, they can provide invaluable information on how many people are visiting your blog (as well as from where).
Although everyone has their own preference for which tool they used (based upon price, features and UI), here are a few general rules you should follow when selecting a stat tool.
Native Stat Services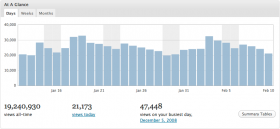 Regardless of which platform you choose, it's always wise to use an analytics service from the creators of your blog platform (if one is available).
Unlike third party analytical services, native stat tools are designed to work specifically with your blog platform or software which should (in theory) integrate seamlessly with your blog without producing bugs or random issues.
As a bonus, most native analytical services are usually offered for free, helping you save a little cash.
Note: Blogger, WP.com and Typepad all provide native stat tools for users, although it's always recommend to use them alongside a third party tool.
Live Stat Services
Although services like Google Analytics can help provide a detailed picture of who is visiting your blog (and where they're coming from), you should also seek out a service offering live stats.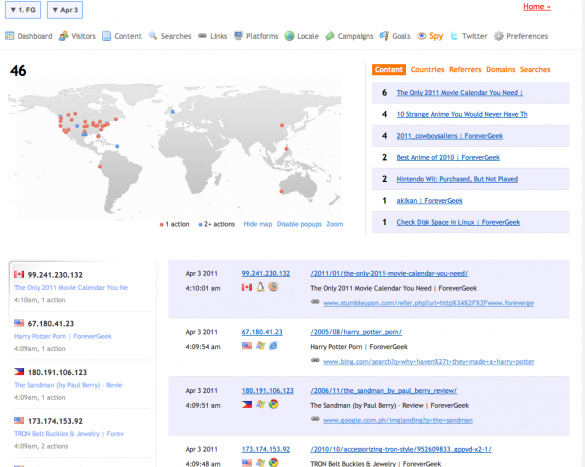 Live stats can help you not only stay ahead of traffic spikes, but assist in choosing which comment threads you should be engaged in (especially when it comes to moderating human spam).
As a bonus, live stats can help you determine which posts you should promote upon the social verse in order gain more viewers.
The excellent PMetrics provides not only great live statistics but also many more features than Google Analytics and has both free and premium accounts.
Will It Be Around In The Future?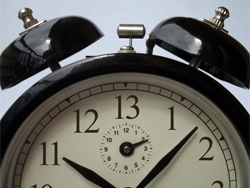 Before you install an analytics tool, verify whether the creators of the service will be around in the future as the last thing you need is for your stats service to stop working due to bankruptcy.
If selecting a free or freemium stat tool, verify whether the service is backed by wealthy investors or offers premium services to help feed the employees (as running stat services isn't exactly cheap).
For those of you selecting a premium stat service, you should always choose one from a company with a reputable reputation and who has been in existence for a least a few years.
Note: It's recommended to use a free service like Google Analytics to verify how accurately a premium analytical service is measuring your blog's traffic.
Any Other Suggestions?
For those of you who have installed analytical tools upon your blog, what other advice would you offer for users new to blogging? Also what services do you use? (and why?)
Image Credits: StatCounter, WordPress.com, Blogger
Author:
Darnell Clayton
Darnell Clayton is a geek who discovered blogging long before he heard of the word "blog" (he called them "web journals" then). When he is not tweeting, Facebooking, or blogging about space and his beloved iPhone, he enjoys running, reading and describing himself in third person.