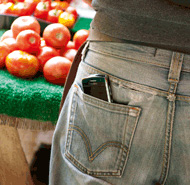 The popularity of mobile devices has exploded.  Like lava out of a volcano, this hot stuff ain't going back inside the mountain.  Since we are all demanding more from our phones, mobile plans that offer unlimited data are a necessity.  Especially for bloggers…
First, there's the need for data.  Several blogging apps I can't live without.
EVERNOTE. Now you never have an excuse to forget an idea again!  This easy-to-use app lets you type or use audio (voice recording/speech to text) to log your ever thought, to-do list or blog post idea.  You can even upload photos. For me, this is the most useful blogging app because you can't but a price on an idea. Evernote ensures I always have an idea repository to dip into when the going gets tough.
TUMBLR. Even if Tumblr is not your blogging platform of choice, I think it makes for a great secondary platform.  I use the app exclusively to update my "fun" blogs and personal life events.   If your posts are comprised of short text updates and heavy on the photos, Tumblr makes it a cinch to update your blog from most smartphones.
MOBILE GA. Stat junkies rejoice!  If you're on the go but dying to know if today's blog post moved the traffic needle, you need Mobile GA – a simple app that works together with Google Analytics.  Check out page totals, bounces and referring links from the palm on your hand.
There are so many apps out there, all of varying sizes, so as a blogger, it's in your best interest to purchase mobile plans that give you unlimited data.
And don't forget about voice…
Bloggers might be a relatively quiet bunch, but the cream of the crop never shy away from a phone conversation that can bolster their blog.  Running a blog can be like living an entirely new life.  You have your "real" job and "real" friends — but then you also have your blog job and blog friends.  Before you blink an eye, you'll run up that cell phone bill if you're not careful – especially when living "two" lives.
Now if only someone would create a small battery that can withstand all of this multi-tasking!