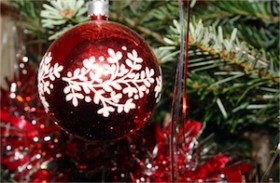 It's December 22nd, just three days away from Christmas and a little over a week away from New Years. For most Western bloggers, this is one of the slowest times of the years.
Schools are closed, businesses are winding down, employees are heading off to vacation and people are spending time doing things other than surfing the Web and reading blogs. Unless your site is somehow targeted at the holidays, such as a store or a holiday-themed blog, traffic has likely already taken a dip and will continue to be lower through the New Year.
This can be a tough time for bloggers. Not only can the lower traffic be depressing and discouraging, but bloggers too are taking time away from their sites to be with their families and focus more on offline activities.
This can make it tough for bloggers to find their footing and return later when traffic begins to pick up and things return to normal. That, in turn, means that the holidays are a time of year when many bloggers step away from their sites for a few weeks, with every intention to return, only to leave it behind completely.
The holiday funk can be brutal for bloggers. But learning how to beat it can help make you a better blogger and turn 2011 into an even better year.
The Pitfall
There are many reasons why the holidays are a difficult time for bloggers, most of which apply to just about anyone trying to survive the holidays, but here are five of the more important ones to consider:
Traffic Dip: As mentioned above, traffic tends to taper off during the holidays and even avid, loyal readers stop coming by and commenting. Bloggers who aren't prepared for this might be surprised, especially by how early it can start and how long it can last.
Getting Off Schedule: Most people take at least a few days away during the holidays and, if you're on a good schedule, which you should be, it can be difficult to get back on board later.
Additional Stress: If you continue to work on your blog during the holidays, you'll likely find it more difficult and more stressful to do so. The additional time spent on other holiday-related activities, as valuable as it is, makes it more difficult to keep working on your site.
The Season of Giving and Getting: If you have a popular blog, you may find that it is also a season where others make higher demands of you, wanting, donations, attention for their causes or their needs and almost anything else. This can lead to additional headache when you can't or aren't willing to help.
Spam Attack: Finally, spammers are usually more active during this time of year. Though the spam wave will likely be subsiding soon, bloggers are reporting a higher than average spam volume during this time of year as the purveyors of junk try to take advantage of the holiday buying season as well. This is when they also break out their new techniques, making the spam comments more likely to get through.
In short, just like how the holidays are a stressful time for almost anyone balancing work, family and friends, it is an equally stressful one for anyone running a site.
Even if you feel that it's the most wonderful time of the year, there's little doubt that it's a hectic one and that it can take a toll on a blog.
How to Avoid It
There really is no magic solution for avoiding the holiday funk. No matter how you feel about the holidays themselves, they are going to affect your site, the same as they are going to affect your life. The best thing you can do is know it's coming, be prepared for it and deal with it the best you can while trying to enjoy the time of year.
That being said, there are a few suggestions that may help a little bit:
Create a Holiday Schedule: Plan your time away from the site the best you can. Make a schedule and try to stick with it. If you know when you're going and when you're coming back, it's much easier to jump back in.
Take Advantage of the Downtime: If you want to work on your site some but traffic doesn't justify posting new content, consider pre-writing material for later or doing other work, such as updating your theme or moving to a new host.
Remember to Enjoy the Holidays: Don't let your site be what stops you from spending time with your loved ones or doing the things you enjoy. It's better to walk away completely for a while and return refreshed than it is to stress through everything and resent your site in the new year.
All in all though, if you are aware of the effect the holidays have on most websites, especially blogs, which are often read more casually, you can probably avoid the worst of the issues and be ready to go in the New Year as things begin to return to normal.
Bottom Line
This is one time of year where, for most of us, our sites shouldn't be a major focus. Though it can be frustrating, especially if your site is part of your income, but the truth is that it's a recurring problem and one that every blogger, large and small, needs to understand and be aware of.
The best thing we can do is take the opportunity to do other work on our sites, plan for what we want to do after the new year and, most importantly, enjoy the quiet time.
With the the 24-hour, 7-day cycle of the Web, it's very rare to get any kind of break or slow down so maybe rather than feeling the holiday funk, we should look at it as a chance to get things in order, recharge our batteries and come back stronger than ever when things are done.
It might seem to be a tough strategy when you're dealing with the holiday stress and looking at your lower numbers, but embracing it makes life a lot easier in the long run.