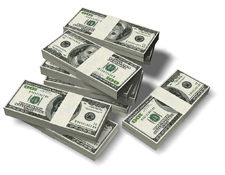 While there are several blogging constants, the world of the online writer is constantly evolving. As a blog owner and writer, I have had a front row seat to watch the landscape change over the years.
2008: Seeking some search engine love, bloggers bust their butts to produce a high volume of content.

2009: Bloggers realize that if they are lucky enough to have a few dollars at their disposal, they can hire people (mostly overseas), to write content for them.

2010: The world of guest blogging took off. Bloggers embrace "free" content and marketing pros rack up valuable backlinks.
So what's ahead in 2011? Well, dear blogger, you know all of that talk about making money with your blog? This could be THE year.
The latest trend I have seen involved the blending of pay-per-play and guest blogging. In other words, companies are willing to write unique content for you site, include one or two backlinks, and pay you – yes, pay YOU, in the process. The bloggers I talk with have received offers anywhere between $5 – $200 for such a post. The most important factors to these "advertisers" appear to be Google PageRank and being a leader in your niche.
I'm not sure how to go about soliciting these folks, but they seem to be actively engaging bloggers. In other words, don;t call them, they'll call you! If you do decide to engage in this practice, make sure that you retain editorial control over your blog's content. You have the final say on how the content reads and where your posts link to. The day you give up that right is the day you have handed over the keys of your blog — and your brand — to someone else.
Have you accepted a guest post where you get paid? What are your thoughts on this relatively new advertising model?
After working for FOX News and MTV Networks, Andrew G. Rosen founded Jobacle.com, a career advice and employment news blog. He is also the author of The Exit Guide: How to Leave a Job the Right Way.