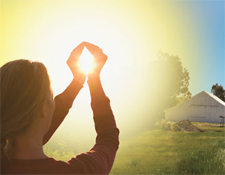 There are many theories as to what makes a blog successful. Creative writers will tell you that content is king. Graphic artists will swear that it's the blog's design that sets it apart. Technical experts will swear that a using a combination of the best hosting services and unique coding will really make your blog stand out. But unfortunately, even if you're an excellent writer or a technical genius, you may still feel as though you're writing in a vacuum. But frustrating as this may be, it doesn't mean that your blog will be eternally relegated to the bottom of the blogosphere. With a bit of strategizing and effort you can tip the scales so that instead of getting lost in cyberspace your great content will find its way to influencers who can share it with a wider audience.
Identifying Great Influencers
It may sound obvious, but the first step to take when identifying influencers that will share your content is to look for influencers in your niche. While it's always nice to have fans in other niches, the people that will really be able to share your content with an interested audience are those who serve your niche or a parallel niche.
Don't feel rushed or pressured to send your information to anyone you can find who serves your market. Instead, look around for influencers who you've seen sharing information about products, services and blogs besides their own. Check out a potential influencer's Facebook page or Twitter feed to see if they are willing to promote other people. You can also gauge the impact of a potential influencer by checking whether he is retweeted regularly.
Attracting Attention
There are many ways in which you can attract the attention of influencers, so start with the strategies that you feel most comfortable with and slowly branch out as your confidence grows.
Start small(er). The most influential people in your field probably get dozens of emails a day. Chances are that they neither read them, nor respond to them. Instead of setting your sights on the king, try attracting his advisors first. There are many 'smaller' people who can help spread your message, and currying their favor will help you earn the respect of the largest influencers in the field.
Make friends before asking for favors. If you haven't been successful in attracting attention to your blog, you may be overwhelmed by the idea of trying to attract the attention of potential influencers. Fortunately, you can attract the attention of specific people without using your blog as a signpost. Start by retweeting relevant tweets sent out by your potential influencer, or tweeting to their attention – even if they're not following you. Everyone loves positive recognition, even if they don't immediately acknowledge it. By the time you're ready to ask for a shout out, hopefully the influencer will be aware of your existence.
Be direct – twice. There are two ways in which being direct can help you attract an influencer to your blog. If you're looking to score a link via a guest post on their blog, you'll want to create content that is not only inventive, but also directly relevant to their market. Overcome the urge to write about something that appeals to you, and take time to study the influencer's blog and to come up with a unique idea that will grab his (or her) attention. Likewise, if you're going to ask for a link without offering something in return, make sure that your email pitch is both flattering and direct. Everyone loves getting their ego stroked, but you won't want to lose the influencer's interest by submitting a pitch that is too wordy. Make sure to find a good balance between flattery and straightforwardness.
Retaining Your Audience
Chances are good that if you don't hear back from your email pitch or submitted content, you haven't influenced that potential influencer enough. Instead of being discouraged, take a lesson from the experience and use it to tweak your pitch for future submissions.
You may think that you're writing your blog to address ideas that are important to you or your business. But if you've found that your posts aren't getting the love they deserve, you may be missing your mark. Try shifting your approach and writing content that will appeal both to influencers in your field as well as to your target audience. Make sure that you keep this goal in mind not only in the present, but in your long-term blogging strategy as well.
It can never hurt to write posts or SMM updates about things that you know your influencers like. But make sure that instead of copying influencers, you romance them with content that authenticates their ideas while offering a new spin on the issues. Resist the urge to 'like' every Facebook post or retweet every tweet that an influencer makes. They aren't looking for mimics, but for equals who bring something new to the arena.
Most importantly, remain true to yourself even while you're romancing influencers so that you'll create a reliable online presence that others will want to follow. Over time, you should notice the visits and the link love start to surge in.

Guest Bio: Sari Holtz is the lead researcher at Consumer-Rankings.com, a website that offers authentic reviews of a variety of products and services from online fax services to web hosting providers.