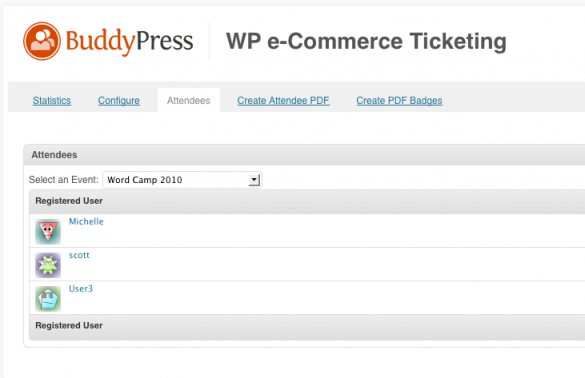 TikiPress is a small plug-in that was created for WordCamp, started in late 2009. As the coders themselves admitted it 'wasn't solid like a rock', due to various time constraints and so on.
However, they are back, with a new version, which is now the 'most advanced Ticketing Plugin available on WordPress', combining eCommerce, with a complete marketing offer – so you can see offer early-bird and late-comer prices, sponsorship packages, merchandise and donations!
Features include:
Collect payments for your event
Set attendance limits / Ticket stock
Collect attendee data on the Checkout Page via the TikiPress Survey Tool
Collect Statistics about your event and monitor your ticket sales
If a person buys more then 1 ticket (say 10 tickets), rather then completing 10 surveys for each Attendee, the buyer simply enters the email address for each additional Attendee. Each Attendee is then emailed a redemption coupon that they can use to complete / claim their ticket and enter their attendee date which is saved to their BuddyPress profile (awesome feature designed by Jeffry Ghazally & Jane Wells).
Display an Attendee Page that integrates with Gravatars on your site. Simply add the Shortcode for an event to any WordPress page or post and it will create a page that looks like this example.
TikiPress creates an Attendee stats page for administrators on an Event by Event basis.
TikiPress creates an Attendee List PDF generator, this is new page accessible to Event Managers that they can use to create a list that they can use on the day to strike off Attendees as they arrive to your Event.
TikiPress creates custom PDF badges and tickets for your event.
For more information, and screenshots of the plugin in use, have a look here