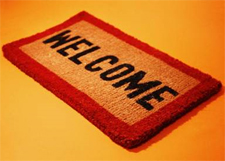 Years ago, when I worked for a major retailer, one of the perks was getting free magazines. Once a periodical was considered outdated, an associate would be tasked with ripping off the covers and adding the "naked" magazines to a pile. Staff members were allowed to rummage through this stack.
I took my fair share magazines, but it was never easy figuring out which ones I wanted. Without the cover, it takes quite a bit of sifting to figure out if there's an article that you want to read. Can the same be said for blogs? Do we need a "cover?"
Think about your favorite magazine. It's those attractive pictures and pithy problem-solving questions that get you to crack open the publication. Without a cover, determining whether or not a magazine is worth our time becomes a laborious task. OK, so it's not hard to leaf through several pages. But we already know that reading physical publications is much different than perusing electronic content. So the question I'd like to pose today…because I don't know the answer…is whether or not your blog should have a homepage.
By forgoing a homepage, you are getting people directly to the meat. It's sort of like bypassing the appetizer. Without any bells or whistles, the author has a chance to convert a reader into a subscriber. In an Internet world where every second of attention span counts, you are saving some serious time.
Another reason why some bloggers choose to opt out of a homepage is because of the volume of widgets and sidebar customizations available today. It is possible to get across your core mission and set up the framework for your blog from any page on your blog.
But there is a flip side…especially if we borrow from the publishing field. (And lets be honest, much of blogging is borrowed from old school print.) A dedicated page that is initially presented to readers tells the visitor what to expect. Much like that magazine cover, you are enticing them to "come inside." It's like a proverbial welcome mat.
Personally, I've used both approaches. Sometimes I activate a homepage, and other times I just send people to my blog landing page that features the most recent posts. I have not seen a change in traffic or any other metric based on approach.
To homepage or not to homepage, that is the question. What say you?